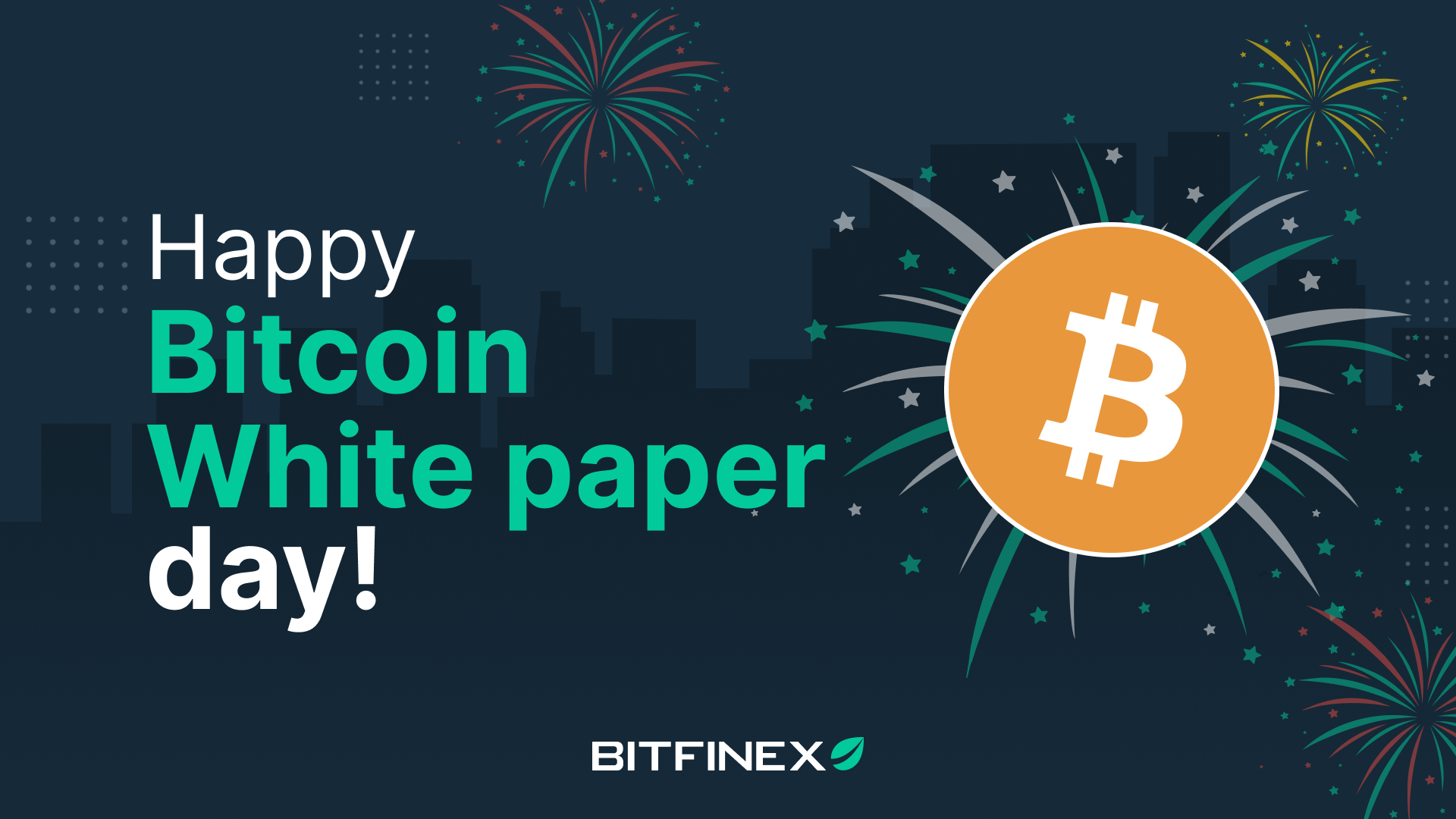 31 Oct

15 Years of Bitcoin: From Savings Saviour to Global Economic Game Changer 
On this historic day, we celebrate the 15th anniversary of Bitcoin, the first cryptocurrency and a revolutionary technology that has reshaped our understanding of money and financial systems.
---
Created by the enigmatic Satoshi Nakamoto, Bitcoin has not only provided an alternative means of storing value but has also proven itself to be an indestructible asset that cannot be manipulated. As we reflect on its journey over the last 15 years, Bitfinex is even more resolute in its mission to spread the word of Bitcoin and demonstrate how it can deliver financial freedom and emancipate communities from the high fees and inefficient processes of the traditional financial system.
The Birth of Bitcoin – A Groundbreaking Concept
In 2008, an individual or group using the pseudonym Satoshi Nakamoto released a white paper entitled "Bitcoin: A Peer-to-Peer Electronic Cash System." This document outlined how the first decentralised, peer-to-peer (P2P) digital blockchain would work, maintained by an ever growing network of computers that would ensure its immutability and integrity. The first block was mined on January 3, 2009, marking the birth of Bitcoin. Since then the impact of the currency and the technology has been nothing short of extraordinary.
Safeguarding Savings
One of the key advantages Bitcoin brought to the table was its ability to protect individual savings. In a world where economic mismanagement has left millions impoverished with a weak currency or rampant inflation, Bitcoin has emerged as a haven for those seeking to safeguard their savings. Unlike fiat currencies, which can be subject to inflation, Bitcoin's supply is fixed and unchangeable. In that sense, investors know that there is no centralised authority that can change how many Bitcoin there will ever be, which means that it provides a certainty that is not replicated in other assets.
Throughout its existence, Bitcoin has showcased its resilience by weathering various forms of market turbulence. This stability has bolstered the faith of ordinary people in Bitcoin and has subsequently fueled its adoption around the world.
El Salvador's Bitcoin Revolution

The largest example of Bitcoin adoption came when El Salvador, a small Central American country, passed a law in September 2021, to make Bitcoin legal tender in a country which otherwise only operated with US dollars.
Since then, foreign investment and interest have increased dramatically, with many crypto startups and established crypto businesses flocking to the country to set up shop and take advantage of the friendly regulatory environment.
In the first year, more than 50 Bitcoin companies have opened offices in El Salvador, with much more planning on establishing a presence in the country. This has created employment opportunities and brought a wide array of new services and business models to the Salvadoran economy.
Expanding the Reach
In March 2022, the city of Lugano, Switzerland, achieved a significant milestone by becoming the most successful pioneer of a Bitcoin circular economy with the launch of Plan ₿. This groundbreaking initiative, a joint venture between Tether, the creators of the world's largest stablecoin, USDt, and the City of Lugano, is a remarkable effort to seamlessly integrate Bitcoin, the Lightning Network, Tether, and Lugano's native LVGA token into every aspect of daily life.
As part of its strategy, Lugano established a CHF100 million investment pool aimed at fostering the growth of startups engaged in blockchain and Bitcoin technology. This initiative also seeks to incentivise established businesses to relocate to Lugano, bringing with them expertise, knowledge, and a talented workforce.
Additionally, Plan ₿ has fostered collaborations with three universities and, through its Blockchain for Business initiative, is offering more than 500 grants to students keen on acquiring knowledge in blockchain and Bitcoin technologies. Moreover, every year, the initiative hosts a summer school designed for individuals interested in learning about Bitcoin and peer-to-peer technologies, recognising their potential to provide financial freedom and promote freedom of speech.
The Plan ₿ initiative has cultivated an extensive network of merchants that continues to expand, with many now accepting payments in Bitcoin, Tether, or LVGA. Notably, all public services, including city taxes, can now be settled in cryptocurrencies, marking a transformative step toward embracing digital currencies in the heart of Switzerland.
In 2023, Bitfinex Collaborates with Torogoz Dev
To commemorate the Bitcoin white paper day, Bitfinex is working to support the first generation of Bitcoin and Lightning Network developers in El Salvador, and is collaborating with Torogoz Dev, an El Salvador-based educational program dedicated to offering technical training in Bitcoin and Lightning Network development.
Since the establishment of Bitcoin as a legal currency in El Salvador, there has been significant demand for educational resources and know-how to empower people with the knowledge and skills needed to use and develop with Bitcoin. Torogoz Dev is on a mission to bridge the Bitcoin technical skills gap by providing students with a structured curriculum that includes understanding business requirements, creating product backlogs, and developing code, all of which will be made available on GitHub. Additionally, students will delve into cloud service administration, Lightning Network payments, API documentation, and creating plugins for seamless integration with Content Management Systems.
Global Ambitions
Implementing Bitcoin across global economies opens up a world of possibilities, granting individuals access to secure and stable financial systems. By embracing this digital currency, these economies can reduce their reliance on centralised institutions and foster financial independence. Moreover, it can fuel economic growth by attracting investments and encouraging innovation within these regions.
The first 15 years have shown that Bitcoin has got off to a great start, but as its potential has become grasped by more people and governments around the world, we expect the next 15 years to be even more momentous.