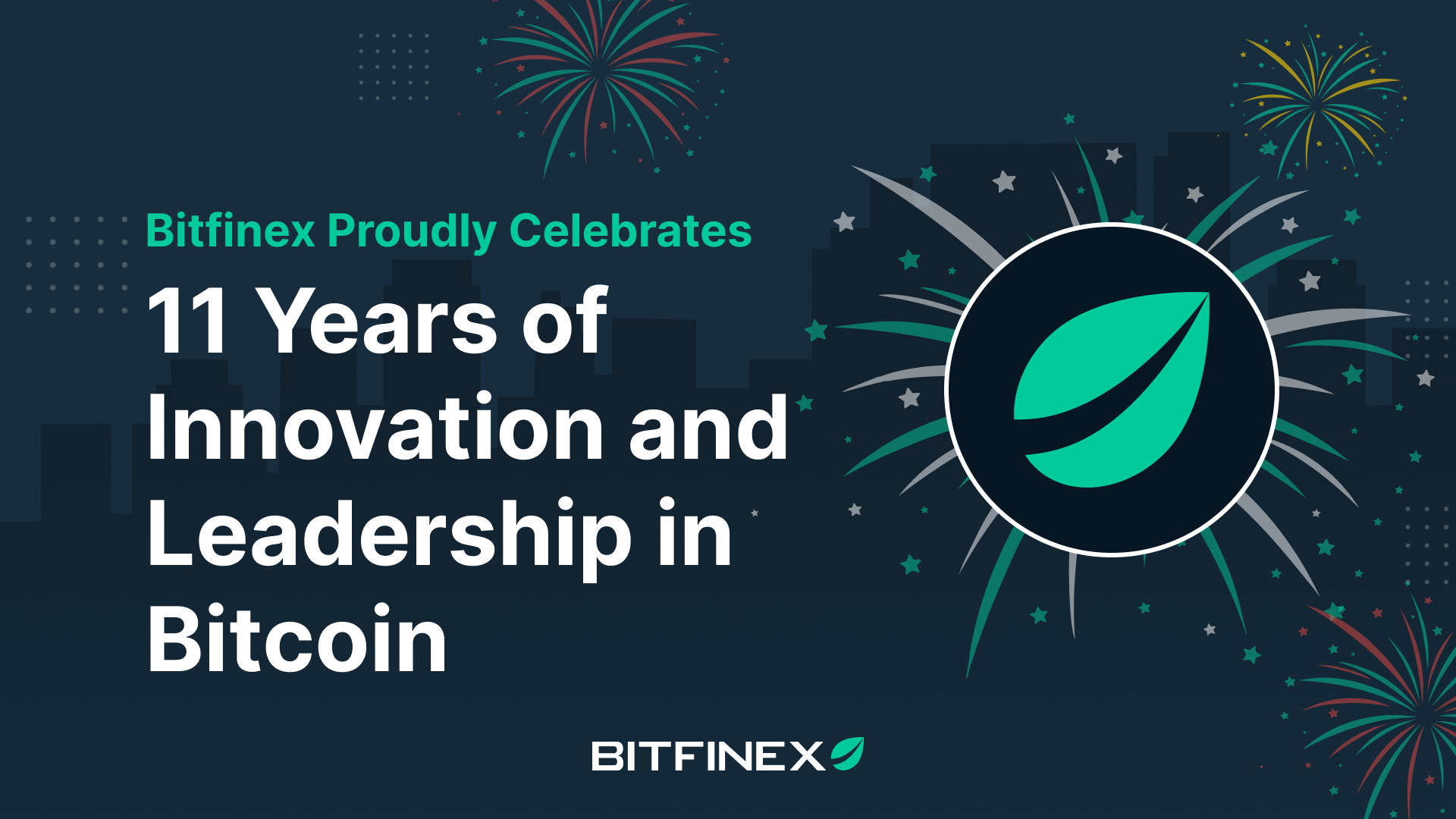 06 Nov

Bitfinex Proudly Celebrates 11 Years of Innovation and Leadership in Bitcoin

Today we'll take a look at Bitfinex's decade-plus journey shaping the future of a parallel Bitcoin-based financial system, accessible to all. Bitfinex observes its 11th year in operation, a remarkable period characterised by sustained innovation and authoritative influence within the realms of Bitcoin, blockchain, and P2P technologies.
---
Eleven Years in Bitcoin Can Seem Like a Lifetime
On November 6th, 2023, Bitfinex is happy to celebrate our 11th anniversary, marking over a decade of continuous innovation and leadership in the Bitcoin, cryptocurrency, and P2P spaces. Since our founding in 2012, we've been at the forefront of advancing digital currencies, contributing to both the technological underpinnings of the ecosystem and stimulating community development. Leveraging the transformative capabilities of Bitcoin, Bitfinex aims to establish a parallel peer-to-peer financial system that prioritises freedom and accessibility for individuals across the globe, while acting as an alternative to legacy finance.
The name "Bitfinex" is a portmanteau of three pivotal concepts, Bitcoin, Finance, and Exchange, that serve as the cornerstones of our identity and mission. The name not only encapsulates our platform's primary function as a high-volume trading exchange for Bitcoin and other digital assets but also emphasises our broader role in the ever-evolving landscape of financial services.
By fusing these three concepts, Bitfinex signals our commitment to be more than just a cryptocurrency exchange; we aim to be a comprehensive parallel financial platform that bridges traditional finance with the innovative world of Bitcoin and blockchain technology. The name thus embodies our dedication to pushing the boundaries of what is possible in the realm of digital finance, serving as a constant reminder of our foundational principles and ambitious objectives.
Over the years, Bitfinex has remained committed to our vision of promoting financial freedom and inclusion through cutting-edge services, products, and educational initiatives, documented for posterity through our Freedom Manifesto. Our 11th anniversary offers an important opportunity to reflect on our achievements and sets the stage for continued growth and positive impact in the ever-evolving landscape of digital assets and P2P technologies created to enhance personal and financial freedom.
A Walk Down Memory Lane: A Look at Some Important Milestones in Our Journey
November 2012 – Our Founding
Bitfinex emerged as one of the pioneering platforms specifically engineered for cryptocurrency trading, born November 6th, 2012. Founded by Raphael Nicolle, an IT technician from France who had previously worked on a project called Bitcoinica, Bitfinex initially launched as a peer-to-peer (P2P) margin lending platform exclusively for Bitcoin. We quickly diversified due to customer demand, adding support for multiple cryptocurrencies and expanding our suite of services. We began offering an array of trading options including high-volume spot trading, margin trading, peer-to-peer lending (margin funding), over-the-counter (OTC) markets, and derivatives trading. From the outset, Bitfinex has positioned itself as an institutional-grade hub for digital asset trading, designed to cater to a wide array of trading needs for users globally.
May 2013 – Litecoin is Added to the Platform
In the early days of Bitcoin, we began to see the emergence of the very first generation of altcoins. Bitfinex made a discerning choice by adding Litecoin to our trading platform, as one of the first non-Bitcoin digital assets. Recognizing Litecoin's enduring potential and stability in contrast to other volatile altcoins of the time, Bitfinex offered its customers an opportunity to trade a cryptocurrency with proven staying power. This addition not only broadened the portfolio options for Bitfinex's customer base, but also underscored our commitment to facilitating trade in assets with long-term viability and credibility.
January 2015 – Tether is Added to the Platform, Paving the Way for Stablecoins
In January 2015, Bitfinex took a strategic step by adding USD Tether (USDt) to our platform, recognizing the growing demand for stablecoins in the cryptocurrency ecosystem. This history-making move provided traders with a much-needed safe haven during market volatility, allowing them to easily transition from volatile assets like Bitcoin to a stable currency pegged to the US dollar. It also allowed exchanges to settle trades denominated in USD at a time when banks were not offering financial services to the industry as a whole. The integration of Tether not only underscored Bitfinex's forward-thinking approach but also served as a catalyst for the broader adoption of stablecoins as a new type of asset class in the crypto trading community. Tether was the first stablecoin, which paved the way for countless others, launched in the ensuing years.
March 2016 – Ether is added to the Platform, Paving the Way for ERC-20 Tokens
In March 2016, Bitfinex took a significant step by adding Ether, a move that had far-reaching implications for its customer base and the broader cryptocurrency ecosystem. Ether is the main token of Ethereum, which offers innovative capabilities for smart contracts and decentralised applications (DApps), presenting a brand-new frontier for blockchain technology. By incorporating Ether into our diverse set of offerings, Bitfinex not only catered to rising customer demand but also demonstrated our dedication to staying at the forefront of blockchain innovation.
The integration of Ether was particularly noteworthy because it opened the doors for the trading and investment of countless ERC-20 tokens. The ERC-20 standard has been the foundation for many tokens that went on to significantly impact the world of Decentralised Finance (DeFi). These tokens have become pivotal in everything from decentralised exchanges (DEXs) to lending platforms and stablecoins. By offering Ether, Bitfinex effectively gave its customers a gateway to this burgeoning world of possibilities, reinforcing its role as a leader in digital asset trading. The move further solidified Bitfinex's reputation for embracing promising technologies and offering diverse, robust trading opportunities to its global community.
August 2016 – The Infamous Bitfinex Hack: How we Survived One of Our Toughest Challenges
In August 2016, Bitfinex suffered a significant cybersecurity breach that led to the theft of almost 120,000 bitcoins, an event that could have easily spelt doom for many digital asset trading platforms. While the crypto-community watched with bated breath, Bitfinex took rapid action. In an unprecedented and innovative manoeuvre, we issued BFX tokens to all affected customers at a ratio of 1 BFX token for every dollar stolen. We offered customers a choice: they could redeem each BFX token for $1 per token or exchange each BFX token, valued at $1 per token, for common shares of iFinex capital stock. Remarkably, by April 3, 2017—just eight months following the security incident—Bitfinex successfully redeemed these tokens, fully compensating customers and thereby restoring confidence in the exchange.
This resilience stood in sharp contrast to the fate of many contemporary exchanges that were obliterated by hacks, fraud, or mismanagement. Authorities eventually captured the hackers responsible for the Bitfinex breach and recovered a part of the stolen assets, an important chapter in our company's history. By not just surviving, but thriving, after such a major setback, Bitfinex showcased its dedication to customer security and operational integrity, setting itself apart as a company with an ethical management team that truly cares about its customers. It also served as a case study in effective crisis management within the volatile landscape of cryptocurrency trading.
October 2017 – Trading the Fork Wars with the B2X "Chain Split" Token
During the turbulent period of Bitcoin's block size debates and subsequent forks, Bitfinex adopted a neutral stance, ensuring that our platform would not become a battleground for competing ideologies. While not taking sides, Bitfinex did introduce the B2X token to give our traders the freedom to trade the event of the Bitcoin SegWit2x fork.
By offering the "chain split" tokens, we provided a mechanism for customers to hedge against the potential risks and also speculate on the outcome of the fork. The B2X token allowed customers to separate their Bitcoin holdings into distinct assets that could be traded individually, thus capturing the market's assessment of the relative value of the forked chains. This approach enabled Bitfinex to maintain our commitment to customer choice and market integrity while steering clear of the contentious politics that enveloped the Bitcoin community at the time.
May 2019 – UNUS SED LEO (LEO) Token Launched
Bitfinex launched UNUS SED LEO, our own utility token, in 2019. The token was met with considerable interest and swiftly sold out during its initial private sale, demonstrating both the confidence customers have in Bitfinex and the perceived utility of the token itself. UNUS SED LEO serves multiple functions within the Bitfinex ecosystem, including offering trading fee discounts and serving as a key component in a range of applications and services. In addition to this, the token acts as a pivotal element in a variety of Bitfinex applications and services, which range from enhancing liquidity to participating in token sales hosted on the platform.
July 2019 – Algorithmic Trading Platform Honey Framework Launches
The launch of Bitfinex's Honey Framework was a significant leap forward in providing advanced trading tools to the cryptocurrency community. This algorithmic trading framework allows traders to build customised trading strategies with a high degree of sophistication, thereby enabling them to maximise their trading efficiency. The Honey Framework seamlessly integrates with Bitfinex's existing platform, providing a robust set of features for market analysis, order execution, and risk management. By offering such an intricate toolset, Bitfinex is actively levelling the playing field between retail and institutional traders.
April 2020 – Bitfinex Soft Staking Service Launches
Bitfinex entered the staking arena with its soft staking service, allowing Bitfinex customers to earn rewards by simply holding and staking certain types of cryptocurrencies directly through their Bitfinex accounts. This service brings another layer of financial incentive for the platform's customers, enhancing the utility and yield-generating capabilities of supported digital assets.
By taking the complexity out of staking procedures, Bitfinex makes it accessible even for customers who may not be technologically savvy. The service aligns with Bitfinex's broader mission to offer a comprehensive and customer-friendly ecosystem for digital assets, ranging from trading to facilitating peripheral use-cases. This adds another facet to the platform's already robust suite of financial tools and services, reinforcing its standing as one of the most versatile platforms in the industry
April 2020 – Bitfinex Pulse Launches to Provide a Social Media Network for Traders
In an effort to foster community interaction and real-time information sharing among our users, Bitfinex introduced Bitfinex Pulse, an in-house social media network designed specifically for traders. Pulse provides a space where traders can discuss market trends, share insights, and keep an ear to the ground for emerging opportunities or risks.
Bitfinex Pulse comes as a natural extension of our overarching strategy to provide an all-in-one ecosystem for crypto enthusiasts and professionals alike. By adding a social layer to our existing array of trading and financial services, Bitfinex not only deepens our level of customer engagement but we also enhance the quality of decision-making through collective intelligence. This innovative feature helps solidify Bitfinex's position as a comprehensive and cutting-edge solution in the digital asset market.
July 2020 – Lending Pro Revolutionises P2P Margin Lending via Automation
In July 2020, Bitfinex launched Lending Pro, a highly automated, customizable, and advanced lending tool aimed at elevating the experience of its customers in the margin funding market. Designed to cater to both individual and institutional lenders, Lending Pro offers a set of features that automate lending based on predefined criteria, thereby optimising the returns on lent assets. Lending Pro not only streamlines the lending process but also brings a level of sophistication typically associated with traditional financial markets, further bridging the gap between the crypto economy and mainstream finance.
September 2020 – Bitfinex Borrow Offers Liquidity Solutions for HODLRs and Investors
Bitfinex introduced "Bitfinex Borrow," a peer-to-peer digital token loan portal designed to meet the rising demand for cryptocurrency-backed lending. This P2P digital token loan portal is more than just a lending service; it's an innovative solution tailored to the specific demands of the modern crypto investor.
Through allowing users to leverage their existing cryptocurrency holdings as collateral, Bitfinex Borrow makes it possible to secure loans in various digital and fiat currencies without liquidating valuable assets. One of the standout features of Bitfinex Borrow is its flexibility. Users have the option to choose from different loan terms and interest rates, providing an added layer of customisation that many traditional financial institutions fail to offer. This adaptability is especially crucial in the fast-paced, volatile world of cryptocurrency markets, where user needs can change rapidly.
March 2021 – Bitfinex Pay Launches Providing Infrastructure for Merchants That Want to Accept Crypto Payments
Bitfinex introduced "Bitfinex Pay" as a merchant payment solution designed to streamline and simplify cryptocurrency transactions for businesses. This offering allows merchants to accept digital assets as payment for goods and services, further bridging the gap between traditional finance and the Bitcoin and crypto economy. By providing a seamless and secure payment gateway that supports various cryptocurrencies, Bitfinex Pay not only offers businesses a chance to tap into a growing customer base of crypto enthusiasts but also underscores Bitfinex's broader aim to facilitate the mass adoption of digital assets. With this move, Bitfinex extends its reach beyond exchange services to play a pivotal role in how transactions are actually conducted in the modern digital economy.
September 2021 – Bitfinex Securities Launches to Disrupt the Securities Issuance Industry
The launch of Bitfinex Securities signifies a groundbreaking moment in the realm of financial services, with the potential to disrupt the conventional securities industry fundamentally. Operating at the intersection of blockchain technology and traditional finance, this new platform aims to democratise investment by providing a more accessible, efficient, and transparent avenue for trading a wide range of financial instruments. In doing so, Bitfinex Securities challenges the longstanding norms and inefficiencies of legacy systems by leveraging the inherent benefits of decentralised technologies, such as real-time settlement and lower transaction costs.
This pioneering initiative reflects Bitfinex's commitment to innovation and its quest to continually offer transformative financial solutions to underserved entities and markets. By tapping into the vast, yet underexploited, potential of tokenisation for securities trading, Bitfinex Securities could serve as a catalyst for a seismic shift in how investments are made and managed, thereby redefining the contours of the global financial landscape.
November 2022 – Bitfinex Launches Freedom Manifesto at Adopting Bitcoin Conference in El Salvador
The unveiling of the Bitfinex Freedom Manifesto at the Adopting Bitcoin 2022 conference in El Salvador marks a pivotal moment in the crypto industry's history. Launched in a country that has already made significant strides in adopting digital currencies, the manifesto serves as a philosophical and practical guide that outlines Bitfinex's commitment to financial freedom, decentralisation, and empowerment through technology.
The document provides a comprehensive framework via several key pledges to support the Bitcoin ecosystem, prioritising education and a commitment to freedom, elucidating our vision for a more open and equitable financial ecosystem. Its release in El Salvador, a nation that has boldly integrated Bitcoin into its economy as legal tender, amplifies the manifesto's significance. By launching it at such a prominent event, Bitfinex not only spoke directly to a like-minded audience but also made a strong statement about the vital role of cryptocurrencies in shaping a future geared towards financial inclusivity and freedom.
February 2023 – Bitfinex Securities Opens Office in Astana, Kazakhstan
The establishment of a regional office for Bitfinex Securities in Astana, Kazakhstan serves as a strategic milestone for the company, opening the gateway to a rapidly emerging market hungry for financial innovation. Kazakhstan has shown a forward-leaning stance towards blockchain and cryptocurrency technologies, making it an ideal hub for Bitfinex Securities to expand its services and influence.
The Astana office will not only facilitate localised services but also lay the groundwork for partnerships with local financial institutions and regulatory bodies. This strategic move underscores Bitfinex Securities' vision of democratising finance on a global scale by making inroads into markets that are ripe for disruption and innovation. Moreover, setting up a regional office in Astana can act as a springboard for entering other Central Asian and Eurasian markets, thereby significantly broadening our reach and impact.
April 2023 – Bitfinex Securities is Granted the First Digital Asset License in El Salvador
The issuance of the first-ever Digital Asset licence in El Salvador to Bitfinex Securities represents a historic milestone for both the company and the broader cryptocurrency industry. This licensure not only adds legitimacy to Bitfinex Securities but also underlines El Salvador's commitment to being a pioneer in the adoption of digital assets. By receiving this licence, Bitfinex Securities gains a significant competitive edge, enabling it to operate within a regulated environment in a country that has openly embraced digital currency. It also allows the company to offer an expanded range of financial products and services tailored to this emerging market. The licensure sets the stage for further advancements in the adoption and regulatory recognition of digital assets.
June 2023 – Bitfinex P2P Launches in Argentina, Colombia, and Venezuela
The introduction of Bitfinex's Peer-to-Peer (P2P) platform represents a significant milestone in our ongoing mission to democratise finance, deliver financial inclusion, increase financial freedom and enhance user experience. Our P2P platform allows users to directly trade assets with one another, bypassing traditional financial intermediaries, thus promoting financial inclusivity and reducing transaction costs. By leveraging the principles of decentralisation and community interaction, Bitfinex P2P seeks to provide a more equitable and transparent trading environment.
P2P trading offers a lifeline in emerging economies grappling with weak national currencies and stringent capital controls. Traditional financial systems in such countries often fail to provide a stable medium for saving or transacting, eroding the purchasing power of citizens and limiting their ability to engage in global commerce. P2P trading platforms offer a way out by facilitating direct asset exchanges between users, giving access to a more stable and potentially appreciating asset class, cryptocurrencies. Unlike conventional financial systems, P2P platforms are largely immune to local economic policies, providing an alternative channel for capital flows both within and beyond national borders. In doing so, they empower individuals to regain control over their financial futures, bypassing restrictive controls and volatile national currencies.
October 2023 – Bitfinex Securities Launches First Tokenised Bond Offering
Bitfinex Securities unveiled its inaugural tokenised bond offering, ALT2611, a significant milestone that promises to revolutionise capital markets. Issued by Mikro Kapital, a well-known player in the microfinance sector, this 36-month bond carries a 10% coupon and is denominated in Tether (USDT). With a minimum investment amount set at 125,000 USDT, ALT2611 is designed to democratise financial access, giving investors the opportunity to acquire risks linked to the debt and equity of microfinance organisations and small financial institutions.
Bitfinex Securities aims to reshape the way capital is raised by providing a deep, liquid market for a variety of financial instruments, including blockchain-based bonds, stocks, and investment funds. The ALT2611 bond will begin trading at the price of 100 USDT and is expected to commence distribution within one week following the completion of the capital raise.
The bond has a three-year maturity period, and its legal framework is governed by the laws of the Grand Duchy of Luxembourg. Mikro Kapital intends to issue a total of 100,000 securitized tokens for ALT2611, aiming to raise 10 million USDT. Bitfinex CTO Paolo Ardoino hailed the launch as "the beginning of a new era for capital raises through deep liquid markets and stock/bond markets."