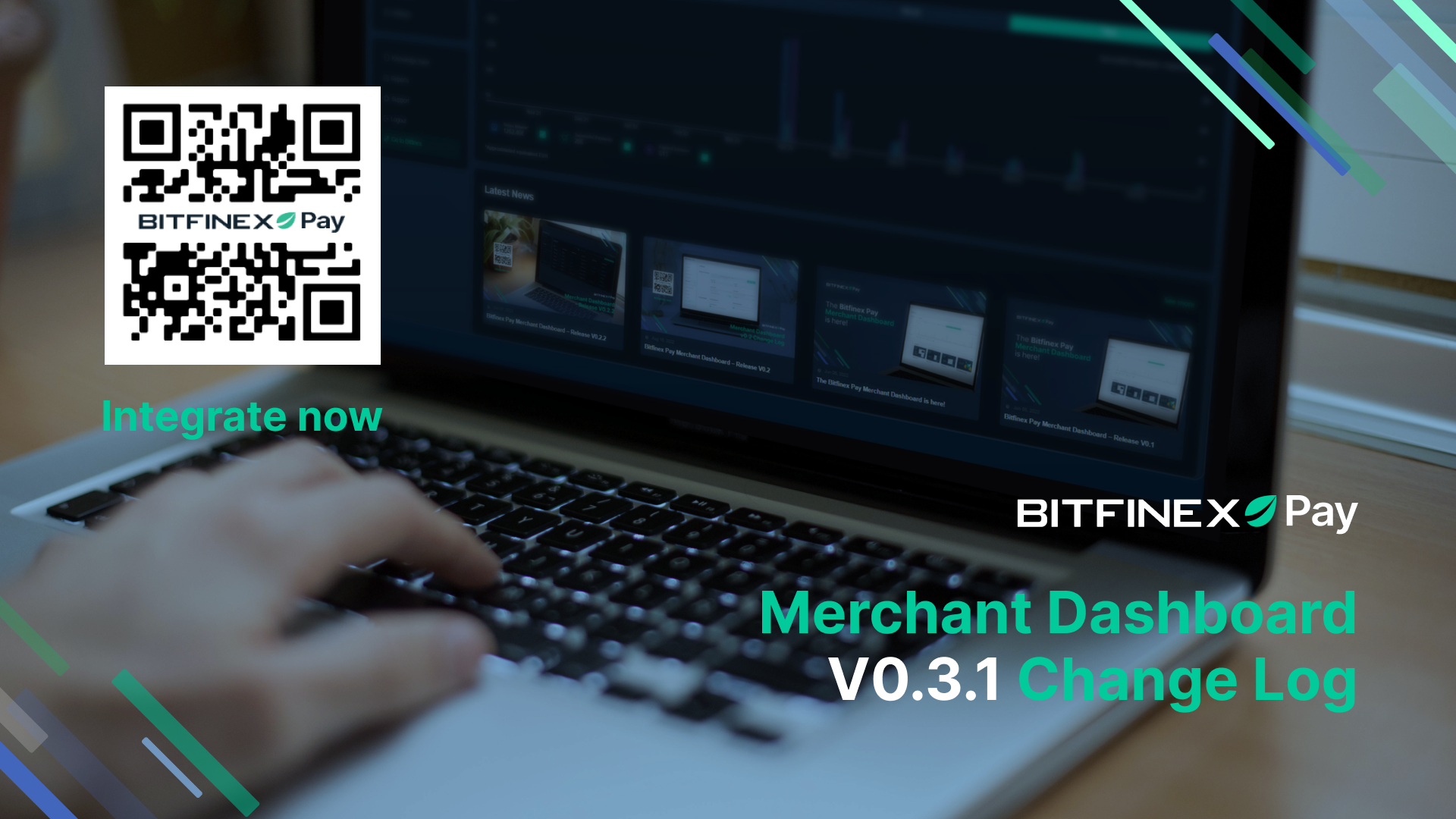 09 Feb

Bitfinex Pay Merchant Dashboard – Release V0.3.1

The Bitfinex Pay Merchant Dashboard is an internal tool designed to provide our Merchants with powerful reports and features to manage their Merchant crypto gateway.

We're pleased to share the latest updates to Bitfinex Pay. For more on Bitfinex Pay, please refer to https://blog.bitfinex.com/category/bitfinex-pay/.
Merchant Dashboard
Features
Added a Refunds feature to the "Payments" menu. Now merchants can see the refund status of every payment and can execute refunds with a new easy-to-use and quick experience. Merchants will be able to refund payments either fully or partially for any deposit received with a Bitfinex Pay compatible token
Improvements
A new error message has been added when trying to manually mark an invoice as complete with a deposit ID of a deposit made with a different token than expected
Improved the design of the "Clear Filters" button when filtering by crypto or status on the "Invoices" and "Payments" menus
Added a new and improved logo for Bitcoin Lightning in the Dashboard and End Customer payment flow
Accessing the Dashboard from the Bitfinex app now will apply the same Dark mode/Light mode setting set on the app
Improved the success message when editing an internal note of an invoice in the "Invoices" menu
Fixes
Fixed the design of some tooltips in the Dashboard
Fixed an issue causing the sorting of payments to only work on the current page
Removed transport texts on auto-convert flow. Now we only show the token we are converting to
Fixed an issue which caused the Lightning Payments ticker name to be shown incorrectly in the "Payments" menu
Fixed an error which was showing when logging into the Dashboard with a Merchant Master account
Fixed an issue causing overlap between the auto-convert button and the Merchant Feedback button on mobile
Fixed various design issues in the "Wallets" menu
End Customer Payment flow
Improvements
Address and TX hash information have been removed from the receipt after completing a payment when the payment is from a Bitfinex account
The dropdown arrow has been removed from the token selector when there is only one option
Fixes
Fixed an issue which caused the receiving address to disappear in the receipt after completing a payment via Lightning Bitcoin
Fixed an issue which caused Basic Plus customers not to be able to proceed with USDt payments
Fixed an issue causing some languages labels to be cut off on the language selector
Fixed an issue causing some receipts not to show the receiving wallet address
---
Start accepting crypto payments with Bitfinex Pay today: https://pay.bitfinex.com/.