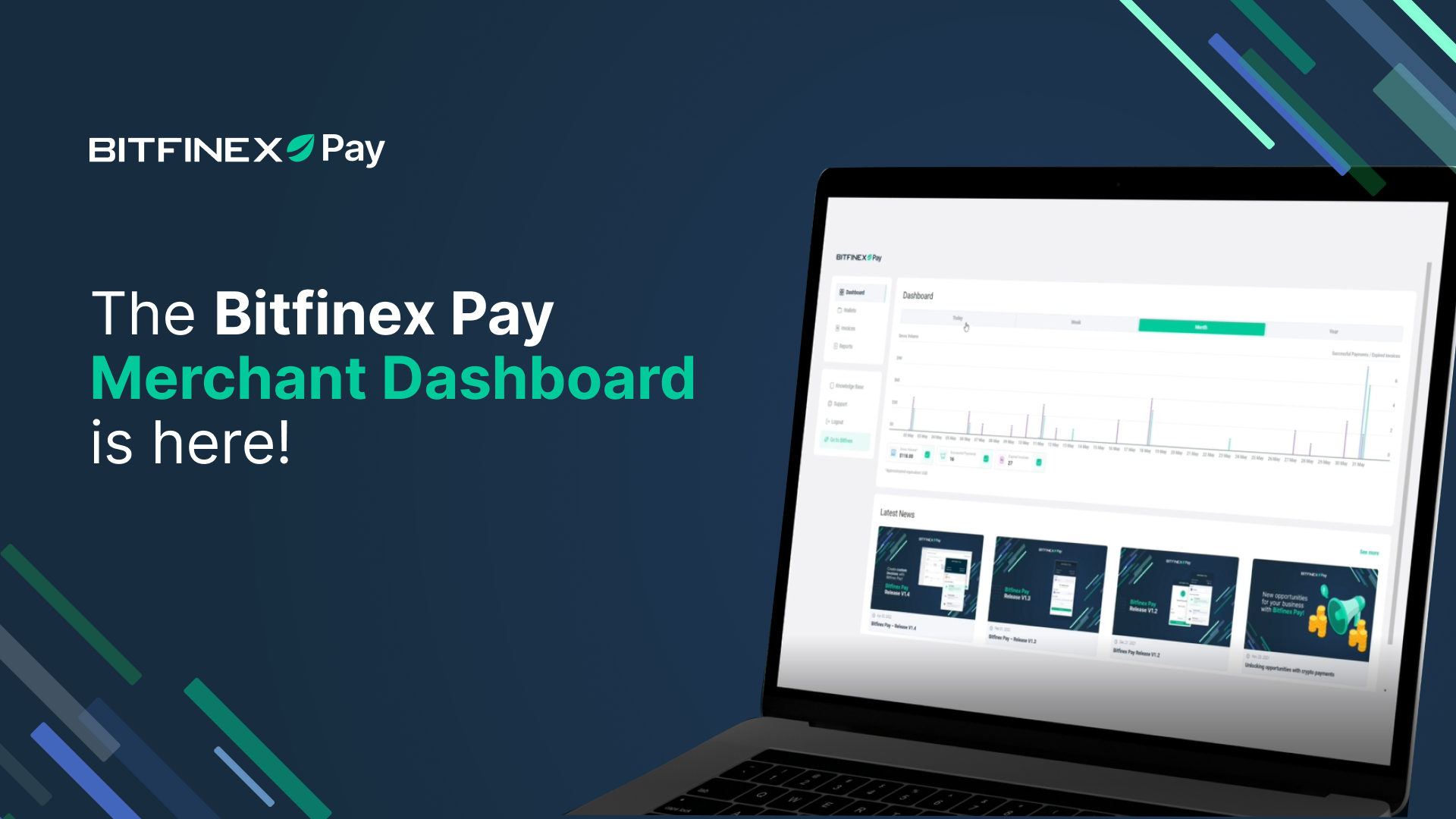 06 Jun

The Bitfinex Pay Merchant Dashboard is here!

All merchants aim for the continual growth and success of their businesses. To realise this goal, data analysis and KPI monitoring have become a vital part of business operations. Starting with the essential payments indicators, we are building a set of tools to ensure Merchants have the overview and control that they need. Here comes the Bitfinex Pay Merchant Dashboard V1.0, a flexible management UI for monitoring day to day payments performance: charting, reporting, wallet management and more.
What is The Bitfinex Pay Merchant Dashboard?
The Bitfinex Pay Merchant Dashboard is a back-office interface designed to support our Merchants with powerful reporting and the insights needed to manage their Crypto Gateway. With a clear overview of the payment flows, they will be able to track their checkout success, adjust balances, manage their wallets and measure efficiency.
How will Merchants Benefit from Bitfinex Pay Merchant Dashboard?
With the Bitfinex Pay Merchant Dashboard, our Merchants are able to:
find important data quickly and easily;
manage their token balances and wallets;
review all of their created invoices, their status and details;
be aware of all the latest info by reading news and blog posts on related topics;
track and analyse indicators deemed crucial to the success of their online stores;
improve implemented business strategies;
monitor the established key performance indicators (KPIs);
What does the Bitfinex Pay Merchant Dashboard Look Like?
The main menu of the dashboard and the default screen after login will contain the menu on the left-hand side and be divided into two modules: Metrics Dashboard and News. The side menu will include the following sections:
Dashboard (Quick metrics + News)
Wallets
Invoices
Reports
Knowledge Base
Support
Logout
Go to Bitfinex

The Metrics Dashboard is one of the key modules showing useful information regarding Gross Volume in USD, number of Successful Payments and Expired Payments in different timeframes (Today, Week, Month, Year). All the detailed information will be displayed when hovering over any of the data points. With the Metrics Dashboard, all the key performance indicators will be easily accessible and clear at first glance, which will simplify the analysis procedure and make the process less time-consuming.
News, in turn, is the module that includes all Bitfinex Pay related blogs, articles, tutorials, changelogs, feedback surveys and contests. Our Merchants no longer need to spend time searching for educational, entertaining or news content. Everything is already gathered for them, and they just need to come and see.
The Wallets section shows the wallets of all Bitfinex Pay compatible cryptocurrencies. With the Wallet section elements, it will be much easier for our Merchants to process withdrawals, generate a new address for tokens not yet active for payments, with the ability to generate new addresses on each wallet, view the QR code of the token address and see their balance overview globally and per token.

The Invoices section includes a list of all the invoices created by the Merchant and the key information needed for payment consolidation. With Invoices on the dashboard, Merchants will see the status of all created invoices and handle such details as Order ID, Amount, Creation & Expiration Dates and Customer. Also, they will be able to take various actions on invoices, such as changing their status to Completed or Expired, creating custom invoices and sending them to specific clients. All this functionality is implemented to make invoice processing more straightforward and faster at every step of the process.

Businesses are required to record all of their sales and income, which can come in various forms, including receipts and invoices. Thus, an invoice becomes vital for a business owner to keep a detailed record of sales for such purposes as payment tracking, legal protection and business analytics. Using invoices can help Merchants keep track of payments, be protected from fraudulent lawsuits and develop effective marketing strategies, analysing customers' buying patterns and identifying trends, popular products, peak buying times, and more. The Invoice Details feature was added to the dashboard to let our Merchants make use of the data included in an invoice. By clicking on any element of the invoices list, Merchants will be able to access all the details of a specific invoice and all the actions available. The amount of information shown will depend on the status of the particular invoice.
Create Manual Invoice
Apart from giving our Merchants all the tools to streamline their invoicing processes, we will also bring the Manual Invoice Generator to the dashboard. Using it, users will be able to generate custom invoices without the need to integrate the checkout on their store by clicking only the 'Generate Invoice' button.
If you have any questions or require additional information on the Bitfinex Pay Merchant Dashboard functionality, you can go through the Understanding the Bitfinex Pay Merchant Dashboard article or contact our Bitfinex Support. Access it here and improve your workflow using the latest features of the Bitfinex Pay Merchant Dashboard. It has never been easier!

To discuss Bitfinex Pay Enterprise solutions, or if you want to share your feedback about the Dashboard or Bitfinex Pay, please contact [email protected].