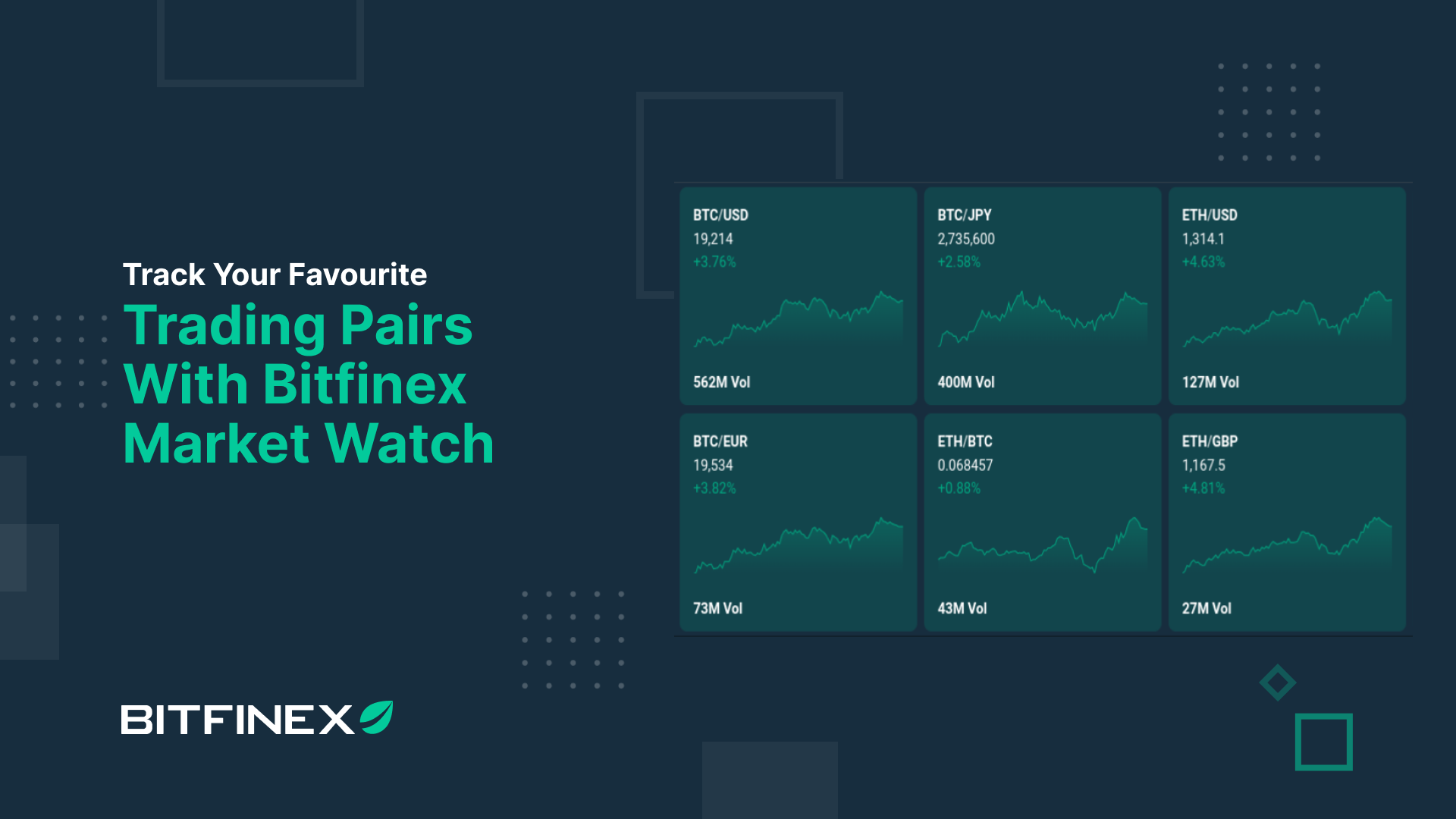 04 Oct

Track Your Favourite Trading Pairs With Market Watch From Bitfinex

Market Watch is a powerful new tool which is part of our Trade Desk suite of widgets, which features customisable ticker tiles showing market data in real time. Take advantage of Market Watch by using our popular presets or customise it to your liking.
---
With the latest update to our web interface, we're excited to announce that Market Watch has become its own component in a custom grid. This means you can now keep track of all your favourite markets and token trading pairs in real time from your Bitfinex account and even run Market Watch in its own window.
Desktop users can now keep up with the latest developments with Market Watch as part of Bitfinex Trade Desk, our suite of customisable widgets designed to give you an edge when trading on Bitfinex. Now Bitfinex customers can utilise Market Watch to track their trades in real time.
Bitfinex Market Watch lets you add multiple tokens and displays trading pairs in a customisable tile layout which gives you market analytics at a glance. Tiles include essential information like token tickers, price, volume, 24-hour volume, and a 24-hour chart for each pair.
You can use our popular presets like top trading pairs by volume or the best performers and worst performers of the last 24 hours. Or you can also customise your layout and add your favourite token pairs, and track the coins you're most interested in.
Customising the layout is simple and can be accessed in settings or the custom grid. In just a few clicks, you can add the markets that matter most and keep tabs on your trades, price action, and market conditions.
Add as many trading pairs as you would like from almost 400 trading pairs on Bitfinex. The pairs can be easily accessed and edited anytime. Easily add and remove pairs to keep up with trends in the space across multiple markets.
To share any further feedback, please complete the Bitfinex mobile user app survey or join the Bitfinex Telegram channel and Discord community.