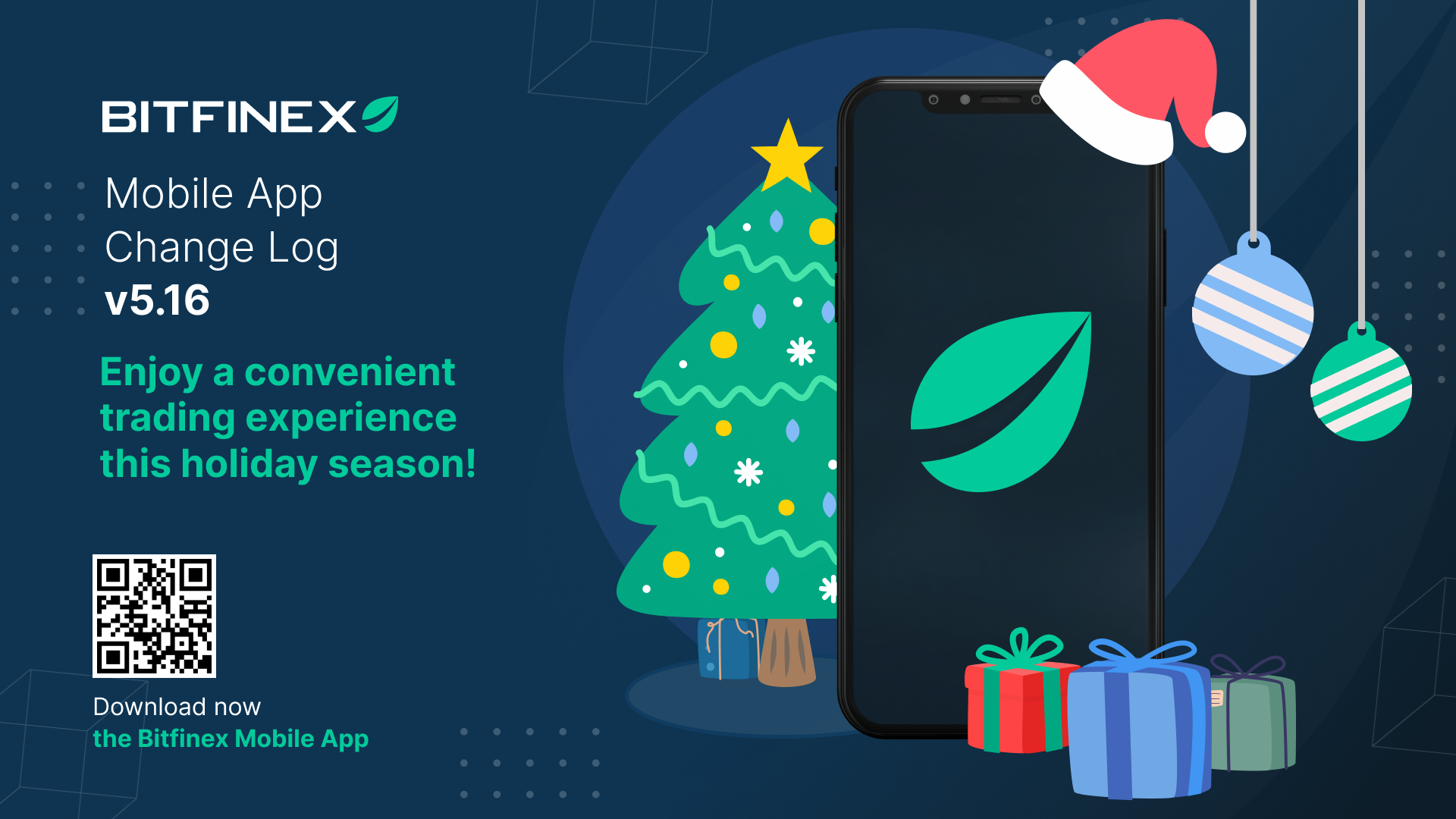 15 Dec

Mobile App Change Log 5.16.0

Recent updates and optimisations to the Bitfinex mobile app

We're pleased to present Version 5.16.0 of the Bitfinex mobile app.

The latest update to the Bitfinex mobile app includes general improvements

You can also download the latest version of the Bitfinex mobile app from the Android Application Package (APK).

Please share your experience by leaving a review in the app store too! The below changes have been suggested to us by our active customer base. Feedback from our customers is incredibly valuable to us.
---
Features
Updated to show the Derivatives* mark price in the trading chart
Updated the deposit QR Code card design layout
Trading
Fixed the issue of the Bitfinex Alpha banner not opening correctly
Funding & Earn
Updated to keep in data when an auto-renew form is deactivated
Updated the Ethereum token Staking calculator symbols
Updated Staking reward for Ethereum
Wallet
Updated to support Swap from/to tokens for conversions
Fixed the issue of Swap from/to currency icon background colour issue
Fixed the decimal issue with a small amount in Swap
Fixed the issue of the insufficient funds notice not showing in the light theme
Updated to apply region-specific tokens deposit/withdrawal block
Pulse
Updated the Bitfinex Pulse Notification icon to reuse the same Price Alert (bell) icon as in the Trading pages
Fixed the issue of crashes on Android when scrolling Bitfinex Pulse feeds full of videos
Fixed the issue of Bitfinex Pulse crashing when a customer switches to the Users tab while performing a search
Fixed issue of a first-time user that skips the setup Bitfinex Pulse nickname step receiving an error when navigating to "Your Profile"
Fixed the issue of the click notification and profile in Bitfinex Pulse header when using the Guest mode
Fixed the issue of not showing a preview for links in the Trending tab
Fixed the issue of not keeping the last visited tab after reloading
Account
Fixed the issue of the app crashing when accessing sub-accounts
Fixed the issue of bottom-line rows appearing in the white theme
Fixed the issue of the zoom font slider not updating
Fixed the issue of a loading page error when a guest user accesses the Bitfinex Leaderboard
Fixed the issue of the successful edit screen not disappearing after editing account permissions
Fixed the issue of the deactivate modal appearing distorted on smaller screens
Others
Update the structure for libraries and UI components
Updated to avoid Popup/Full-Screen modals overlapping, causing screen freezing
Updated translations for Russian, Spanish, Turkish, and Portuguese, as well as traditional and simplified Chinese
*The derivatives platform is provided by iFinex Financial Technologies Limited. References to Bitfinex Derivatives in this post are references to iFinex Financial Technologies Limited.
To share any further feedback, please complete the Bitfinex mobile user app survey or join the Bitfinex Telegram channel and Discord community.