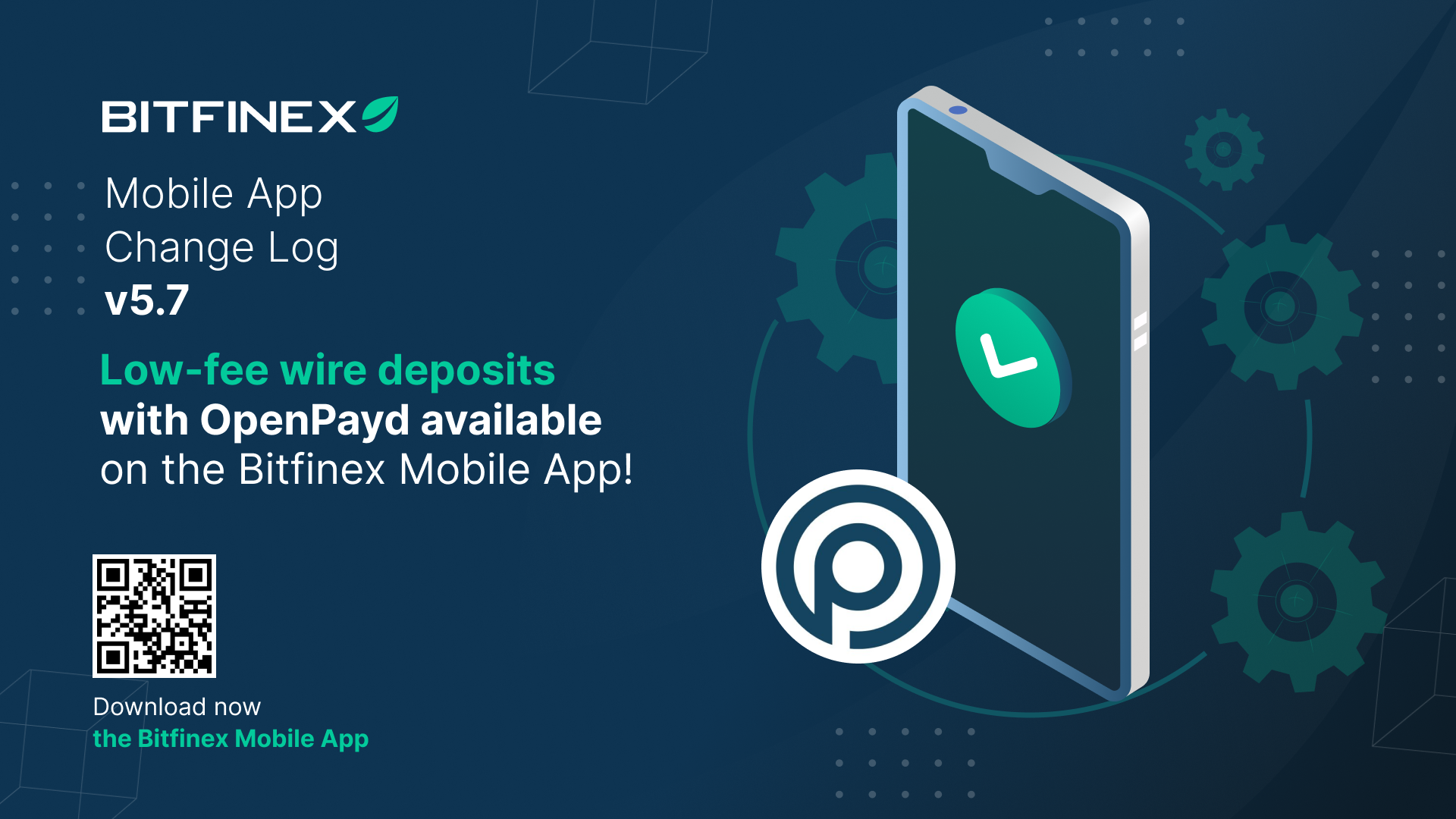 08 Jun

Mobile App Change Log 5.7.0

Recent updates and optimizations to the Bitfinex mobile app


We're pleased to present Version 5.7.0 of the Bitfinex mobile app.


The latest update to the Bitfinex mobile app includes support of bank wire deposits through the OpenPayd payment processor.


You can also download the latest version of the Bitfinex mobile app from the Android Application Package (APK).


Please share your experience by leaving a review in the app stores too! The below changes have been suggested to us by our active user base. Feedback from our customers is incredibly valuable to us.

---
Features
Deposit via bank wire with OpenPayd processor now available
Addition of bank wire fee details displayed when making a wire deposit
Addition of LNURL invoice support in Fast Pay
Addition of a notice within the app to let users know when a new mobile version is available on the store
Easy app sharing option now available from within the mobile app
The dedicated mobile application will be available for Turkish users in the coming week
Improvements
Updated the mobile app framework and libraries
Redesigned the Log In screen
Redesigned the Create Pin screen
Redesigned the Verify Email screen
Improved the 2FA setup flow
Updated the onboarding tutorial
Improved the live update progress screen
Improved address sharing to Fast Pay
Updated Input fields style
Updated modal picker styles
Updated app theme styles
Redesigned ad banners to scrolling style
Addition of Turkish and Portuguese to Pulse feed locale selector
Updated CNHT, EURT, XAUT to color icons
Addition of GALA, GST, GMT, STG, and MXNT icons
Addition of Deactivate account permission notice
Removal of UnionPay icon for OWNR deposit
Updated translations for Russian, Spanish, Turkish, Portuguese, as well as traditional and simplified Chinese
Bug Fixes
Fixed issue to show currency symbol in recent withdrawals correctly
Fixed issue of showing currency symbol on Swap picker label
Fixed issue to show correct currency symbol in recent withdrawals
Fixed issue of wallet transfer with a tiny amount
Fixed issue of chart type displaying incorrectly in Lite mode
Fixed issue of trading deeplink on iOS
Fixed issue of Slider not resetting to default
Fixed issue of funding symbol displaying incorrectly at times
Fixed error message issue when logging in with a Deactivated account
Fixed issue of amount formatting on Positions and Orders
Fixed issue of Deposit and Withdraw Tether picker items not showing translated
Fixed selection menu background color
Fixed Bank wire notice mismatch on mobile
Fixed issue of Stake screen elements not aligned horizontally and added element focus border
Fixed issue of Fast Pay not hiding address scan error message when loading
Fixed issue of not show 0 fee correctly for off-chain withdrawal
Fixed issue of the live update on iOS
To share any further feedback, please complete the Bitfinex mobile user app survey or join the Bitfinex Telegram channel.