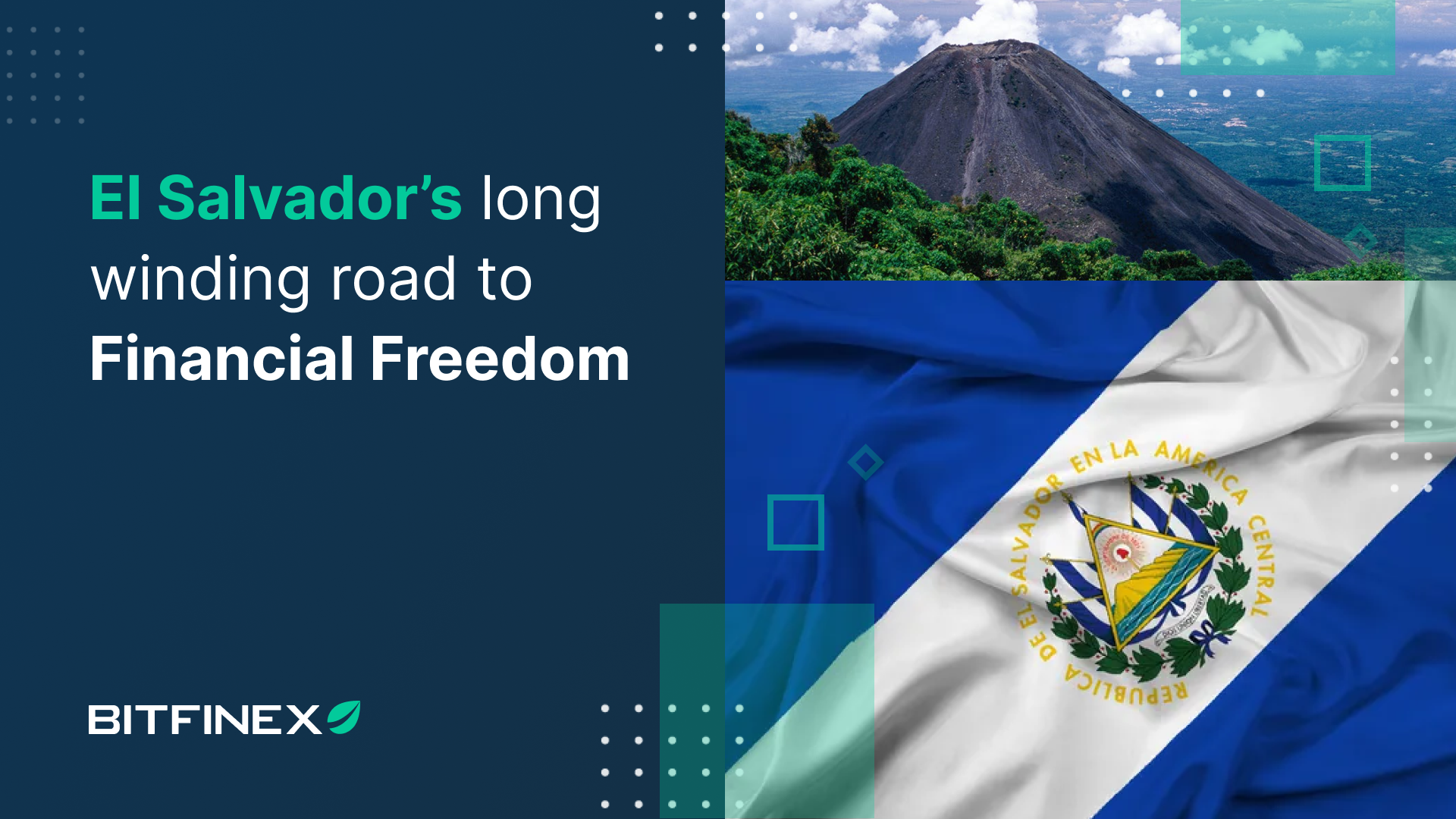 19 Sep

El Salvador's Long Winding Road To Financial Freedom

El Salvador's President Nayib Bukele announced a bond buyback program to reassure investors and the nation's creditors that it would not default on its sovereign debt. The government, along with crypto industry partners and stakeholders, are working together to pave the way for economic liberty.
---
El Salvador's Bond Buyback Inspires Positive Sentiment
El Salvador has begun its sovereign debt repurchase program, which it announced over the summer, amidst rumours of default and economic crisis in the Central American nation. El Salvador will pay $910 for bonds maturing in 2023 and $540 for bonds maturing in 2025. It has also reassured investors that it would not default on its bonds.
Each bond is worth a total of $800 million, although the repurchasing program will be capped at $360 million. This is an effort to bring confidence to the market. The buyback program is taking place from September 12th-20th, and funds are expected to be paid out on September 22nd, 2022.
Bukele shot to public attention last year after announcing his plan to make Bitcoin legal tender, launching a government-backed Bitcoin wallet called Chivo, and airdropping $30 of Bitcoin to each citizen in an effort to promote financial inclusion and encourage Bitcoin usage in El Salvador.
Bukele's visionary plan to use Bitcoin as a means to pull the country up by its bootstraps has made him a legendary figure amongst the crypto community, and it seems that his vision is shared by a great number of Salvadorans, as well. Bukele is one of the most popular presidents in El Salvador's history, with an approval rating of around 90%.
Bukele's goal for El Salvador's adoption of Bitcoin is to provide his citizens with access to transact in the wider global economy in a nation which is 70% unbanked and with an almost purely cash-based domestic economy.
Geopolitically, Bitcoin adoption is also meant to help liberate the country from a sovereign debt crisis and dependence on the US Dollar, as decisions like setting inflation and interest rates take place in Washington, with Salvadorans having no say in what happens to the Dollar, which they use to earn, spend, and save.
Another objective of the Bitcoin law is to streamline the remittance process and reduce fees for Salvadorans sending and receiving funds domestically and abroad. El Salvador is one of the world's largest remittance recipients, and Salvadorans pay over $400 million in fees annually to money transfer services like Western Union and Moneygram.
Alternatively, by using a Chivo ATM, they can send funds home instantly and without fees with Bitcoin and Lightning Network. 50 Chivo ATMs have been installed in many US cities with large populations of Salvadoran residents, as well as all over El Salvador itself.
Aside from the Bitcoin law, Bukele has been pursuing more traditional solutions to help alleviate the nation's financial woes, and this bond repurchasing program is one such example. Bukele is serious about achieving financial freedom and improving life for the average Salvadoran and is using every tool at his disposal.
Perhaps the sentiment can be summed up best with this tweet by Milena Mayorga, El Salvador's ambassador to the US:
"El Salvador is building the road to freedom and non-dependence on recipes for submission.
Welcome to the land of #LibertadEconómica!"
Bitcoin's Positive Impact On El Salvador's Economy
No matter what your opinion is on the Bitcoin legal tender law, It is hard to argue with some of the positive effects that Bitcoin adoption and the Bitcoin law have had on the country. El Salvador has been in the headlines a lot and sparked considerable international interest.
Foreign investment and interest have increased dramatically, with many crypto startups and established crypto businesses flocking to the country to set up shop and take advantage of the friendly regulatory environment.
In the first year, more than 50 Bitcoin companies have opened offices in El Salvador, with much more planning on establishing a presence in the country. This has created employment opportunities and brought a wide array of new services and business models to the Salvadoran economy.
As for tourism, President Bukele has credited Bitcoin with saving the tourism industry in El Salvador after the pandemic, lockdowns, and international travel restrictions. Tourism saw a 30% increase in the wake of the Bitcoin law.
1.1 million tourists visited El Salvador in the entire year of 2021, and in the first six months of 2022, there were already 1.2 million tourists who had visited El Salvador, an incredible 81% increase. This increase also took place while the Bitcoin market was in freefall and had lost more than 50% of its value since the 2021 ATH.
The impact has been so great that Bukele announced a $203 million investment in Bitcoin Beach in El Zonte, which will include a shopping centre, water treatment, beach club and public parking in an effort to increase tourism.
Social aid and NGOs have also been blessed with the influx of foreign interest and funding directly due to Bitcoin in El Salvador. Nonprofits like Bitcoin Beach, My First Bitcoin, Torogoz Dev and New Story have been able to receive donations, build housing for poor families, provide financial education, teach about Bitcoin, and train students and professionals in Bitcoin and Lightning Network technologies and development.
El Salvador has also invested in infrastructure by installing over 200 Bitcoin ATMs, and is currently planning on mining Bitcoin with geothermal energy, is planning on issuing "Volcano Tokens", on which Bitfinex will be the financial technology provider. It has also unveiled plans to build Bitcoin city, a special economic zone catered towards Bitcoiners and crypto investment, along with an international airport to facilitate transportation.
El Salvador, like other Latin American nations, has a huge diaspora of citizens living abroad. The US alone has over 2 million Salvadoran residents, and many of them send money back home to family members in El Salvador.
Remittances make up 23% of El Salvador's GDP, and around $6.5 billion annually, with El Salvador ranking 4th for remittances worldwide. Salvadorans have begun to take advantage of Bitcoin to send and receive remittances, with 1.9% being sent through the Chivo wallet.
It is estimated that 4 million Salvadorans have downloaded the Chivo wallet app, and that's a big deal in a small nation of only 6.5 million inhabitants. El Salvador's Chivo wallet uses Lightning Network, the instant payments layer on top of Bitcoin, as has been seen by many as the first real world at scale test for the Lightning Network.
Since the launch of Chivo, around 20% of businesses have already started accepting Bitcoin, while only 25% of businesses currently accept credit/debit cards. It's estimated that cash usage has dropped by 10%, and debit card usage has dropped by 11% since Bitcoin was introduced.
Crypto Businesses Working To Make The Bitcoin Law A Success
The Bukele government and Salvadoran citizens are not the only ones who want to see the country's Bitcoin experiment succeed. Many prominent actors in the fledgling cryptocurrency industry have opened offices in El Salvador and have a vested interest in seeing it succeed as well.
Many of the companies who have come to El Salvador are helping to work with the government and regulators to provide tax revenue, insights on regulation and compliance frameworks, and the installation of mission-critical infrastructure, which is needed to provide an array of new crypto-focused services. For many Salvadorans, Bitcoin is their first experience with digital payments and online shopping.
Mexican crypto exchange Bitso is the primary services provider for the government's Chivo wallet. Bitgo, a US-based business that provides infrastructure for institutional custody of Bitcoin and crypto, is assisting the effort by providing the security technology for Chivo wallet.
Well-known crypto businesses like Paxful, Strike, Ditobanx, Ibex Mercado, and Bitrefill have also joined the fray, providing exchange services, bill payments, and payment processing for local businesses, which are encouraged to accept Bitcoin payments under the law.
Paxful has even gone so far as to create a Bitcoin educational centre called La Casa Del Bitcoin, which hosts meetups, community events, guest speakers and regular discussions about how to best assist Salvadorans in their journey towards societal Bitcoin adoption.
Athena Bitcoin has already installed over 200 Bitcoin ATMs and has plans to install 1,500 Bitcoin ATMs in total all around the country. Bitcoin ATMs have been one of the more popular and most accessible ways for Salvadoran citizens to convert their coins to cash and acquire Bitcoin with USD.
Tesobe, the company behind the Open Bank Project & API3, which is a DAO that provides oracle data for smart contracts, has partnered with cross-chain self-custody protocol Qredo and Soveryn, a DeFi lending and trading services project based on the Bitcoin smart contracting sidechain RSK.
The Tesobe, Qredo, and Soveryn partnership aims to provide open banking and decentralised custody and DeFi lending and trading services for neobank & fintech startups in El Salvador that wish to offer Bitcoin and crypto products. Tesobe assists banks, financial institutions, and regulators in deploying new services and blockchain integration.
These efforts from the many companies who have a stake in El Salvador's successful Bitcoin adoption see the nation's Bitcoin law as a real-world laboratory and country-sized sandbox to try out new business models, which can then be rolled out globally once they have been successfully battle-tested and dialled-in domestically in El Salvador.
A Beacon Of Light For Financial Inclusion Worldwide
Nayib Bukele's Bitcoin-focused policies have received a lot of criticism from political opponents, entrenched legacy financial interests, and the mainstream press, but he remains very popular with Salvadoran citizens. El Salvador's unorthodox and courageous Bitcoin experiment has also caught the eye of many developing nations in similar economic predicaments.
In May of this year, El Salvador hosted representatives from 44 central banks in developing nations, keen to learn as much as possible from El Salvador's firsthand experience in implementing Bitcoin as a legal tender and utilising it to boost financial inclusion.
Attendees from nations like Ghana, Pakistan, Costa Rica, Jordan, and many more from around the world, came to learn about the possibilities afforded by Bitcoin and Lightning Network adoption. Many of these nations are already at high risk of a debt crisis.
Shortly after El Salvador's Bitcoin legal tender law, the Central African Republic also made the decision to adopt Bitcoin as a legal tender currency. Is it the first of many dominoes to fall and to follow suit?
Apart from El Salvador and The Central African Republic, the Portuguese autonomous island of Madeira and the semi-autonomous private city of Prospera, based on the Honduran island of Roatán, have since made similar announcements of adopting Bitcoin as legal tender.
Bitcoin could be the tool that empowers these developing nations and autonomous communities to climb their way out of risky sovereign debt and put them on a more equal footing with larger, wealthier nations. Bitcoin might be the path towards self-sovereignty on a nation-state level, with financial inclusion for all.
Salvadoran President Nayib Bukele seems to sincerely be concerned with improving the daily quality of life for the millions of Salvadorans he has brought along for the ride on his Bitcoin odyssey. For that, he should be admired and applauded.
One thing the nocoiner press simply doesn't understand or is more than happy to overlook is that every four years since its inception, Bitcoin reaches new all-time highs with every halving. While past performance is not indicative of future results, Bukele may still come out on the other end of this market cycle looking extremely prescient and competent.
History is made by those bold enough to take a principled stand against the status quo. Bukele has certainly secured his place in history, and his legacy may be discussed with reverence for generations to come.