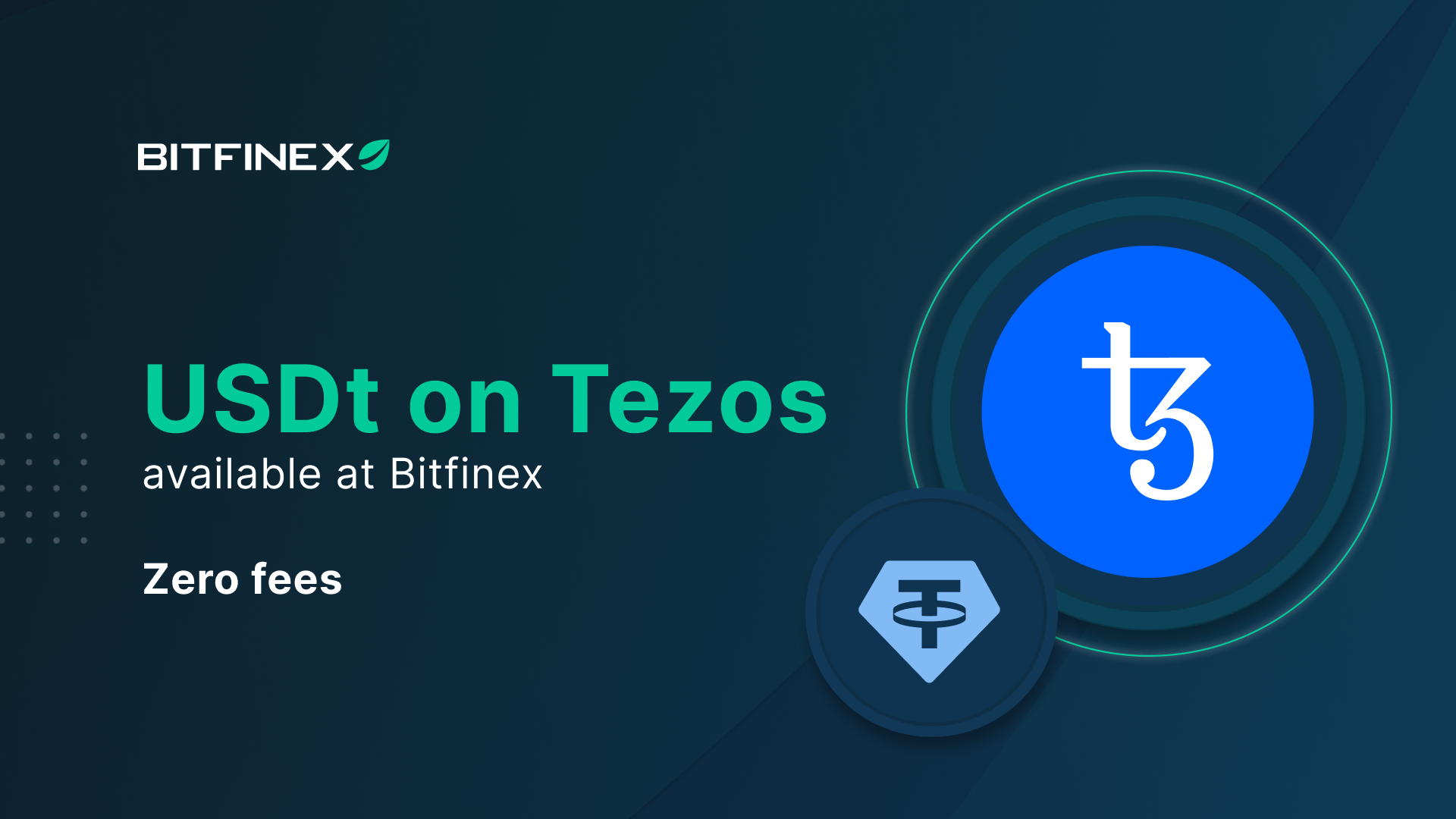 21 Jul

Tether (USDt) is now live on Tezos

We are pleased to announce that Bitfinex has enabled deposits and withdrawals for Tether (USDt) on Tezos. Tezos is the twelfth blockchain on which USDt is available, adding to Algorand, Avalanche, Bitcoin Cash's Simple Ledger Protocol (SLP), Ethereum, EOS, Liquid Network, Omni, Kusama, Polkadot, Tron and Solana.
What is Tezos
Tezos is an energy-efficient, self-amending blockchain designed for creating and hosting decentralised applications (DApps) and digital assets. Tezos is one of the most rapidly developing blockchain ecosystems and has seen significant growth as the original Proof-of-Stake network continues to scale.
How Tezos works
Tezos' blockchain can be divided into two parts:
Network Shell — the part of the code that handles transactions, administrative operations and self-amends based on how users vote.
Network Protocol — the part of the code that sends proposals to the shell for review.
Tezos utilises a modification of the classic proof-of-stake (PoS) consensus algorithm called liquid proof-of-stake (LPoS). This mechanism works by its customers staking, or in Tezos' case, "baking" XTZ tokens. To become a baker, a single node is required to bake 8,000 XTZ tokens.
Why is Tezos unique
Self-amendment allows Tezos to upgrade itself without having to split ("fork") the network into two different blockchains, and it has so far completed ten major protocol upgrades through its novel on-chain governance. Because of self-amendment, coordination and execution costs for protocol upgrades reduce, and future innovations can be implemented seamlessly.
In Tezos, all stakeholders possessing Tezos (XTZ) tokens can participate in the protocol governance. The election cycle provides a formal and systematic procedure to reach an agreement on proposed protocol amendments. This unique approach to self-upgrades and on-chain governance makes Tezos an agile platform.
What is Tezos (XTZ) token
Tezos (XTZ), also known as Tez or tezzie, is the native token of the Tezos blockchain. It is used to:
interact with dApps, 
pay for fees, 
secure the network through staking and 
provide a basic accounting unit on the Tezos platform. 
Tezos Team
Tezos Team consists of crypto professionals who strongly believe that Tezos will drive social, political and economic innovation on a global scale and is currently led by the President of the Tezos Foundation Council, Roman Schnider, and other members. The Tezos Foundation is responsible for controlling the capital that Tezos raised during its ICO.
How to buy XTZ on Bitfinex
How to buy XTZ with crypto
1. Log in to your Bitfinex account or sign up to create one.
2. Go to the Deposit page.
3. In the Cryptocurrencies section, choose the crypto you plan to buy XTZ with and generate a deposit address on the Exchange wallet.
4. Send the crypto to the generated deposit address.
5. Once the funds arrive in your wallet, you can trade them for XTZ. Learn how to trade on Bitfinex here.
How to buy XTZ with fiat
1. Log in to your Bitfinex account or sign up to create one.
2. You need to get the full verification to be able to deposit fiat to your Bitfinex account. Learn about different verification levels here.
3. On the Deposit page, under the Bank Wire menu, choose the fiat currency of your deposit. There's a minimum amount for fiat deposits on Bitfinex; learn more here.
4. Check your Bitfinex registered email for the wire details.
5. Send the funds.
6. Once the funds arrive in your wallet, you can use them to buy XTZ.
How to buy XTZ with cards
1. Log in to your Bitfinex account or sign up to create one.
2. Select Payment Cards on the Deposit page.
3. You can choose either of the payment processors to purchase ETH. For XTZ, you will need to get the full or intermediate verification level. Find more info about verification levels here.
4. Select Ethereum, fill in the amount and select the wallet you want to deposit the purchased XTZ.
5. Agree to the terms and click Proceed to Payment.
Also, we have Bitfinex on mobile, so you can easily buy XTZ currency while on-the-go.
Tezos Channels
Twitter | Discord | Telegram | Reddit | Tezos Agora Forum