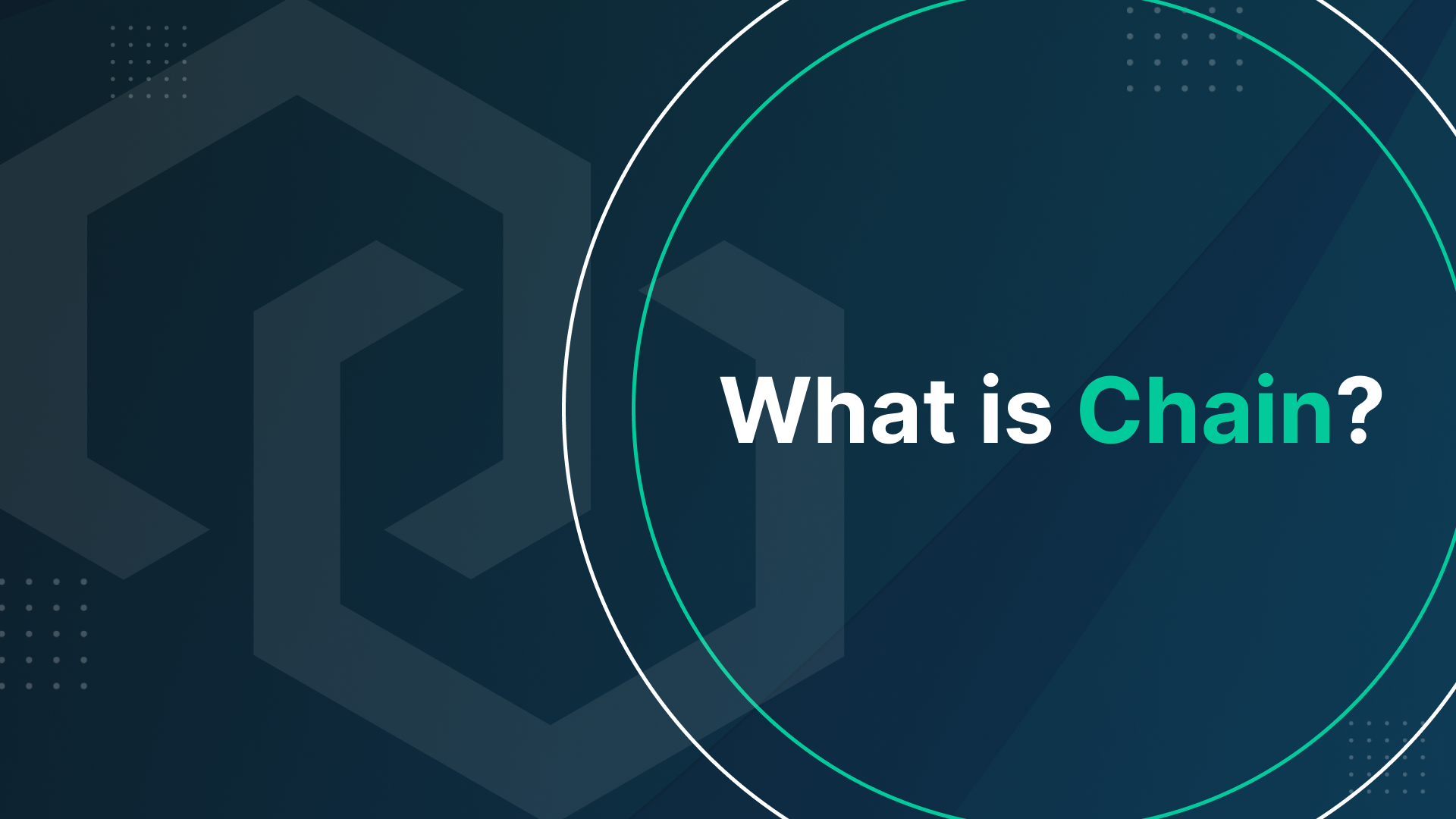 20 Sep

What is Chain (XCN)?

Chain has identified two core problems in the financial and blockchain industry that it aims to tackle through its ecosystem of products: Legacy Financial Systems & Public Blockchain Infrastructure. Chain wants to make blockchain infrastructure provisions more accessible and less time-consuming to developers pushing forward the paradigm shift towards Web3.

Together with Bitfinex, you will be able to learn more about the Chain project and have a chance to get a reward for participating in the Chain Telegram Takeover AMA and Airdrop Quiz competition. The competition description and the rules can be found here. Don't miss your chance to win!
What is Chain (XCN)
Chain is a cloud blockchain infrastructure solution that enables organisations to build better financial services from the ground up. Founded in 2014, Chain has raised over $40 million in funding from Khosla Ventures, Pantera Capital, Capital One, Citigroup, Fiserv, Nasdaq, Orange, and Visa. In 2018, Chain was acquired by Lightyear Corp., the commercial arm of the Stellar Development Foundation, the organisation behind the Lumens cryptocurrency, which formed Interstellar. In 2020, Chain was re-acquired to continue its mission to build a more robust global financial system through blockchain cloud technology. Chain is now operating as a privately held corporation with a newly established board of directors, officers and shareholders.
How Chain works
Chain has launched Chain Core, a permissioned and open source blockchain, and Sequence, its ledger as a service product. Using Chain Core, institutions can launch and operate a blockchain network or connect to a growing list of other networks that are transforming how assets move around the world. The Chain Protocol defines how assets are issued, transferred, and controlled on a blockchain network. It allows a single entity or a group of organisations to operate a network, supports the coexistence of multiple types of assets, and is interoperable with other independent networks. Chain Core is engineered for the performance demanded by modern financial systems. The time to create, sign, and validate a transaction is measured in milliseconds.
Why is Chain unique
The Chain platform focuses on cloud and API architecture for permissioned ledgers. This cloud product now will directly compete with them and enable a cheaper and larger selection of node selections for RPC APIs and web sockets. "RPC" stands for "remote procedure call" and is a unique approach allowing users to tap into services running within external networks, thus calling processes via remote systems.
With Chain, you can use XCN tokens for payments across all of the Chain products. Also, Chain allows its users to run and connect their own nodes to the Chain Protocol and provide computing resources to the network.
Chain ecosystem
Chain Protocol — The protocol utilises an internet monitoring system to ensure that the architecture is highly available and scalable. This ensures that all RPC API endpoints are constantly in sync with the underlying nodes. Chain Protocol routes the network traffic to ensure optimised routing and speed are available for developers.
Sequence — Sequence is a cryptographically-secured cloud blockchain ledger service. It allows users to manage balances in financial and commerce applications like wallet apps, lending platforms, marketplaces, and exchanges. While ledgers are managed as a service, all transactions must be signed by the relevant keys. These keys are held in secure enclaves and controlled by the users, services, or organisations that have authority over particular assets, accounts, and functionality. Sequence cannot access them. This "cloud + keys" model is how Sequence combines tamper-proof security with a great developer and operator experience.
Chain Cloud — Chain Cloud is a decentralised and distributed infrastructure protocol designed for developers to access blockchain networks on-demand. In addition, clients can utilise various services within Chain Cloud to meet their blockchain and web3 product needs.
TxVM — TxVM stands for "transaction virtual machine" and seeks to achieve the expressiveness and flexibility of an imperative contract model such as Ethereum's while maintaining the efficiency, safety, and scalability of a declarative transaction model such as Bitcoin's. TxVM defines a stack machine for manipulating basic data items like strings, integers, and tuples, but also specialised types: values, each with an amount and asset type, and contracts, programs that lock up values and other data. Rules governing the handling of these types provide guarantees about integrity and security.
What is Chain (XCN) Token?
Chain Token (XCN) is the governance and utility token for the Chain Protocol designed to vote on protocol improvements and various community-driven programs. XCN is also utilised for discounts, premium access, and a payment method for commercial fees on Sequence and other Chain ecosystem products. The Chain's main network and products are launched prior to the token generation event, giving XCN immediate utility and consumption upon launch.
XCN Token Economics
Chain Team
Deepak Thapliyal – CEO – Thapliyal is an entrepreneur who is an avid domain investor who previously worked in the private sector and built arbitrage trading systems.
Santosh Kumar – CTO – Masters in Computer Science from Old Dominion University. Previously: Blockchain Technical Leader at Cisco and Senior Engineering Lead at Coinbase.
Mike Herron – CMO – Degree in Business Administration from Waubonsee College. Previously: Global Head of Marketing at Lukka.
Maya Enright – CPO – Degree in Business from Nova Southeastern University. Previously: Vice President of Human Resources and Talent Acquisition at CloudBolt Software.
Chain Partners
Khosla Ventures
Pantera Capital
Capital One
Citigroup
Fiserv
Nasdaq
Orange
Visa
How to buy Chain on Bitfinex
How to buy XCN with crypto
1. Log in to your Bitfinex account or sign up to create one.
2. Go to the Deposit page.
3. In the Cryptocurrencies section, choose the crypto you plan to buy XCN with and generate a deposit address on the Exchange wallet.
4. Send the crypto to the generated deposit address.
5. Once the funds arrive in your wallet, you can trade them for XCN. Learn how to trade on Bitfinex here.
How to buy XCN with fiat
1. Log in to your Bitfinex account or sign up to create one.
2. You need to get the full verification to be able to deposit fiat to your Bitfinex account. Learn about different verification levels here.
3. On the Deposit page, under the Bank Wire menu, choose the fiat currency of your deposit. There's a minimum amount for fiat deposits on Bitfinex; learn more here.
4. Check your Bitfinex registered email for the wire details.
5. Send the funds.
6. Once the funds arrive in your wallet, you can use them to buy XCN.
Also, we have Bitfinex on mobile, so you can easily buy XCN currency while on-the-go.
[AppStore] [Google Play]
Chain Community Channels