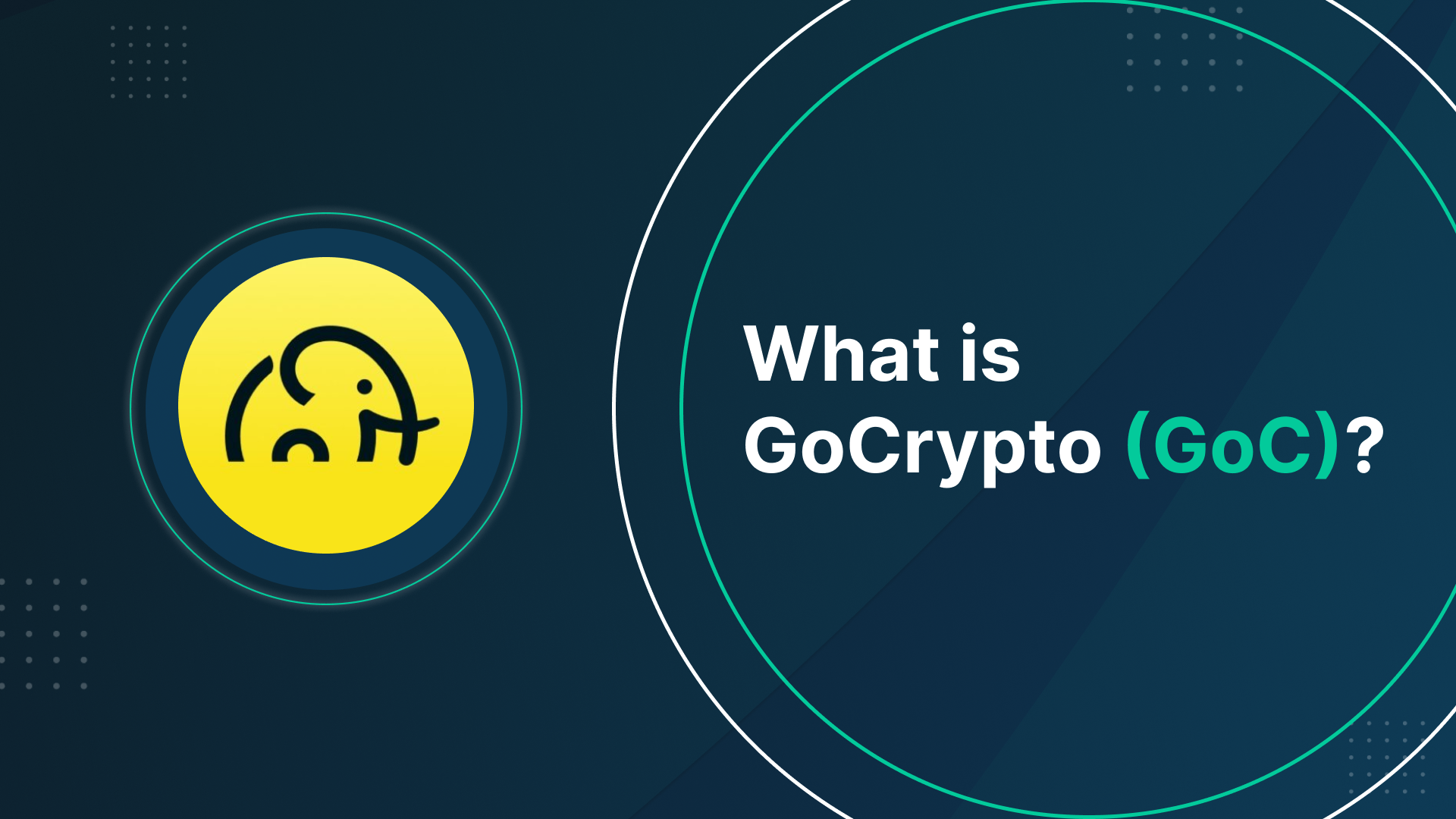 07 Jun

What is GoCrypto (GOC)?

GoCrypto is a multi-payment processor and infrastructure provider with the objective towards making it extremely simple for merchants to accept multiple types of traditional and crypto asset payment methods. GoCrypto works for bricks and mortar retail locations just as smoothly as it does for online shops, and they operate in 70 countries internationally, at over 100,000 locations.

The advantages that GoCrypto provides, is that they allow merchants to accept traditional payments like debit and credit cards, digital payments apps like Apple Pay, as well as a range of popular digital currencies and tokens while settling them in cryptocurrency or local fiat currency, thus avoiding crypto volatility risk. GoCrypto provides merchants with smart Point of Sale (PoS) devices, or a PoS web solution which lets merchants accept payments from any mobile device or PC, and a dashboard to track sales and customer analytics.

GoCrypto envisions itself as a simple-to-use, easy to onboard to, payment processor which lets merchants effortlessly accept payments from almost any kind of payment method. They are the all-in-one solution which hopes to unify payments into one seamless solution.
GoCrypto (GOC)
GoCrypto was created to solve a critical problem for merchants who wish to provide goods and services to customers in a digital world with many different ways to make a payment. GoCrypto provides the virtual tools and physical equipment for merchants to easily accept card payments, digital payments, and crypto payments, all on the same PoS device.
GoCrypto's standalone PoS solutions, WebPOS, Manager app, Elly Wallet, GOC Bridge, GoCrypto 2.0, and the GOC token are the platform's components that make up the GoCrypto ecosystem. GoCrypto also offers white-label payment infrastructure, for enterprise payment processing services.
GoCrypto also collaborated with Tether in building the complete payment infrastructure for the newest European Bitcoin city, located in Lugano, Switzerland. This project was a collaborative effort with Tether and the City of Lugano as part of the Plan ₿ initiative.
GoCrypto is an all-in-one solution for online and physical retailers looking to adapt with the modern business climate of accepting crypto payments, mobile payments, as well as traditional credit/debit cards, without the need for multiple payment processors or PoS devices.
GoCrypto also has launched a next-generation Non-Fungible Token (NFT) marketplace integrated into its payments and Web3 ecosystem, as well as a Decentralised Autonomous Organisation (DAO), as part of its GoCrypto 2.0 initiative.
How GoCrypto Works
GoCrypto provides payment processing capabilities for physical and virtual merchants. Merchants who have onboarded are provided with GoCrypto's set of merchant tools, which allow them to begin accepting a number of different kinds of payments.
Merchants can either accept payments via the standalone POS terminals, webPOS, integration in cash register systems and eCommerce plugins + custom eCommerce. In addition to payments, GoCrypto provides tools for tracking sales, purchases, customer info, and analytics.
GoCrypto's GOC token is the native utility token within the GoCrypto ecosystem and is primarily used for payments and rewards, although as the GoCrypto NFT platform and DAO are launched under GoCrypto 2.0, we may see further use cases emerge, such as staking, governance, or other popular Web3 use cases.
The token is available on four popular blockchains. The GOC bridge allows GOC token holders to participate in bi-directional swaps of the GOC token across multiple blockchains.
Why is GoCrypto Unique
GoCrypto is unique because it is the only payment solution which makes it easy for merchants to accept every kind of the most popular forms of payment, including crypto, with the unique quality bringing crypto payments to them with zero volatility risk.
Merchants using GoCrypto enjoy the flexibility of receiving instant settlements in cryptocurrency or periodical settlements in their local currency.GoCrypto makes it easy for businesses to modernise their infrastructure for our rapidly evolving digitally native economy.
GoCrypto has products for all types of business enterprises. GoCrypto offers licensed, integrated, or white-labeled products. Its operations span across more than 70 countries, serving over 100,000 locations, and meeting the needs of 420 million cryptocurrency holders.
The GoCrypto Ecosystem
Payment Solutions
The Elly POS Terminal: This hardware device supports card payments, cryptocurrency payments, and digital payments. Merchants can enter the payment amount, and customers can choose to pay with one of the supported wallets. They can scan the QR code and confirm the payment. Paying with the Elly Wallet and the GOC token may also provide up to 2% cashback in GOC tokens.

GoCrypto WebPOS: This software allows merchants to manage payments without the need for a physical POS Terminal. It can be downloaded on a computer, tablet, or mobile phone. The process for generating a crypto payment is similar to that of the Elly POS Terminal.

GoCrypto Online Store: GoCrypto provides solutions for online stores, offering two options: free plug-ins for WebShop platforms and custom integrations for personalized online stores.

Manager: A free analytical tool for a full overview that monitors all payment transactions and payouts per location. It provides detailed analytical data and advanced filtering possibilities for business and accounting purposes.
Elly Wallet
Elly Wallet is the GoCrypto ecosystem's crypto wallet. It lets users shop with crypto, buy cryptocurrencies with a credit card or from a bank account, sell cryptocurrencies, and hold supported cryptocurrencies. In respective countries, Elly Wallet users who pay with the GOC token at any of the supported stores can receive up to 2% cashback in GOC tokens.
GOC Bridge
The GOC Bridge is a cross-chain bridge which lets GOC token holders send and receive GoC tokens across popular Web3 blockchains and also participate in Decentralised Applications (DApps) and Web3 platforms.
GoCrypto 2.0
GoCrypto 2.0 represents the next phase in the GoCrypto roadmap. The platform aims to operate in a decentralised manner, with management through GoCrypto's DAO and transaction handling via smart contracts. Users will have the ability to make cryptocurrency payments with any crypto wallet. Additionally, merchants will have the option to receive payments in cryptocurrencies or their local currency.
What is the GOC Token
GoCrypto's GOC token is a multichain utility token which is the native token for the GoCrypto ecosystem. The GOC token is used for payments within the ecosystem and is also used for customer rewards, which allow users to earn GOC.
Elly Wallet users can pay directly with GOC at retail locations and online shops in select countries and earn rewards. Once the GoCrypto DAO and NFT marketplace launch, we may see more Web3 use cases for GOC tokens. GOC is slated to play an important role as a governance token in the new GoCrypto 2.0 decentralised payments protocol.
GoCrypto's GOC token smart contract exists on Binance Smart Chain (BSC), Bitcoin Cash (SLP) blockchain, Smart Bitcoin Cash (smartBCH), and Polygon (MATIC). Each contract holds the same number of GOC tokens which are illiquid and held on reserve addresses.
GOC Tokenomics
As cross-chain transfers are made, tokens can only become liquid when the same GOC amount from another chain gets locked on one of the reserve addresses through the GOC Bridge App. This mechanism regulates the total supply and ensures it never exceeds the hard cap of 299,095,759 GOC.
GoCrypto Roadmap
The next major milestone in the GoCrypto roadmap is the successful launch of GoCrypto 2.0, which will add a bunch of Web3 capabilities and use cases to the GoCrypto ecosystem. GoCrypto users will soon be able to participate in GOC token-based DAO governance, staking, yield farming, referral program, NFT minting & trading, and more.
Currently, GoCrypto 2.0 is in an open alpha version, which launched in February, to allow the GoCrypto community to test out the new feature set. It's live on BSC right now, but will soon launch on GoCrypto's additional blockchains.
GoCrypto 2.0 Payments will enable crypto and digital payments where customers can pay for their purchase in virtually any currency, and merchants get settled in their desired currency as well. No usernames, no emails, no passwords required. All transactions are processed on-chain which makes them fully transparent and trackable. The protocol will initially support payments in GOC token and USDT, but more coins will be added in the following months.
The GoCrypto Team
GOC token is a native token of the fastest-growing payment network, GoCrypto. Eligma Ltd., the entity responsible for GoCrypto, was established in 2017 under the leadership of Dejan Roljić, who holds the position of CEO. Headquartered in Ljubljana, Slovenia, the team has expanded to include over 30 professionals specialising in blockchain development and payment solutions.
GoCrypto Partners
Bitfinex
Tether
Bitcoin.com
Binance
GlobalPayments
How to buy GoCrypto (GOC) on Bitfinex
How to buy GOC with crypto
1. Log in to your Bitfinex account or sign up to create one.
2. Go to the Deposit page.
3. In the Cryptocurrencies section, choose the crypto you plan to buy GOC with and generate a deposit address on the Exchange wallet.
4. Send the crypto to the generated deposit address.
5. Once the funds arrive in your wallet, you can trade them for GOC. Learn how to trade on Bitfinex here.
How to buy GOC with fiat
1. Log in to your Bitfinex account or sign up to create one.
2. You need to get full verification to be able to deposit fiat to your Bitfinex account. Learn about different verification levels here.
3. On the Deposit page, under the Bank Wire menu, choose the fiat currency of your deposit. There's a minimum amount for fiat deposits on Bitfinex; learn more here.
4. Check your Bitfinex registered email for the wire details.
5. Send the funds.
6. Once the funds arrive in your wallet, you can use them to buy GOC.
GoCrypto Network Community Channels
Twitter |Discord | Youtube | Telegram | Facebook | TikTok | Medium | LinkedIn