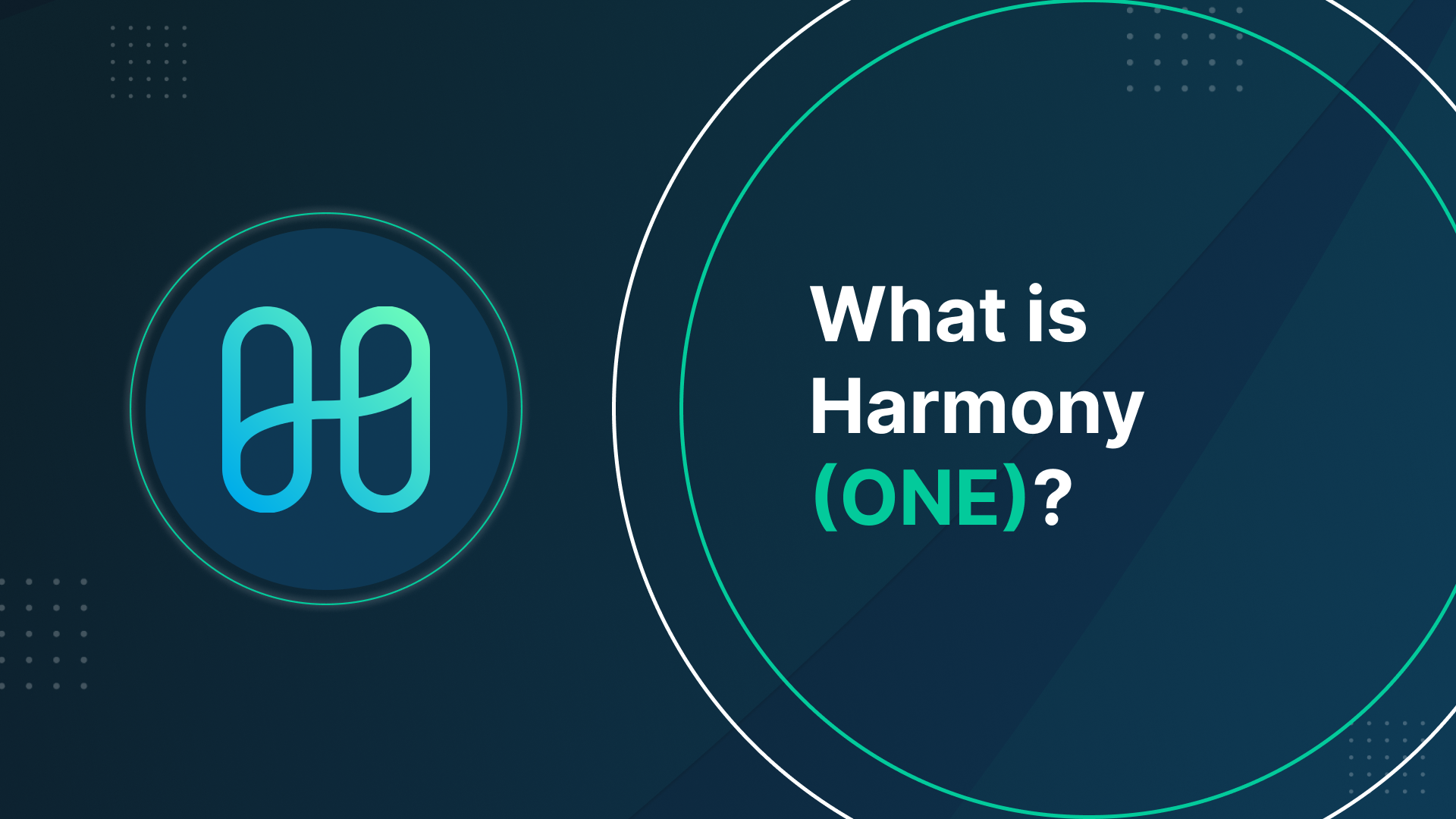 07 Dec

What is Harmony (ONE)?

Given some Ethereum and Bitcoin performance limitations, many blockchain projects proposed various solutions to increase transaction throughput. Some blockchains offered to replace Proof-of-Work (PoW) consensus with Proof-of-Stake (PoS) consensus. Others tried to use Delegated Proof of Stake (DPoS), where block proposers are elected by voting rather than by an on-chain algorithmic process. However, these solutions couldn't make significant performance gains without sacrificing other critical aspects, such as security and decentralisation.

The Harmony project was created as the next-generation sharding-based blockchain that should be fully scalable, secure, and energy-efficient. The central Harmony's goal is to address the problems of existing blockchains by combining the best research results and engineering practice in an optimally tuned system.
Harmony (ONE)
Harmony is a blockchain platform designed to facilitate the creation and use of decentralised applications (DApps). The network aims to innovate how decentralised applications work by focusing on random state sharding, which allows the creation of blocks in seconds. Harmony is an open and fast blockchain: its mainnet runs Ethereum applications with 2-second transaction finality and lower fees.
How Harmony Works
Harmony's Fast Byzantine Fault Tolerant (FBFT) consensus protocol, combined with random state sharding and Boneh–Lynn–Shacham (BLS) constant-sized signatures, allows Harmony to increase the speed of transactions and block generation. It is performed through the database division into shards, which helps to reduce latency, preventing network congestion.
Simultaneously, signing transactions with an aggregate signature lets Harmony reduce communication costs, which, in turn, allows 250 or more validators to reach a consensus in under two seconds. For security purposes, Harmony uses a novel Effective Proof of Stake (EPoS) mechanism to ensure the network.
Why is Harmony Unique
With the main focus on processing speed and validation, the Harmony team aims to alter block creation. Introducing the sharding process, they managed to reduce node validation time greatly. In Harmony, each shard maintains its own chain of blocks and state database. Therefore, the validators of each shard only need to store 1/N of the global state, where N is the number of shards. The consistency between states from different shards is guaranteed by the property of eventual atomicity of cross-shard transactions, which ensures that double spending between shards can not happen.
Moreover, Harmony is unique in the trustless bridges it has built to other chains, enabling confidence to develop and move assets in a multi-chain world. The 2-second-finality and fraction-of-a-penny gas costs provide a world-class experience for builders, creatives, and degens alike.
What is Harmony (ONE) Token
Harmony (ONE) is the native token for the Harmony ecosystem, which supports the monetary flow of the entire Harmony economic system. It is used for various purposes, such as:
for staking to secure the network and earn rewards;
to pay for transaction fees, gas, and storage fees;
for on-chain governance.
Also, you can trade ONE token in various cryptocurrency markets and try to make a profit on the difference in buying and selling prices.
One Tokenomics
The Harmony (ONE) tokenomics sets a constant annual reward rate of 441M ONE for the Harmony network. The total issuance across the network will remain the same regardless of the average block time and staking ratio. The reward is defined as the sum of block rewards plus transaction fees. It means that transaction fees will offset new token issuance as the network gains adoption.
This change from the original model aims to achieve a higher staking ratio, simplify the model, and create a path to zero issuance, all of which the team believes will bring long-term benefits for Harmony.
Harmony Roadmap
Q3 2022:
Fast streaming Sync;
State pruning;
Cosmos bridge;
Cross-shard transactions;
Decentralized network
Q4 2022:
1-Second Finality;
Decentralized ops;
zkSync rollups;
Private authentication;
ONE annual conference.
Harmony Team
Harmony was founded in 2018 by Stephen Ste, who is now the Chief Executive Officer (CEO) of the project and a team of entrepreneurs having comprehensive experience and knowledge in the blockchain sphere. The team has grown and diversified since 2018, so nowadays, there are more than 25 core team members and over a hundred additional fellows and contributors.
Harmony Partners
How to buy ONE on Bitfinex
How to buy ONE with crypto
1. Log in to your Bitfinex account or sign up to create one.
2. Go to the Deposit page.
3. In the Cryptocurrencies section, choose the crypto you plan to buy ONE with and generate a deposit address on the Exchange wallet.
4. Send the crypto to the generated deposit address.
5. Once the funds arrive in your wallet, you can trade them for ONE. Learn how to trade on Bitfinex here.
How to buy ONE with fiat
1. Log in to your Bitfinex account or sign up to create one.
2. You need to get full verification to be able to deposit fiat to your Bitfinex account. Learn about different verification levels here.
3. On the Deposit page, under the Bank Wire menu, choose the fiat currency of your deposit. There's a minimum amount for fiat deposits on Bitfinex; learn more here.
4. Check your Bitfinex registered email for the wire details.
5. Send the funds.
6. Once the funds arrive in your wallet, you can use them to buy ONE.
Also, we have Bitfinex on mobile, so you can easily buy ONE currency while on-the-go.
[AppStore] [Google Play]
Harmony Community Channels
Youtube | Instagram | Twitter | Telegram | Discord | Medium | LinkedIn | Facebook | Reddit