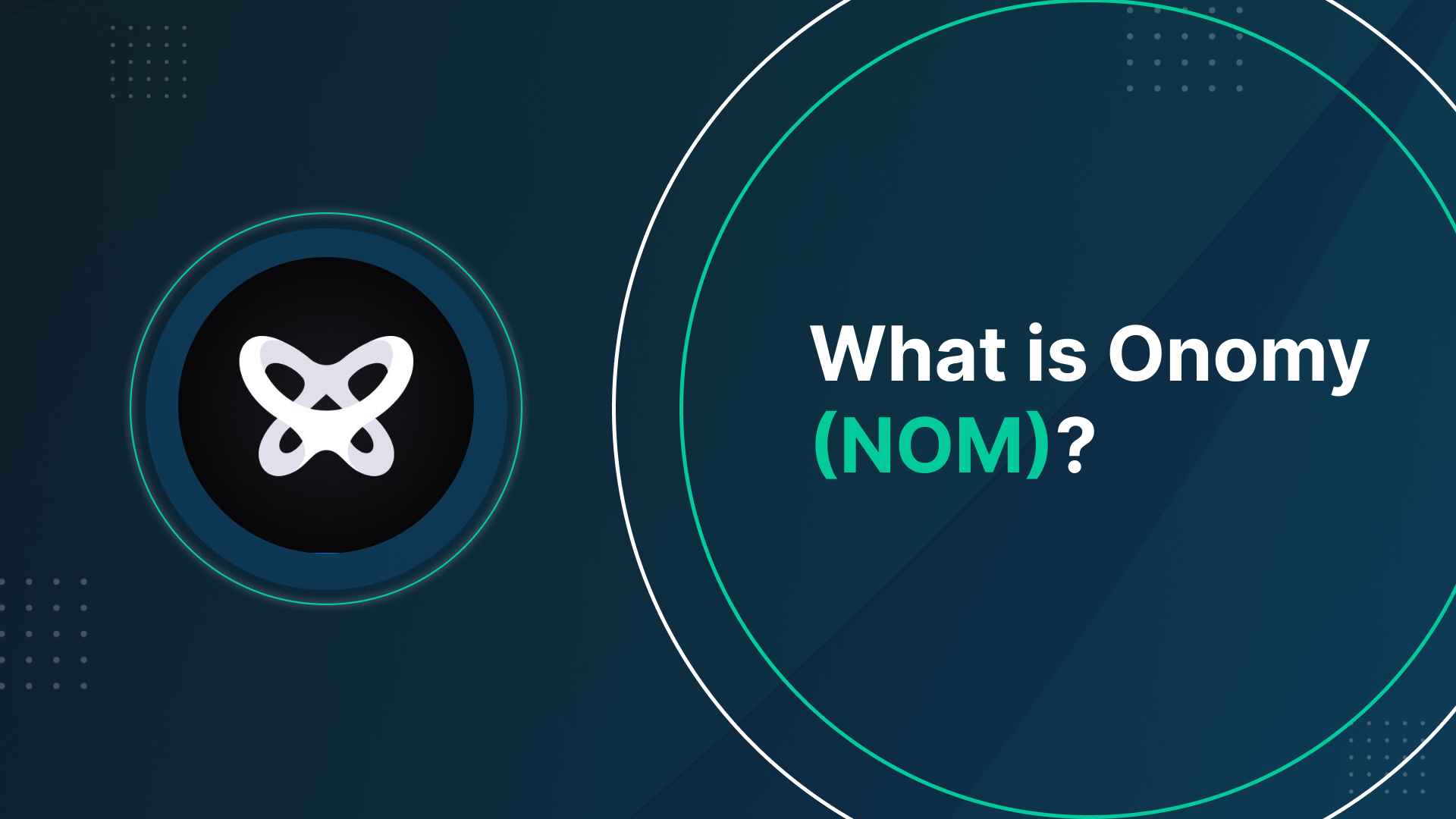 15 Mar

What is Onomy Protocol (NOM)?

Onomy is a sovereign layer-1 blockchain built on Cosmos whose suite of products aims to act as a comprehensive cross-chain infrastructure to allow global finance to migrate on-chain and provide a portal for retail users to access DeFi, crypto assets, and Web3 environments.
What is Onomy Protocol
Onomy's ecosystem consists of a Hybrid AMM with order book functionality (Onomy Exchange), a cross-chain wallet (Onomy Access) with native non-custodial storage of assets, and the Onomy Arc Bridge hub 'built underneath.' Together, they are intended to make trading on-chain fluid and fast to provide access to DeFi for retail users and institutions alike.
Onomy's particular focus is on the foreign exchange market (forex), and it aims to provide market makers, individuals, and institutions with the tools to trade forex on-chain and create global access to DeFi and new decentralised banking economies.
How Onomy Protocol Works
The Onomy Network is built using the Cosmos SDK, which enables it to achieve scalability by leveraging the infrastructure supported by its network of institutional validators.
The protocol leverages Cosmos's multi-chain network to create diverse liquidity and native asset availability. Onomy's Arc Bridge Hub contains custom, bi-directional bridges to partner blockchains such as Ethereum and multiple EVMs. Onomy Access and the Onomy Exchange use these bridges so Onomy's customers can trade assets cross-chain natively directly from the wallet or the DEX.
Onomy Protocol Features
DAO-Governed On-Chain Treasury
Onomy's DAO features votes for token holders and proposals that are programmatically executed by on-chain votes. No central team or entity has the keys to the on-chain treasury. NOM holders can decide how funds are used.
Vertically-Integrated Ecosystem
According to the Onomy Improvement Proposals (OIPs), users can access Onomy Exchange directly from the Onomy Access Wallet and execute a swap. If that swap relies on cross-chain transfer, then Onomy Arc Bridge Hub handles the bridging of the asset in the background. All staking and governance for different assets users hold can be done directly in the wallet without needing multiple browser extensions to manage a portfolio.
Chain Agnostic
The Onomy Exchange is built to act as a free, open, central DeFi hub that doesn't demand token lockups for participation and actively adds new assets from different chains.
Onomy hopes to give users all their crypto assets, no matter the chain, in one place without having to use a centralised exchange or multiple bridges.
Single Login Onomy Access
Onomy offers a single login with its non-custodial private key management solution, Natural Rights, which allows QR login on multiple blockchains, alleviating the pain of managing multiple private keys and separate wallets for each crypto platform. By logging into Onomy Access, users can manage DeFi portfolios on-chain.
Hybrid DEX model
Onomy DEX adopts a hybrid structure, implementing the order book method and AMM. AMMs are a pain point for retail crypto users, and the Onomy Exchange is built to look and feel like a CEX.
Staking
By bonding tokens with validators, delegators are able to earn rewards for securing the network. Staking rewards are programmatically adjusted depending on the staking ratio and inflation rate, which are pre-determined and can only be changed by the DAO vote.
Forex
Onomy's long-term goal is to use its web infrastructure to build on a stablecoin framework called Denoms. These will be used to power up forex on-chain at vastly greater speed and, crucially, efficiency than is currently possible.
Onomy Protocol Ecosystem
Onomy Network (ONET) is an application-specific Layer-1 blockchain that uses Tendermint's BFT consensus. It powers Onomy's products and bidirectional bridges to prominent blockchains inside and outside the Cosmos ecosystem, such as Near, Avalanche, Polygon, Ethereum, etc.
Onomy Exchange (ONEX) is a unique, hybrid, multi-chain DEX that features AMM liquidity pools and an order book model for intuitive trading of cryptocurrency and Forex pairs. It supports limit, market, conditional, and stop-loss orders, cross-chain trading, and advanced charting.

Onomy Access (OACC) is a non-custodial, multi-chain mobile wallet app that enables users to manage all assets from integrated blockchains. This includes staking, governance, transferring assets, and viewing NFT collections from multiple blockchains, all in one wallet app.

Onomy Reserve (ORES) governs the minting of decentralised stablecoins named Denoms, which utilise NOM as part of the minting process. Denoms can be used for FX trading, payment, remittance, lending, and settlement.

Arc Bridge Hub is the bridging infrastructure integrated into Onomy's products that enables the seamless transfer of assets in and out of major blockchain ecosystems, including the Cosmos ecosystem, via Inter-Blockchain Communication (IBC).

The Bonding Curve is a non-custodial and decentralised platform designed to enable Ethereum users to acquire, trade, and bridge Onomy's NOM.
What is Onomy Protocol (NOM) Token
NOM is used for transaction fees, bridge fees, and rewards for helping to secure the network via PoS staking, governance, and collateral, and it has various tie-ins within Onomy products.
The coin is a centrepiece of Onomy's infrastructure and is used to cover transaction fees on the Onomy Network. In addition, as Onomy's L1 leverages Proof-of-Stake consensus, NOM is bonded by validators to secure the network. Staking rewards are programmatically adjusted depending on the staking ratio and inflation rate.
NOM also confers governance rights to holders who can vote on proposals about the direction of the protocol in the Onomy DAO. Possible proposals include the deployment of new features, funding community initiatives, marketing and developer teams, changing the blockchain and/or product parameters, and more.
NOM is further integrated into products, such as the Onomy Exchange, through a programmatic buy and burn. The Onomy Exchange does not charge static fees to users who trade – instead, the AMM still collects fees by capturing the spread between the bid and the ask, as a normal market maker does. These earnings are then shared with LPs and used to programmatically buy and burn NOM and deflate the overall supply over time without any central management whatsoever.
NOM Tokenomics
The Onomy Protocol has a total supply of 100M NOM. Backer, team, and advisor tokens are vested for 24–36 months linearly each month, with a 12-month cliff. DAO treasury tokens are only usable following successful DAO governance votes, with the system programmatically funding proposals when approved, with no central key management by any Onomy contributor. The NOM supply will increase from inflationary rewards and bridges from the bonding curve.
Onomy Protocol Roadmap
Onomy Protocol Team
Onomy's team is distributed worldwide, across the US, Europe, and Asia. Twenty contributors dedicate every day to building the protocol, with previous experience at such firms as Microsoft, Apple, Fidelity, JPMorgan, ConocoPhillips, and multiple DeFi protocols.
Onomy Protocol Ecosystem Partners
Onomy believes in a multi-chain future. It has sought out and established a wide range of strategic and technical partnerships in pursuit of that future.

Cosmos
Avalanche
Polygon
OKX Chain
Neon
Aurora on NEAR
IOTA
Others TBA
Onomy's network spans across the web3 space, with future partnerships still in the works. Key to each partnership is creating interoperable frameworks between Onomy's DeFi hub and partnership chains and expanding the reach of the Arc Bridge Hub, letting more liquidity take advantage of Onomy's products.
How to Buy NOM on Bitfinex
How to buy NOM with crypto
1. Log in to your Bitfinex account or sign up to create one.
2. Go to the Deposit page.
3. In the Cryptocurrencies section, choose the crypto you plan to buy NOM with and generate a deposit address on the Exchange wallet.
4. Send the crypto to the generated deposit address.
5. Once the funds arrive in your wallet, you can trade them for NOM. Learn how to trade on Bitfinex here.
How to buy NOM with fiat
1. Log in to your Bitfinex account or sign up to create one.
2. You need to get full verification to be able to deposit fiat to your Bitfinex account. Learn about different verification levels here.
3. On the Deposit page, under the Bank Wire menu, choose the fiat currency of your deposit. There's a minimum amount for fiat deposits on Bitfinex; learn more here.
4. Check your Bitfinex registered email for the wire details.
5. Send the funds.
6. Once the funds arrive in your wallet, you can use them to buy NOM.
Also, we have Bitfinex on mobile, so you can easily buy NOM currency while on-the-go.
Onomy Protocol Community Channels