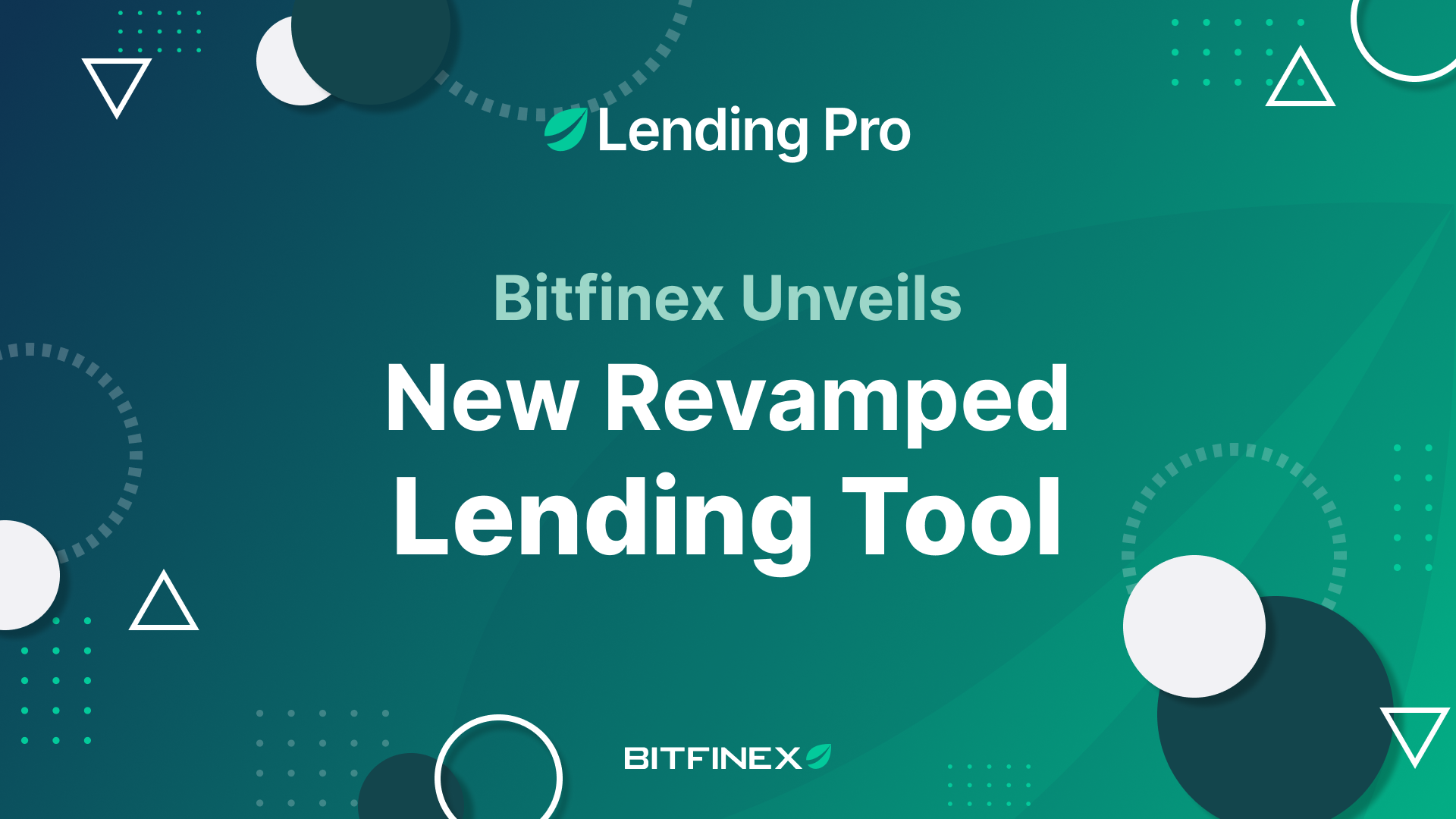 22 Sep

Improve Your Lending Efficiency with Automated Lending

Embrace the power of automation, and let Lending Pro do the heavy lifting to help improve your lending efficiency by automatically lending your funds based on your specifications. This is the raw power of our newly revamped Lending Pro platform. Put your digital assets to work for you.
---
Lend Digital Assets With Full Automation Effortlessly!
Experience the convenience of fully automated lending and unlock the doors to financial freedom with Bitfinex's Lending Pro. Automatically lend 40+ of the most popular and liquid digital assets available for margin trading and Bitfinex Borrow on the Bitfinex platform. 
Lending Pro lets you lend your tokens with ease and according to your lending preferences, improving your lending efficiency. Easily decide the amount, the rate and the periods of your loans. Lending has never been this simple.
Access the true potential of your assets with our automated lending platform. Lending Pro lends your assets in our peer-to-peer lending marketplace, where your assets are lent directly to borrowers,  ensuring transparency and happening automatically while your assets work for you.
Automated Lending of Your Digital Assets has never been so easy
Configure Your Lending Preference
Choose what digital assets you want to lend, set your preferred lending parameters according to your strategy.
Let Lending Pro Get to Work
Lending Pro will automatically lend your assets based on the criteria you set, helping improve the efficiency of lending your digital assets.
Grow Your Portfolio with Peace of Mind
Watch as Lending Pro does all the hard work and track your peer-to-peer lending activities with real-time updates on the status of your collateralised loans.
Put Your Digital Assets to Work While You're Away
Lending Pro helps you automate providing short-term loans on Bitfinex's P2P lending market. It is an easy and convenient way to maximise the impact of lending your hodl'd stack of your favourite coin. With Lending Pro, all loans are collateralised, giving you peace of mind.
Pull your coins out of cold storage and put them to work, and let Lending Pro lend your tokens automatically by harnessing the power of Lending Pro's new automated lending. Bitfinex puts the power back in your hands and unlocks the gateway to financial freedom by putting you in control of your assets. Put your digital assets to work for you!
Lending digital assets can be a great way to allow lenders and borrowers from different parts of the world to connect. This global access ensures that people from regions with limited banking infrastructure can also participate in the global crypto revolution. Lending Pro provides a crucial piece of infrastructure for those without access to traditional financial services and shows our commitment to financial freedom outlined in our Freedom Manifesto.
Get started with Lending Pro today!
Create an account and start lending your favourite coins immediately.
Important Note:
Bitfinex Lending Pro is strictly an order routing system that implements offers and extensions of funding on a customer's behalf in the peer-to-peer lending marketplace on Bitfinex. Lending Pro cannot evaluate a customer's personal investment criteria and circumstances. Nothing in this post is financial, investment or other advice. Nothing in this post is an offer to borrow or lend or the solicitation, recommendation or endorsement of any course of borrowing or lending. Any references in this post to returns are only hypothetical and not guaranteed.