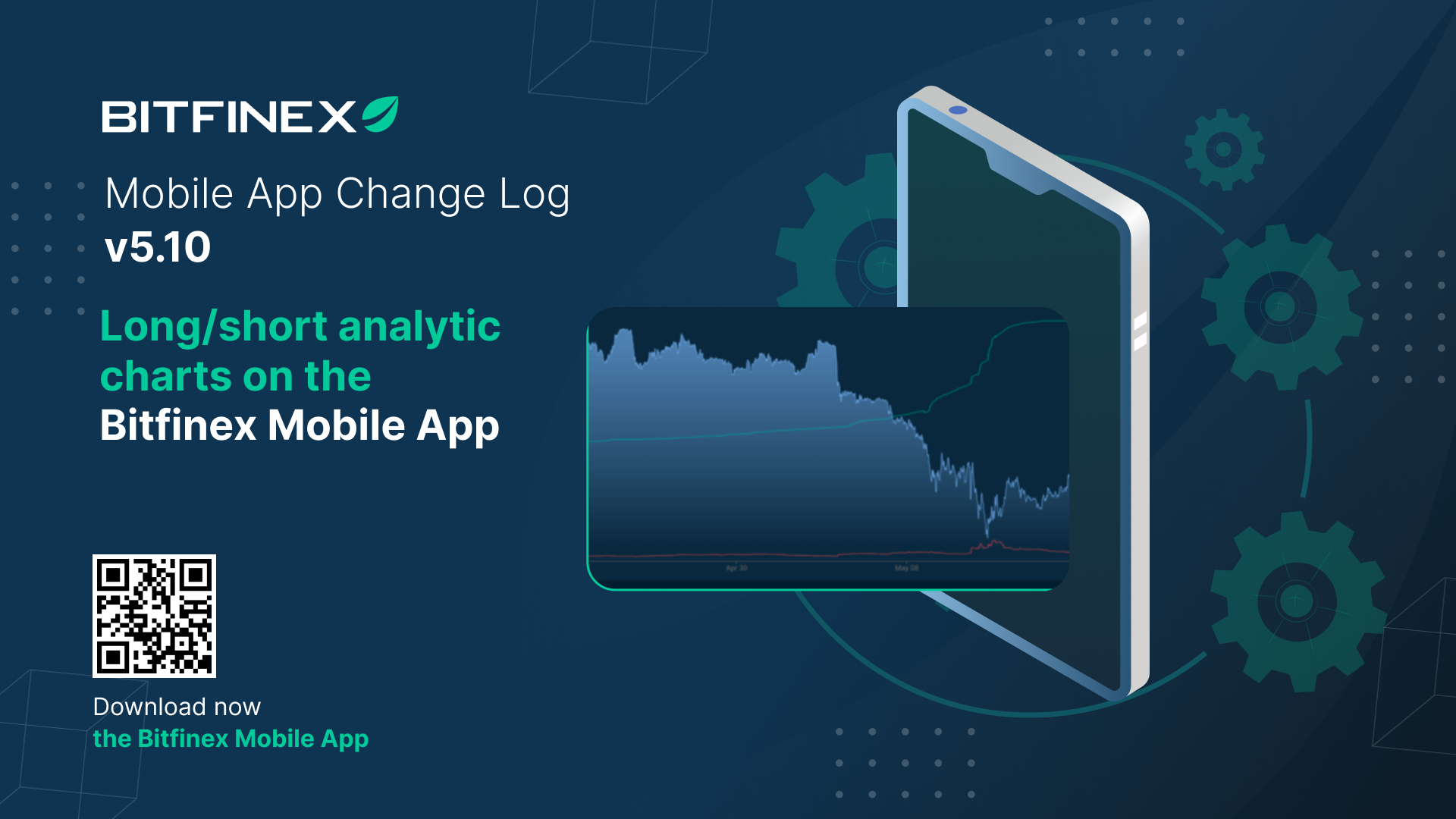 09 Aug

Mobile App Change Log 5.10.0

Recent updates and optimisations to the Bitfinex mobile app

We're pleased to present Version 5.10.0 of the Bitfinex mobile app.

The latest update to the Bitfinex mobile app includes a long/short analytic chart for margin pairs.

You can also download the latest version of the Bitfinex mobile app from the Android Application Package (APK).

Please share your experience by leaving a review in the app stores too! The below changes have been suggested to us by our active user base. Feedback from our customers is incredibly valuable to us.
---
Features
Addition of long/short analytic chart for margin pairs
Support of the Poll function in Bitfinex Pulse
Free subscription of Santiment premium metrics available
Added display of unrealised P/L in wallet balance
Added localised in-app changelog
Sign Up
Added a scroll to the bottom button when checking the Terms of Service
Updated to skip 2FA set up option available
Added 2FA set up option in Account when 2FA has not been set up yet
Trading
Updated Tether token icons
Updated APENFT, CONV, FB, and GXT token icons
Fixed issue of leverage slider showing wrong value when cleared
Fixed issue of the share chart function
Fixed issue of failing to close login in Santimement
Funding
Updated to show actual FRR rate in funding form
Fixed issue for margin funding earnings
fix AutoRenew use the max amount instead of the user entered amount
Wallets
Updated to show balance in wallet transfer
Updated to show Swap token option in wallet menu when using Lite mode
Updated to show tab instead of underlink in orders panel
Updated to check if bank wire deposits with SEPA countries are allowed
Improved the link when the insufficient fund notice appears
Updated the deactivate dialogue
Account
Updated to show community links based on language
Removed the Medium link
Updated to support unlinking Sub-account from Master account
Updated to support searching trading pair using `/` in the Price Alert form
Updated to hide subaccount/securities table for sub-accounts
Updated to hide price alerts for guest users
Other
Updated translations for Russian, Spanish, Turkish, and Portuguese, as well as traditional and simplified Chinese
Updated to include app rating
Removed Bitfinex Pulse post title min characters condition
To share any further feedback, please complete the Bitfinex mobile user app survey or join the Bitfinex Telegram channel.