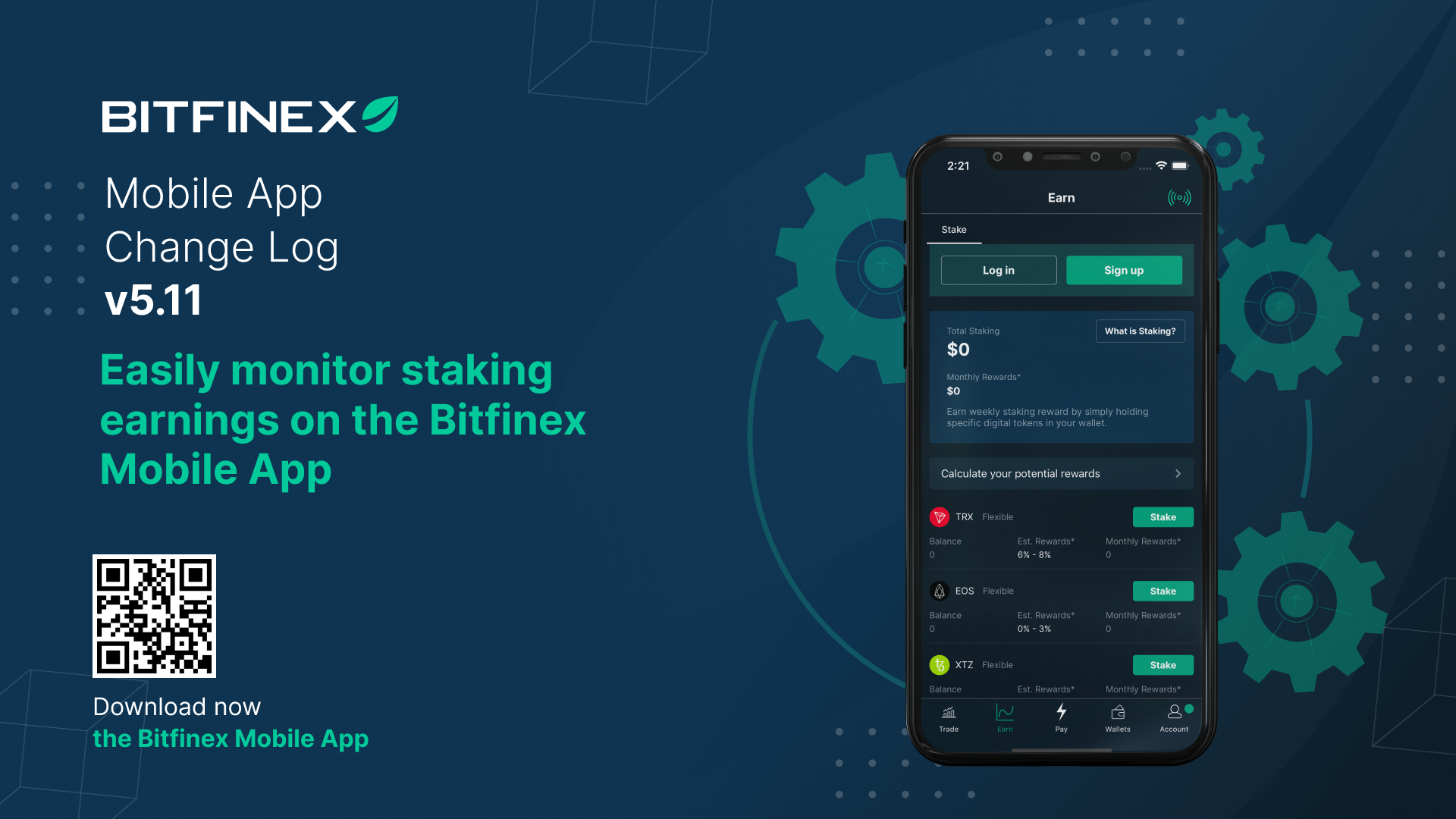 13 Sep

Mobile App Change Log 5.11.0

Recent updates and optimisations to the Bitfinex mobile app

We're pleased to present Version 5.11.0 of the Bitfinex mobile app.

The latest update to the Bitfinex mobile app includes an improved staking page.

You can also download the latest version of the Bitfinex mobile app from the Android Application Package (APK).

Please share your experience by leaving a review in the app store too! The below changes have been suggested to us by our active customer base. Feedback from our customers is incredibly valuable to us.
---
Features
Redesigned the 'Stake' tab to the 'Earn' tab in Lite mode
Supports a step-by-step guide in the order UI of Lite mode
Added Depth Chart in Trading/Derivatives order book panel
Updated to show official announcements in the mobile app
Added support for Tether withdrawal memo when transacting via Tron protocol
Sign Up /Log in
Updated to link to 2FA setup Knowledge Base article and video in sign up 
Updated to open Verification page in external browser
Updated sign up/log in transitions to slide from bottom 
Updated the user email or username error message to display below the sign up label  
Fixed 2FA authenticator typo 
Trading
Improved order book speed
Updated to show middle price vector points in Depth Chart
Replaced order form with a step-by-step guide in the UI of Lite mode
Removed B21, CTK, and DAT token icons
Updated to show unrealized P/L in the Positions panel
Updated faster Santiment insight list
Updated to allow enter of exponential value in the order form
Fixed issue of available amount always loading in Derivatives form with a Basic verified account
Updated to prevent showing the Share Chart dialogue when permission is not granted
Earn
Updated to support Swap token from Stake page
Updated staking ETH2 logic
Funding
Updated to show auto-renew threshold amount
Updated to show UST instead of USDt in auto-renew form
Wallet
Fixed issue of Tether withdrawal's verification level
Updated to support toggle in the Orders and Positions in Wallets Tab
Updated to hide wallet Swap button on Paper Trading account in Lite mode
Fast Pay
Updated to check and show if sending address is a Bitfinex account address
Fixed issue of the orientation lock causing crashes in Fast Pay screen on some devices
Pulse
Fixed issue of Pulse feed showing empty after editing profile language
Updated to show the scroll to bottom shortcut in the TOS view
Others
Upgraded platform SDK and dependency packages
Updated translations for Russian, Spanish, Turkish, and Portuguese, as well as traditional and simplified Chinese
Updated multiple language article links
Updated to support user timezone changes from a user device
Updated panel header tabs style
To share any further feedback, please complete the Bitfinex mobile user app survey or join the Bitfinex Telegram channel and Discord community.