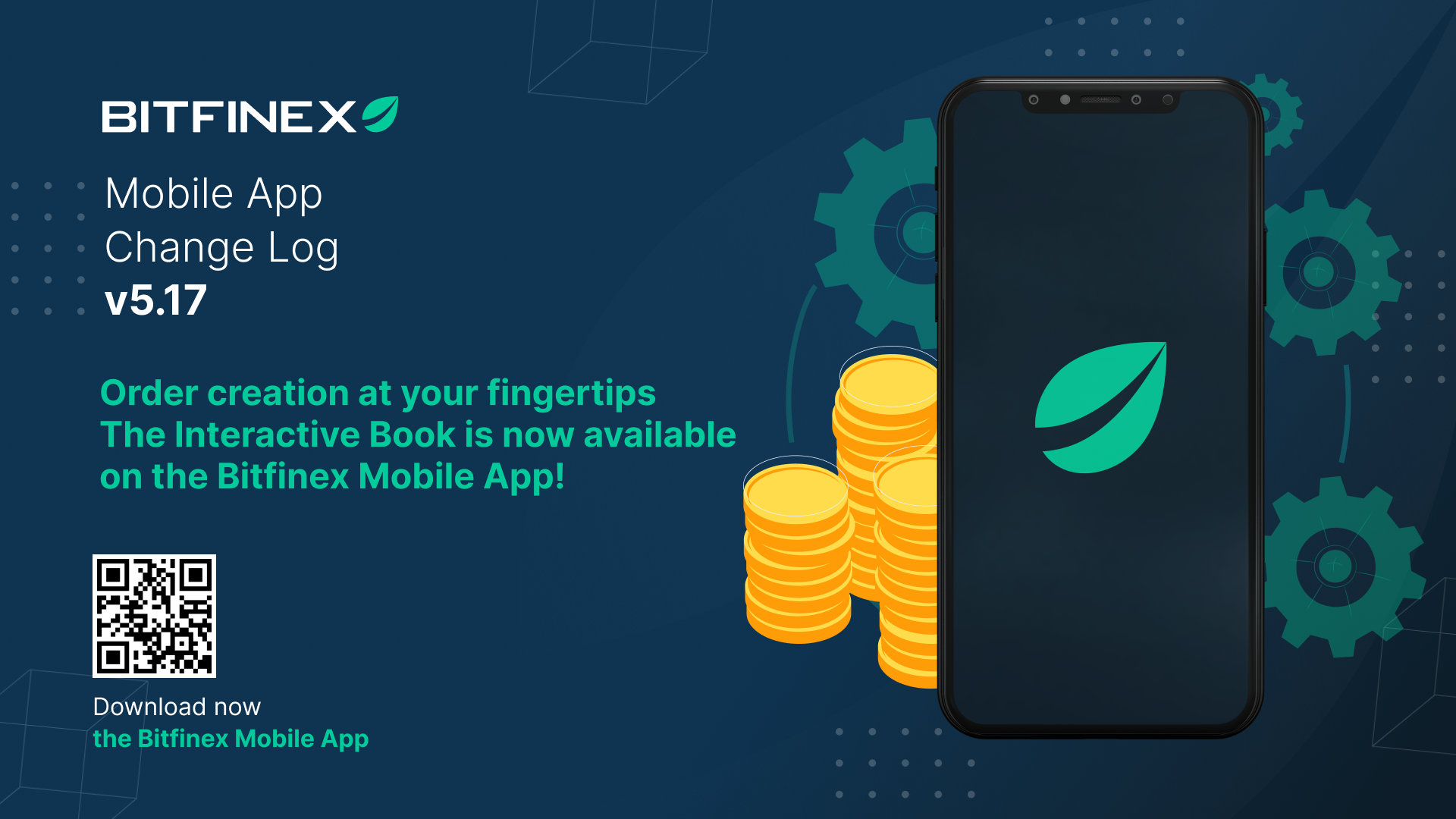 11 Jan

Mobile App Change Log 5.17.0

Recent updates and optimisations to the Bitfinex mobile app

We're pleased to present Version 5.17.0 of the Bitfinex mobile app.

The latest update to the Bitfinex mobile app includes Interactive Book orders.

You can also download the latest version of the Bitfinex mobile app from the Android Application Package (APK).

Please share your experience by leaving a review in the app store too! The below changes have been suggested to us by our active customer base. Feedback from our customers is incredibly valuable to us.
---
Features
Support for Interactive Book orders
Dedicated tab for the Bitfinex Pulse official Bitfinex channel feed
Updated to make an update check when showing the app from the background
Login/Sign Up
Fixed the issue where users could proceed with the sign-up flow without selecting a country
Updated to show a detailed sign-up error when visiting from prohibited countries
Updated modal title for prohibited countries during sign up
Updated warning modal for Canadian users
Trading
Added last price spot to Derivatives* pair summary
Added token icon for APE
Updated token icons for Avalanche (AVAX), Axie Infinity (AXS), DOGE, Litecoin (LTC), Züs (ZCN)
Removed token icons for Celsius Network (CEL), Serum (SRM), Pangolin (PNG), BnkToTheFuture (BFT), Bridge Mutual (BMI) & Bitcoin SV (BSV)
Updated to auto-capitalized trades/fund/wallet search inputs
Improved flex-wrap ticker pair to avoid overlaps
Support to search "gold" to display Tether XAUt in Trading and Funding
Support to search "silver" to display XAG in Derivatives
Fixed issue where the deny button did not work for the Derivatives* Terms of Service
Fixed Trades row background colour
Wallet
Updated to show BTC and ETH at the top of the Deposit selection list
Improved the visibility of the withdrawal tamper-proof input
Earn
Updated to show lend earnings panel in the Lending details page
Fixed the issue where the total lending value was incorrect in the dashboard
Fixed the issue of not being able to go back from articles modal
Pulse
Added Bitfinex Pulse display name (in addition to the nickname)
Updated to show user profile photo instead of profile icon in Bitfinex Pulse
Fixed Bitfinex Pulse Search button's height to the tab's height
Updated to prompt login when a guest user presses the comment button in Bitfinex Pulse
Fast Pay
Added LN-BTC transaction limit in help modal
Fixed the issue of the update banner UI in Fast Pay
Fixed the issue of the Fast Pay keyboard being hidden at startup
Other
Applied consistent search UI styles for Trading, Funding, Wallet, and Bitfinex Pulse
Updated translations for Russian, Spanish, Turkish and Portuguese, as well as traditional and simplified Chinese
Updated line height of the legal modal
Fixed issue where changing language setting did not persist when the app was closed and reopened
*The derivatives platform is provided by iFinex Financial Technologies Limited. References to Bitfinex Derivatives in this post are references to iFinex Financial Technologies Limited.
To share any further feedback, please complete the Bitfinex mobile user app survey or join the Bitfinex Telegram channel and Discord community.