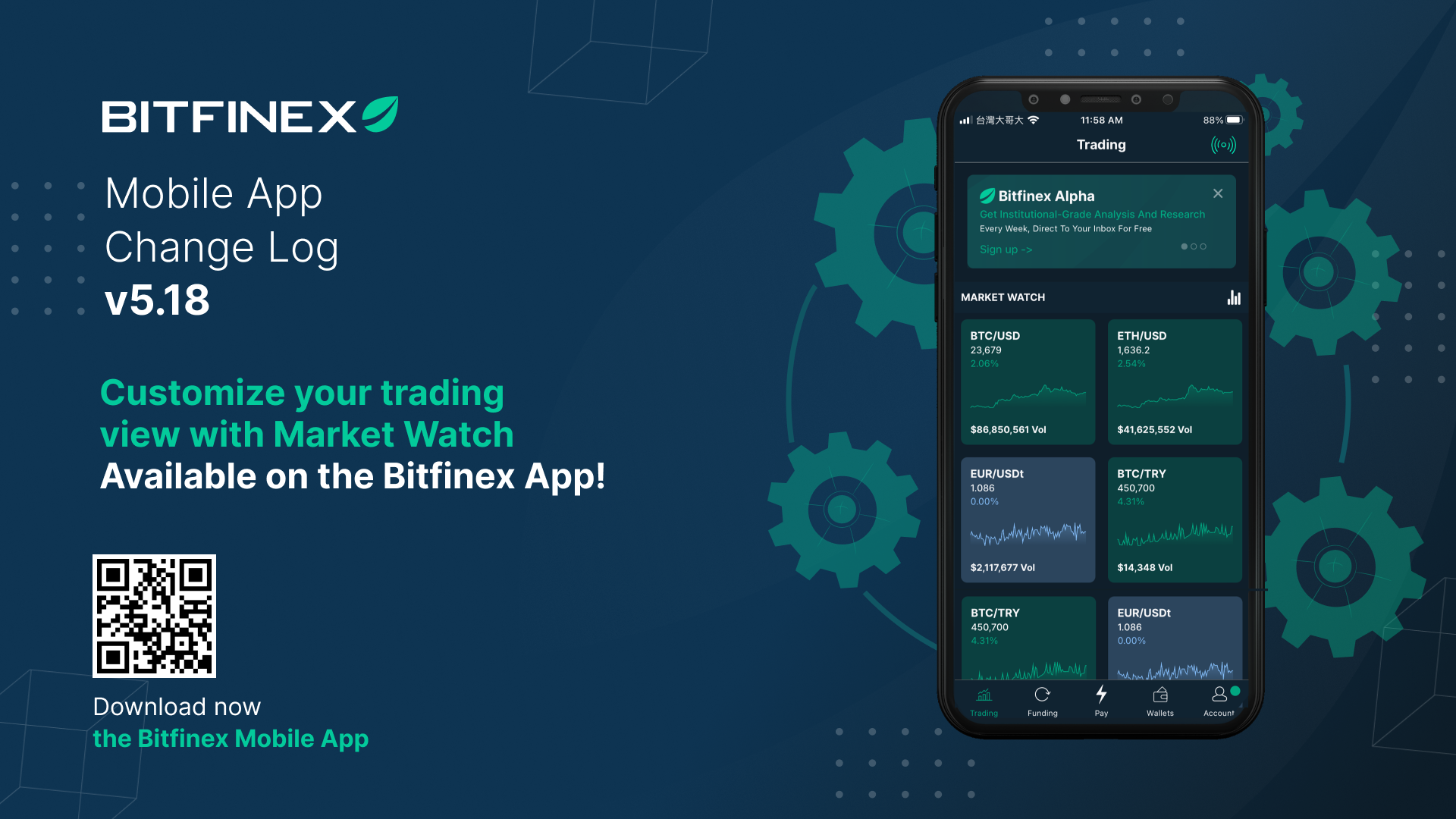 31 Jan

Mobile App Change Log 5.18.0

Recent updates and optimisations to the Bitfinex mobile app

We're pleased to present Version 5.18.0 of the Bitfinex mobile app.

The latest update to the Bitfinex mobile app includes support for the Market Watch view in Trading.

You can also download the latest version of the Bitfinex mobile app from the Android Application Package (APK).

Please share your experience by leaving a review in the app store too! The below changes have been suggested to us by our active customer base. Feedback from our customers is incredibly valuable to us.
---
Features
Added support for Market Watch view in Trading
Added BIP21 URL support to Lightning Network in Fast Pay
Added EIP681 protocol support for Polygon in Fast Pay
Trading
Updated to show search icon in the search bar when there is no text
Added FLR (Flare) token icon
Fixed issue with Scaled Order Action Button Label not being visible
Fixed issue with Lite order amount calculating when input is out of focus
Fixed Paper Trading issue with Trades amount when switching to the Lite mode
Funding/Lending
Updated to replace Today's Earnings with Fund Earnings, which supports a custom time frame
Fixed full funding book precision
Wallet
Updated to allow selection of different wallets in deposit QRCode address screen
Updated to show KYC verification message in the slide-up menu for Buy and Deposit Crypto
Updated to show full address text in the address field
Updated to add deposit notice for non-basic plus verified users
Updated to show support article for Currency Conversion
Pulse
Updated to allow guest access to the Bitfinex Pulse official Bitfinex Feed
Updated to show pinned post icon for pinned posts
Fixed issue with Create Markdown (web view) crashing when out of view on Android
Fast Pay
Added LN-BTC transaction limit in help modal
Updated Lightning Network (LN-BTC) icon
Fixed the issue of the update banner UI in Fast Pay
Fixed the issue of the Fast Pay keyboard being hidden at startup
Other
Updated translations for Russian, Spanish, Turkish and Portuguese, as well as traditional and simplified Chinese
Improved Maintenance page display on small devices
To share any further feedback, please complete the Bitfinex mobile user app survey or join the Bitfinex Telegram channel and Discord community.