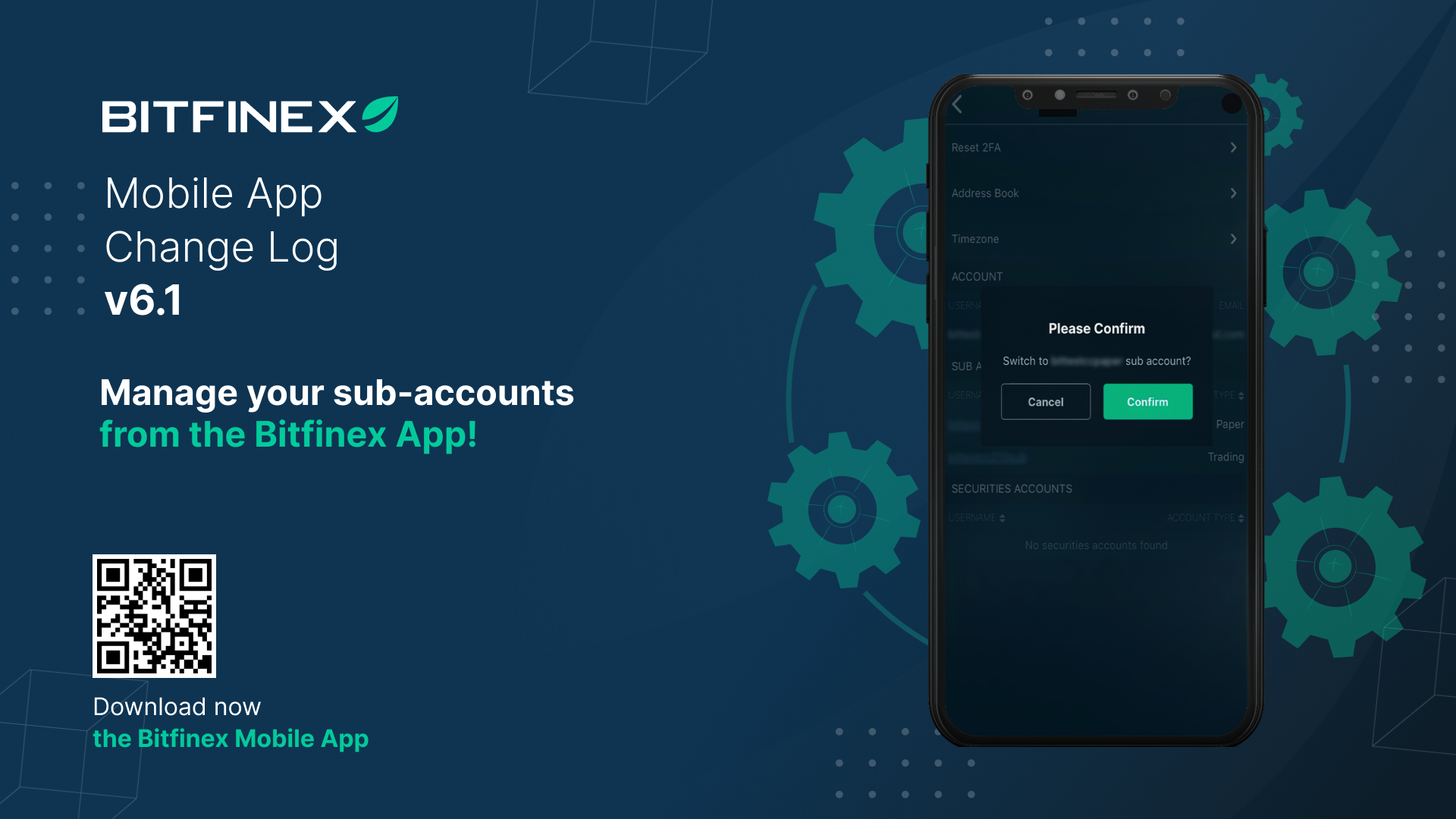 25 Apr

Mobile App Change Log 6.1

Recent updates and optimisations to the Bitfinex mobile app

We're pleased to present Version 6.1 of the Bitfinex mobile app.

The latest update to the Bitfinex mobile app includes a quick switch from a master account to sub-account.

You can also download the latest version of the Bitfinex mobile app from the Android Application Package (APK).

Please share your experience by leaving a review in the app store or by completing the Bitfinex mobile user app survey! The below changes have been suggested to us by our active customer base. Feedback from our customers is incredibly valuable to us.
---
Feature
Updated to support switching directly from the master account to sub-account
Trading
Updated to support quick Ticker switch on Lite mode
Improved Trading and Funding ticker switch headers
Updated to auto-toggle to the margin tab if a customer is entering from the Margin position
Fixed ticker style issues on small-screen devices
Added token icon for AUSTRALIA200IXF0, HONGKONG50IXF0
Fixed issue of modify order showing scientific notation in price value
Fixed top ask issue showing N/A in the order form
Fixed amount column showing 0 for low trading volume pairs
Fixed Transfer option not showing for derivatives*
Added forbidden name check for OTC usernames
Updated to change the OTC trade price field to digital keypad
Fast Pay
Added Merchants Map for payments with Bitcoin Lightning Network
Fixed Lightning Bitcoin error message notice pop-up
Added withdrawal blocked check-in Fast Pay validation
Accounts
Updated the Paper Trading UI
Updated to show tokens icons in the Paper Trading account
Updated to display account type for sub-accounts
Updated Paper Trading refill currency text
Added Paper Trading notice and support article
Fixed the issue of logging into the Paper Trading account via API and seeing the wrong token pairs list
Wallet
Fixed the issue of Wallet always showing exchange wallet when making cryptocurrency withdrawals
Fixed the issue of Wallet dashboard items overlapping
Updated to removed wallet grid items on Paper Trading
Added a cancel button in the Withdrawals Tamper Proof check section
Fixed redundant space issue in the Recent Deposits & Recent Withdrawals view
Pulse
Updated to add a Tip button in the Bitfinex Pulse customer's profile
Updated to show the ticker info and link to tickers when clicking cashtags ($BTC, $ETH…) in Bitfinex Pulse
Improved the Bitfinex Pulse search rate limit
Added a quick exit button in Bitfinex Pulse screens
Updated to use the same Bitfinex Pulse sharing URL format as the webpage
Updated to localise Bitfinex Pulse post estimated times
Updated to show disclaimer when opening Bitfinex Pulse link via external browsers
Others
Updated a smooth screen transition on iOS (enabled react-native-screens on iOS)
Update the paste icon in the UI
Fixed the issue of search not working on the "I want to lend" dropdown
Fix the issue when opening the Affiliate page in the Turkish language
*The derivatives platform is provided by iFinex Financial Technologies Limited. References to Bitfinex Derivatives in this post are references to iFinex Financial Technologies Limited.
You can also share your feedback with us by joining our Bitfinex Telegram channel and Discord community.