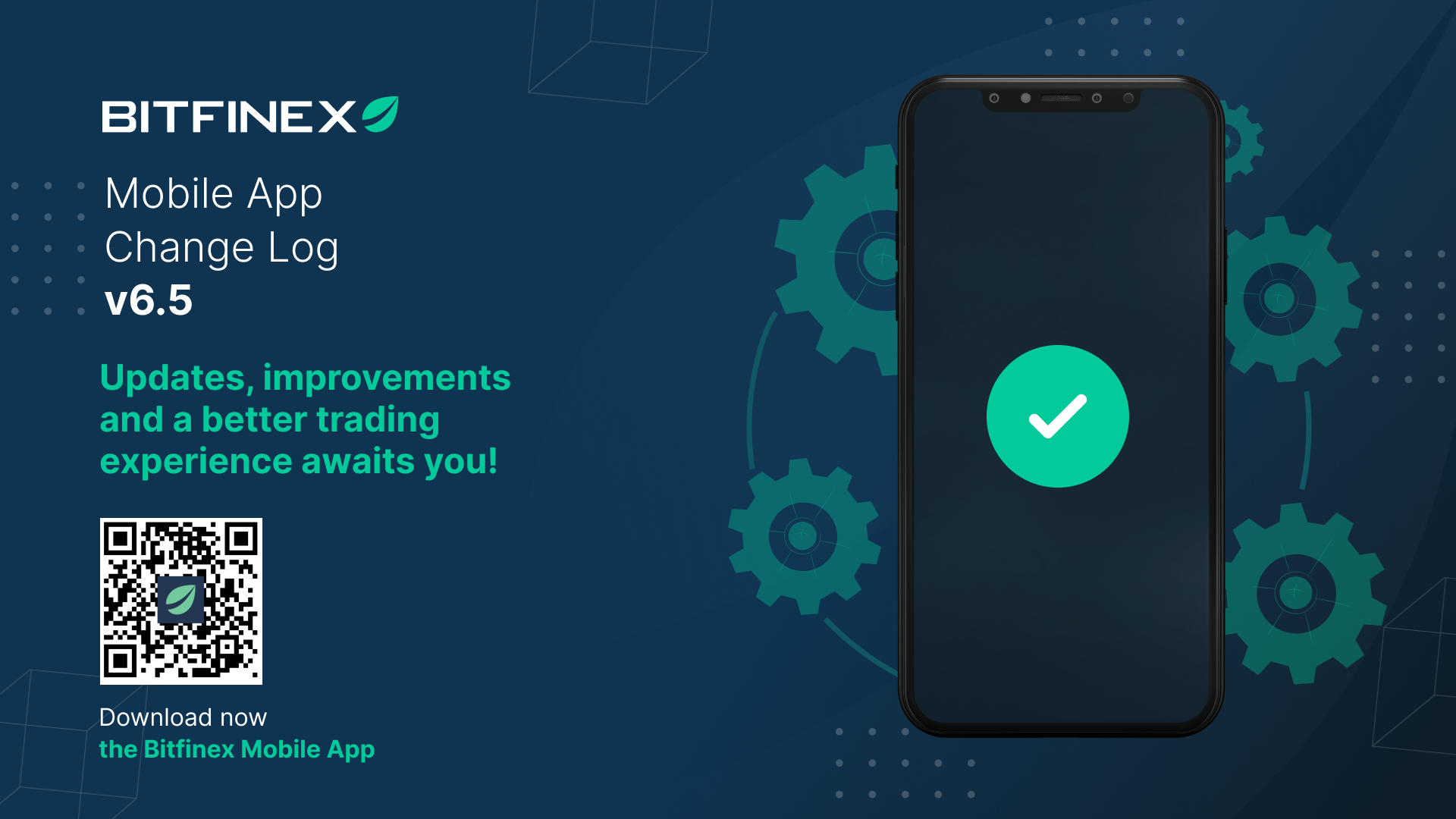 20 Jul

Mobile App Change Log 6.5

Recent updates and optimisations to the Bitfinex mobile app

We're pleased to present Version 6.5 of the Bitfinex mobile app.

The latest update to the Bitfinex mobile app includes general improvements.

You can also download the latest version of the Bitfinex mobile app from the Android Application Package (APK).

Please share your experience by leaving a review in the app store or by completing the Bitfinex mobile user app survey! The below changes have been suggested to us by our active customer base. Feedback from our customers is incredibly valuable to us.
---
Onboarding
Updated to recommend app mode for low-end devices
Updated to show P2P trading suggestions
Updated to show 2FA modals in full screen
Updated the Google Authenticator icon
Trading
Added the Order Book update frequency switch between Realtime and Throttle 5S
Updated to add P2P Trading shortcut under account dashboard
Added token icons for ANT, BLUR, FORTH, HIX, ICE, JASMY, KAVA, LUNA2, MIM, OPX, PEPE, POLC, SIDUS, SPELL, SXX
Fixed the issue of chart reset not reflecting certain changes on the web after syncing
Fixed the issue of the chart showing candles after resetting in Lite Mode
Fixed to clear amount when switching trade actions
Fixed the issue of the trading pair screen auto-switching to the Stake screen
Fixed the OTC small amount showing the wrong format issue
Wallet
Updated to show proper message when no bank wire provider is available
Updated to hide keyboard after inputting withdraw amount and selecting next step
Fast Pay
Updated to show movements error on the Scan screen
Updated to merge Plan B with Bitfinex Merchant Pay Map data
Updated the Permissions to add IP access restrictions
Updated to new ads for users when using Account Switch and Merchant Map
Others
Fixed the rate limit error in Bitfinex Pulse
Updated translations
Updated Staking values
Updated to hide image for an attached link when Bitfinex Pulse posts have their own attachments
Updated to enable autocorrect for Bitfinex Pulse post inputs
Updated support article links
You can also share your feedback with us by joining our Bitfinex Telegram channel and Discord community.