24 Jul

Bitfinex Mobile App v.2.6.0 Brings New Currencies & Optimised Layout

Update your app to experience all the new & improved features.

What's new in v.2.6.0 for Android and iOS
Addition of new currencies in read-only mode (IOS only)

Optimised layout in 'Currencies & Pairs' section

Minor bug fixes
IOS Announcement
Due to Apple's limited list of accepted cryptocurrencies, efforts to improve your trading experience have not always been as easy to implement as we would have wished.
We're happy to announce however, that from today onwards, users will have access to comprehensive trading data for all available pairs, regardless of whether these are tradable or not. This means an improved & enhanced access to pairs like IOTA, EOS, SAN (and more), despite their current status.
We are continuously and consistently communicating with Apple to review their policies on cryptocurrencies in an effort to improve your trading experience. We thank you for your patience and your continued faith in our ability to provide the best trading experience.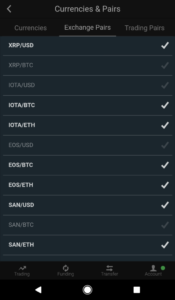 Optimised layout for viewing Currencies & Pairs