13 Sep

EOSfinex: An Introduction
EOSfinex is a high-performance, decentralised exchange built on EOS.io. technology. As an entirely trustless trading experience, EOSfinex will facilitate a highly-scalable network of peer-to-peer value exchange, unconstrained by borders and built around a foundation of transparency, speed and integrity.
Our underlying goal with EOSfinex is to construct a fully decentralised exchange that is built around 3 pillars:
1. Decentralisation
With EOSfinex we are working towards achieving full decentralisation, including on-chain order books, matching and settlement. Our aim is to deliver a trustless peer-to-peer trading experience and complete decentralisation is a prerequisite for this.
2. Trust
The key to a truly valuable decentralised trading experience comes through eliminating the need for trust. With EOSfinex, we are creating a transparent and auditable network of peer-to-peer exchange which can be monitored and verified by participants from around the world at any time.
3. Performance
EOSfinex prioritises high performance with a comprehensive understanding of the demands of professional traders. EOSfinex aims to replicate and exceed the current standard of cryptocurrency exchanges to deliver a new standard for decentralised trading.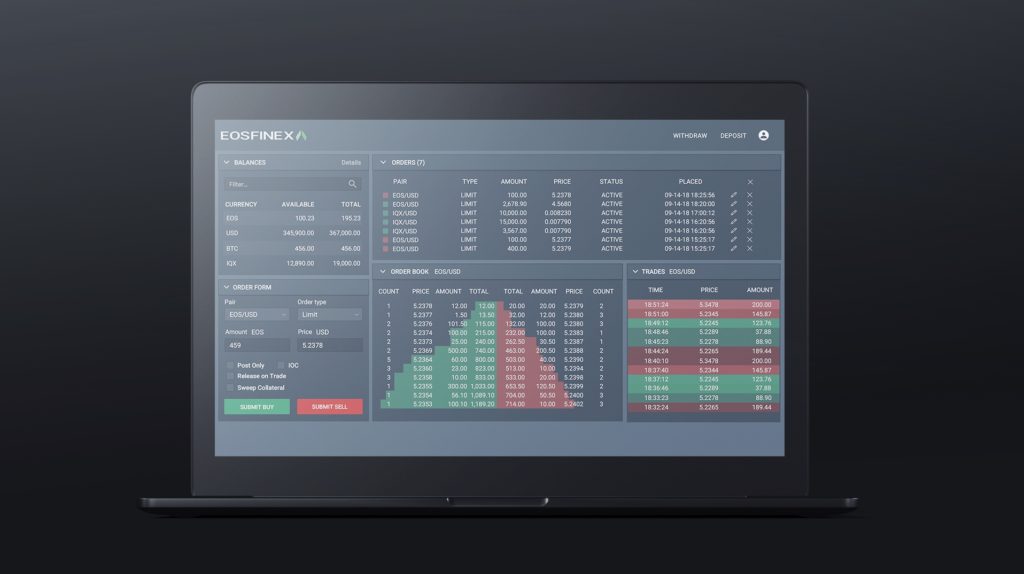 EOSfinex interface mockup
EOSfinex will initially list all major pairs (EOS/USD, BTC/USD and ETH/USD) in order to swiftly expand with a more comprehensive token offering. The exchange contract is flexible and allows for the trading of any token created by a specific trusted contract. Furthermore, adding a new pair is trivial and can be done by anyone after the trusted contract issues a new tradable token.
Out of the gate, the contract will support market, limit, immediate-or-cancel, and post-only orders. We are able to create additional order types based on customer feedback and what is considered logical on a fully distributed exchange.
EOSfinex provides us with a platform to innovate within EOS, and to pioneer research within security, performance and scalability. EOSfinex will alter the way value is exchanged within a network and we are excited about the opportunities this will foster.
What's To Come
We will be unveiling a beta version of EOSfinex at Blockchain Live in London, September 26th.
Blockchain Live is an international blockchain event for the public and private sector dedicated to tackling challenges related to blockchain adoption. We will be part of the Block.one village, a showcase of the most interesting and cutting-edge applications powered by the EOSIO software.
To be a part of the EOSfinex experience, register now.
---