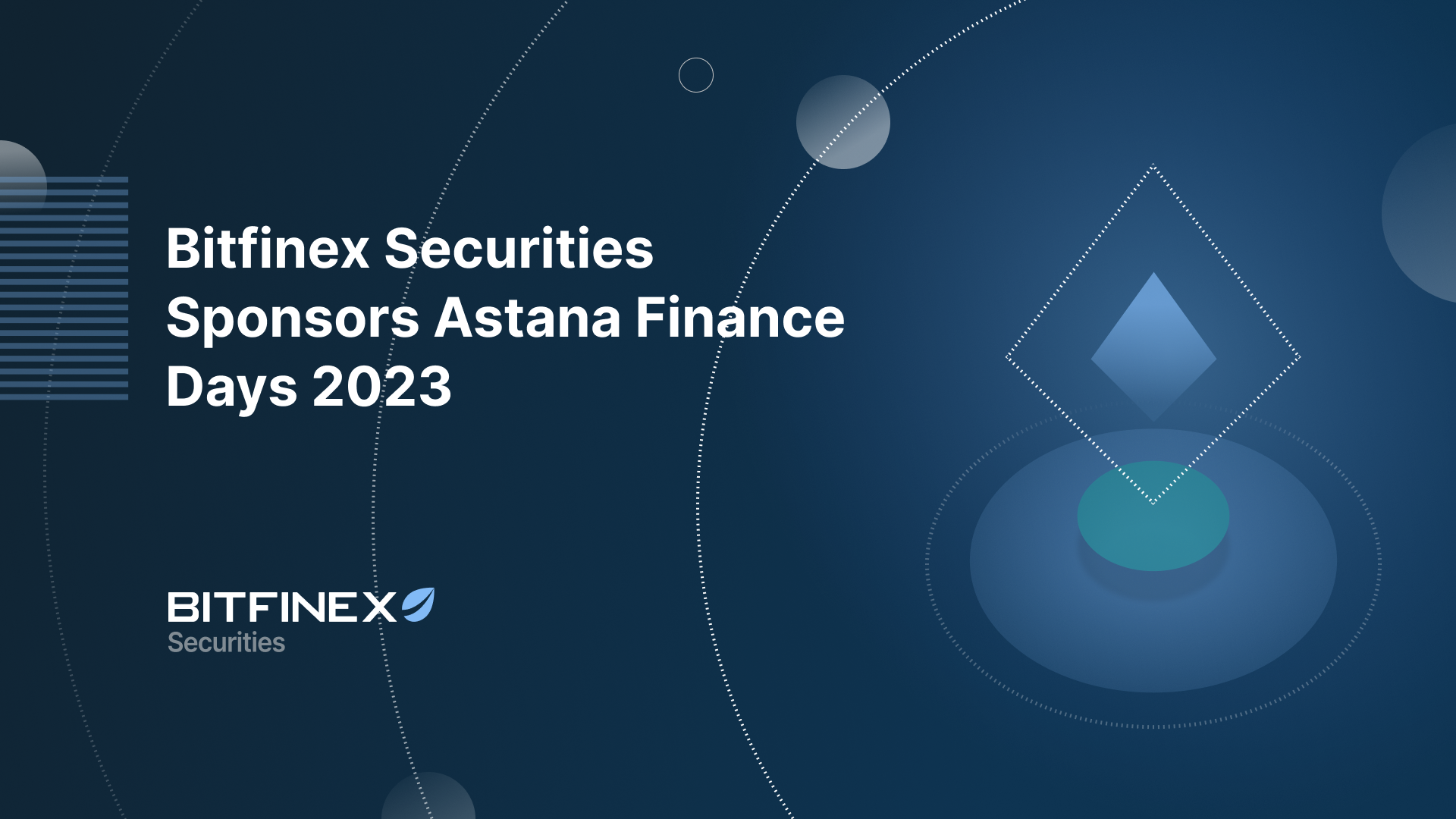 07 Jun
Bitfinex Securities Sponsors Astana Finance Days 2023, Showcasing the Future of Tokenized Securities
ASTANA, Kazakhstan June 7, 2023 – Bitfinex Securities Ltd , the leading platform for the issuance and trading of tokenized securities, is proud to announce its sponsorship of Astana Finance Days 2023, a prestigious event uniting global financial industry leaders. This highly anticipated conference is an important forum for engaging in discussions on the future of crypto regulation and the evolving tokenized securities industry.
Bitfinex Securities will be represented by Jesse Knutson and Akshu Campbell-Holt, who bring their expertise and insights to two pivotal panel discussions. The first panel, entitled "Future of Crypto Regulation: Discussion with Experts Representing Academia and Industry," will delve into the dynamic regulatory landscape surrounding cryptocurrencies and their profound impact on capital markets. The second panel, entitled "Disruptive Risks and Resilience," will explore the challenges and opportunities presented by disruptive technologies in the financial sector.
AFD provides an excellent platform for exchanging ideas and collaborating with key actors to shape the future of the financial industry. Bitfinex Securities looks forward to contributing to the discussion on crypto regulation, and leveraging the AFD to lobby for a balanced and innovation-friendly regulatory environment.
Similarly, Bitfinex's contribution to the discussion on disruptive risks and resilience, will address the challenges and opportunities presented by emerging technologies, and our perspectives on how tokenized securities can enhance resilience in capital markets and foster greater financial inclusion.
Paolo Ardoino, Chief Technology Officer at Bitfinex Securities, emphasises the importance of the securities token market, saying, "As pioneers in the tokenized securities space, Bitfinex Securities is dedicated to empowering investors, embracing change, and redefining the future of capital markets. We are delighted to contribute to these important discussions and showcase how the power of digital assets and regulatory compliance can harmoniously coexist."
Astana Finance Days 2023 offers an exceptional opportunity for Bitfinex Securities to engage with industry leaders, regulators, and policymakers. The company's participation at the event underscores its commitment to revolutionising legacy security markets through the innovative use of blockchain technology and tokenized securities.
Bitfinex Securities expanded its global presence in 2023, establishing a dedicated office in the Astana International Financial Center (AIFC), and became the first company to be awarded a licence to arrange security token offerings under the new El Salvador Digital Asset Securities Law.
For more information about Bitfinex Securities please visit our website at https://www.bitfinex.com/securities.
About Bitfinex
Founded in 2012, Bitfinex is a digital token trading platform offering state-of-the-art services for digital currency traders and global liquidity providers. In addition to a suite of advanced trading features and charting tools, Bitfinex provides access to peer-to-peer financing, an OTC market, and financed trading for a wide selection of digital tokens. Bitfinex's strategy focuses on providing unparalleled support, tools, and innovation for professional traders and liquidity providers around the world. Visit www.bitfinex.com to learn more.
About Bitfinex Securities
Bitfinex Securities, with entities registered and licensed in the AIFC and El Salvador, offers investors and issuers a regulated, efficient and global solution to tokenized security issuances and secondary market trading. Bitfinex Securities was the first global digital asset platform licensed and registered in the AIFC and was also the first to be licensed under El Salvador's new Digital Asset regime.