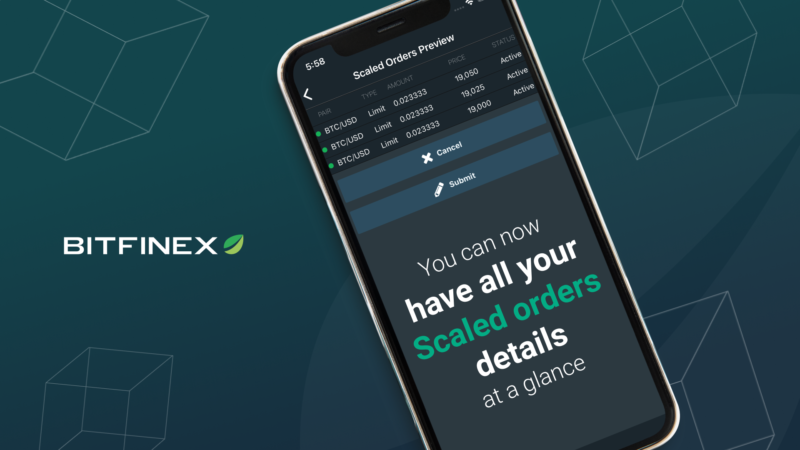 06 Jan

Mobile App Change Log 3.49.0

Recent updates and optimizations to the Bitfinex mobile app


We are pleased to present Version 3.49.0 of the Bitfinex mobile app.


The latest update to the Bitfinex mobile app includes allowing users to show or cancel related Scaled orders with a single click.


Download the latest version of the Bitfinex mobile app below:


You can also download the Android Application Package (APK).
---
Features
Total Amount and Orders Count are now displayed in the Order Detail page for Scaled orders
Addition of "Show related Scaled Orders" and "Cancel related Scaled Orders" buttons in the Order Detail page
Users can now disable in-app funding notification in the Notifications page of the Account tab
Users can now access Staking from the Account tab
Improvements
Upgrade of the underlying software development kit (SDK), which requires users to manually update from Google Play or Apple's App Store, or reinstall from the APK above
UX improvement: Increased clickable area of buttons
Height, width and zoom ratios are now shown in the Support Info page
Updated translations for Russian as well as traditional and simplified Chinese
Users who change their pin code are now shown a change success notification
Users can now expand or collapse panels even without "Create and cancel orders" permission
Updated the second BTC and USDt options in the Currency Conversion's "From" and "To" dropdown menus to "BTC (Derivatives Wallet)" and "USDt (Derivatives Wallet)" to represent BTCF0 and USTF0, respectively
Bug Fixes
Fixed Scaled order form validation
When an iOS user clicks on "," in a numeric field, it will now be autocorrected to "."
Fixed issue in the Positions panel where values smaller than 0.005 were shown in the incorrect colour
Users without "Transfer between your wallets" permission will now be shown the correct message: "Need API with the 'Transfer between your wallets' permission to transfer your balance."
Fixed issue of auto-renew form remaining stuck after being deactivated
Fixed issue of last message time being shown even when there is no direct messages between two users in Bitfinex Pulse
*The derivatives platform is provided by iFinex Financial Technologies Limited. References to Bitfinex Derivatives in this post are references to iFinex Financial Technologies Limited.
---
The above changes have been suggested to us by our active user base.

Feedback from our customers is incredibly valuable to us. Please share your user experience and help us to continuously optimize the Bitfinex mobile app.

To share your feedback, complete the Bitfinex mobile user app survey or join the Bitfinex Telegram channel.