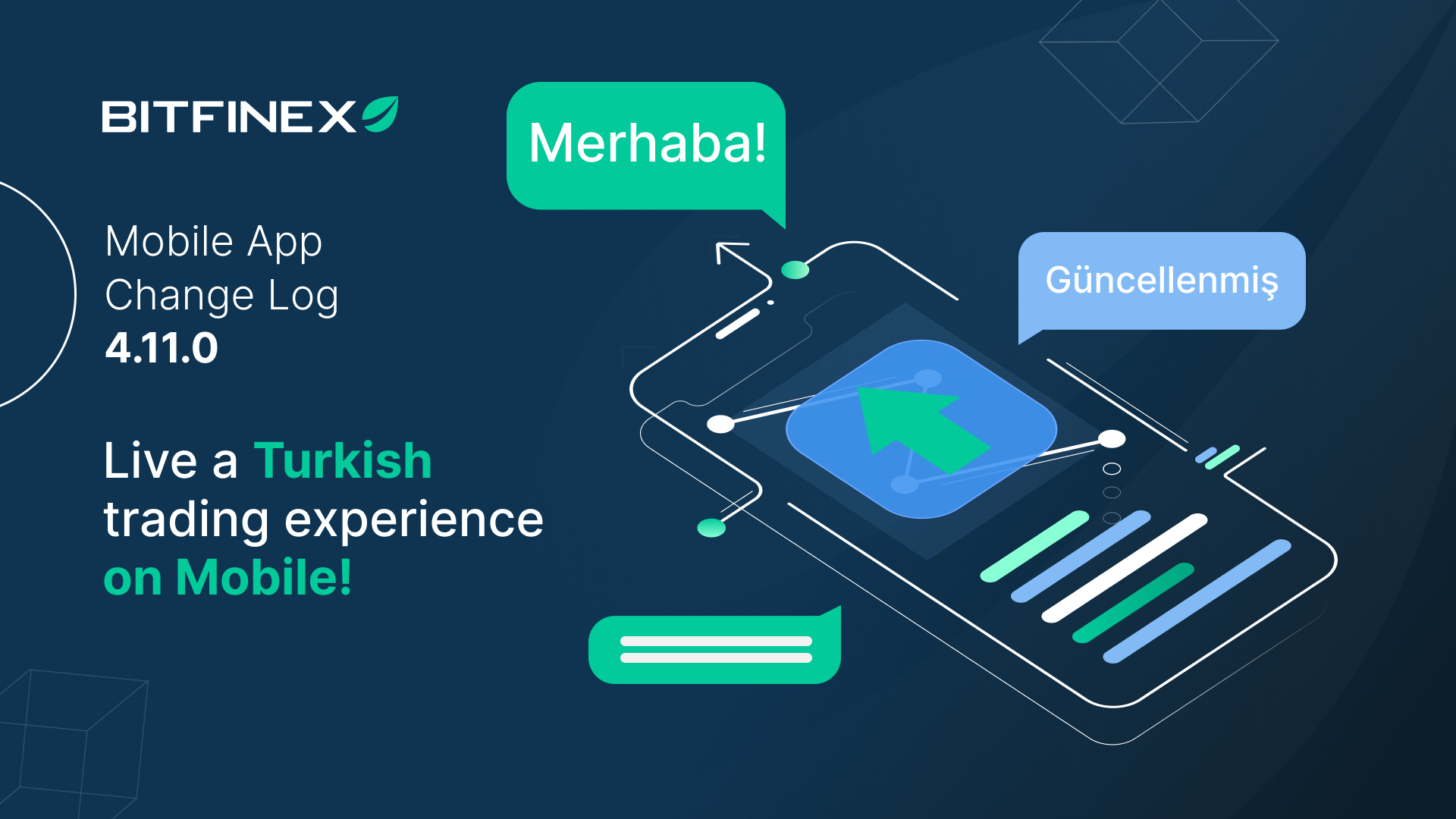 24 Sep

Mobile App Change Log 4.11.0

Recent updates and optimisations to the Bitfinex mobile app


We're pleased to present Version 4.11.0 of the Bitfinex mobile app.


The latest update to the Bitfinex mobile app includes Turkish language support and the ability to edit API permissions on mobile.


You can also download the latest version of the Bitfinex mobile app from the Android Application Package (APK).


Please share your experience by leaving a review in the app stores too! The below changes have been suggested to us by our active user base. Feedback from our customers is incredibly valuable to us.

---
Features
Support for Turkish language on mobile
Users can now edit API permission on mobile
Users can now buy Bitrefill cards with Tether tokens (USDt)
Improvements
Updated dark theme mirroring that of the web
Updated the onboarding and the first time usage modal screen
Applied consistent modal styles
Keyboard and slide-in menu is now closed when going into the background
Reduced data consumption by not subscribing to unused data and not fetching data when app is in the background
Addition of new icons for XRP-PERP, XMR-PERP, LUNA-PERP, GERMANY40 perpetual contracts*
Wallets' Transfer button is now hidden when available balance is 0
Withdraw form is disabled when there is no permission
Addition of numeric keyboard to withdraw tamperproof input
Bitfinex Borrow minimum amount changed to 175 USD
Removal of messages section from Bitfinex Pulse drawer
Removal of CST Token Terms link in the Legal page of the Others section of the Account tab
Addition of account write notice in Appearance settings
Public IP and (country code) now shown in build version
Updated translations for Russian, Spanish, as well as traditional and simplified Chinese
Bug Fixes
Chart Fixes:

Fixed close/open issue for expanding charts
Chart reloads when user clicks on reset button in the collapsible header
Fixed issue of chart order and positions not displaying when revisiting
Fixed issue of chart not loading on Android devices when user taps on and back multiple times
Fixed interval resubscribe and refactor interval reset to 30 minutes
Trading:

Fixed issue of Balance summary not changing after creating an order
Fixed missing market order estimate price
Fixed crash issue of Scaled Order

Verification:

Fixed issue of 'Permission Required' popup still displaying after allowing in the Verification page
Fixed back navigation in web view
Fixed Sign Up password validation message and email validation regex
Fixed column width for Wallets Balances
Fixed issue of user unable to exit page after submitting

UI

  Fixed issue of hang/long response time after going to background
  Fixed open app error when the internet is disconnected
  Fetch issue of missing application data after reconnect
  Fixed loading for trading/funding tickers after reconnect
  Fixed changelog overriding PIN code fullscreen for reconnect

Deeplink

Movements' deep link not allowed when user is not logged in
Fixed issue of deep link displaying wrong Tickers for paper trading pairs
Fixed issue of deep link not working for first-time guest users
*The derivatives platform is provided by iFinex Financial Technologies Limited. References to Bitfinex Derivatives in this post are references to iFinex Financial Technologies Limited.
---
To share any further feedback, please complete the Bitfinex mobile user app survey or join the Bitfinex Telegram channel.