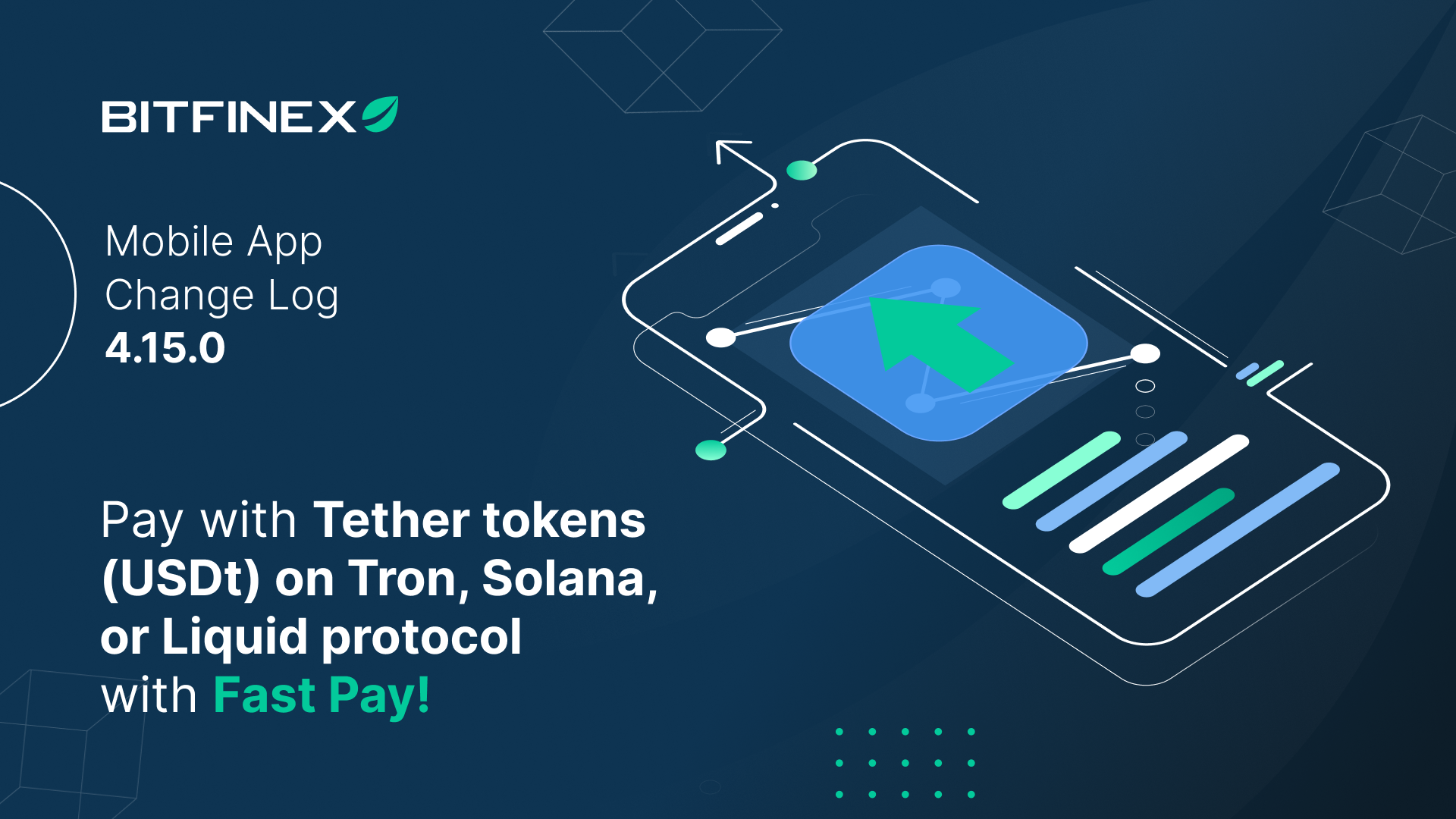 21 Dec

Mobile App Change Log 4.15.0

Recent updates and optimizations to the Bitfinex mobile app


We're pleased to present Version 4.15.0 of the Bitfinex mobile app.


The latest update to the Bitfinex mobile app includes support for Tether tokens (USDt) on Tron, Solana, and Liquid protocol on Fast Pay.


You can also download the latest version of the Bitfinex mobile app from the Android Application Package (APK).


Please share your experience by leaving a review in the app stores too! The below changes have been suggested to us by our active user base. Feedback from our customers is incredibly valuable to us.

---
Features
Addition of support for Tether tokens withdrawals
Addition of support for USDt on Tron, Solana, and Liquid protocol on Fast Pay
Addition of support for creating invoices for Lightning Network BTC and Tether tokens on Tron, Solana, and Liquid protocol in Fast Pay
Users can now type '@' to tag other user profiles on their posts in Bitfinex Pulse
GIPHY integration in Bitfinex Pulse posts
Improvements
Redesigned sign up 2FA setup page
Removed onboarding tutorial for logins
Last price is filled when selecting a pair in Price Alert
Users can now click the cross icon to quickly clear the price field in Price Alert
Removed IOTA modal warning when adding entry in address book
Addition of new error code 'The email and/or username has been taken' during sign up
Updated translations for Russian, Spanish, Turkish, as well as traditional and simplified Chinese
Removed the currency column in Deposit via Payment Card
Display notice in margin and funding form if user not in the right verification level
Bug Fixes
Fixed issue of login with one-time password (OTP)
Fixed issue of prohibited error message shown right below the region picker in sign up form
Fixed issue of the keyboard not popping up in PIN code page when logging in with API keys
Fixed issue of pressing min/max causing an error in payment card deposits
Fixed issue of payment card error always showing whenever amount is present
Fixed issue of Bitfinex Pulse posts being cleared when logged out
Fixed issue of deep link not opening when app is fully closed
Fixed issue of missing 'You have not yet confirmed your email' message while logging in
Fixed issue of not being able to paste a link on a pulse in iOS
---
To share any further feedback, please complete the Bitfinex mobile user app survey or join the Bitfinex Telegram channel.