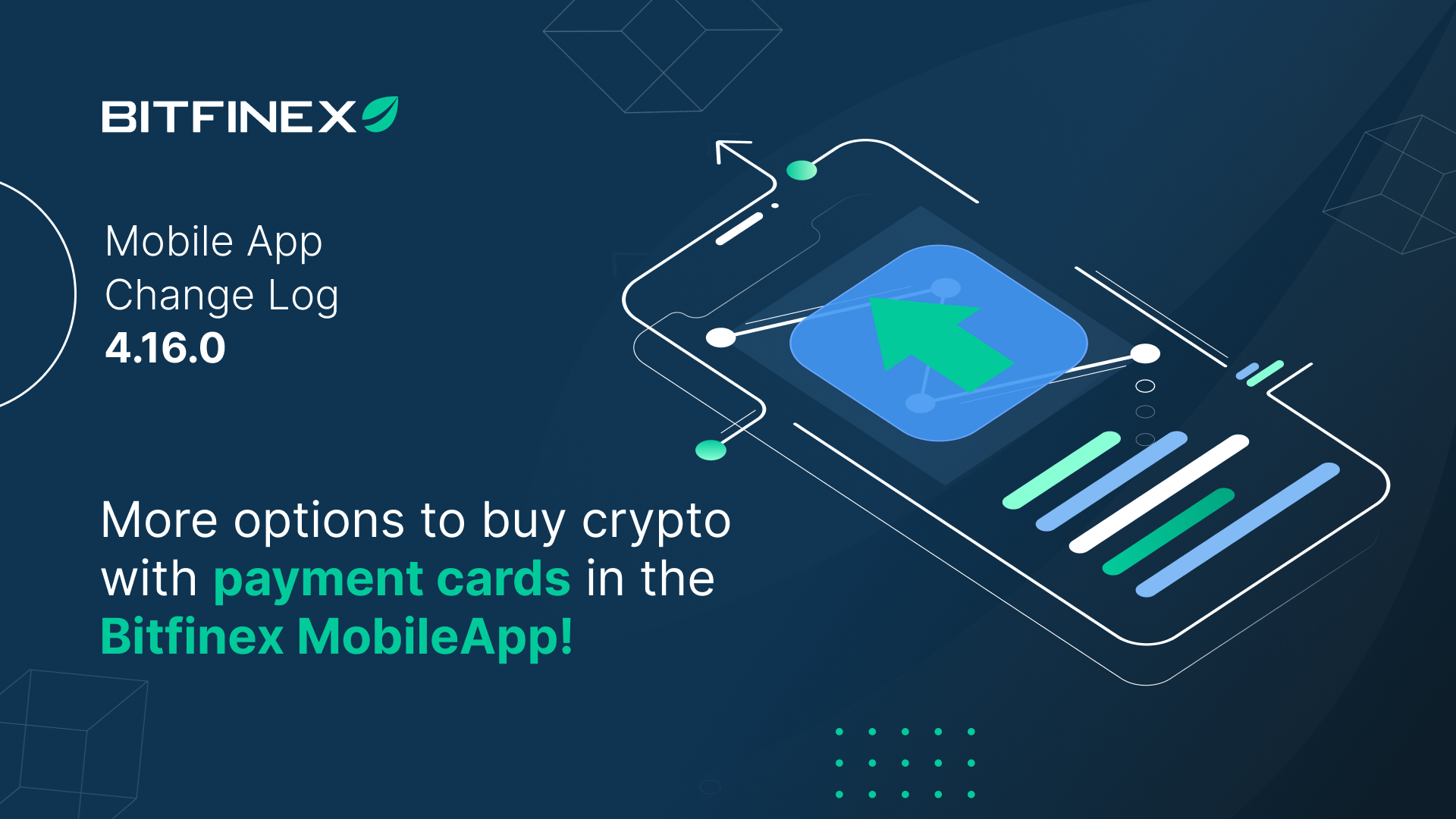 13 Jan

Mobile App Change Log 4.16.0

Recent updates and optimizations to the Bitfinex mobile app

We're pleased to present Version 4.16.0 of the Bitfinex mobile app.

The latest update to the Bitfinex mobile app includes support for happyCOINS and additional fiat options for payment card deposit processors OWNR, Mercuryo, and Simplex.

You can also download the latest version of the Bitfinex mobile app from the Android Application Package (APK).

Please share your experience by leaving a review in the app stores too! The below changes have been suggested to us by our active user base. Feedback from our customers is incredibly valuable to us.
---
Features
Integration of happyCOINS as on-ramp deposit method
Addition of fiat currency options (GBP, EUR, JPY) for payment card deposit processors
Users can choose to create Fast Pay invoices based in US Dollars, BTC, Satoshi, or Tether tokens (USDt)
Improvements
Removed derivatives* entries from currency conversion
Lightning Network BTC (LN-BTC) is used by default when converting BTC in wallet conversion
Improved the layout of currency conversion form, including displaying available balance and adding a max button
Addition of smoother animation when changing balance to list mode
Modal popup shown when there is no camera permission in Fast Pay
Intermediate verification requirement notice shown for derivatives
Updated trailing stop order confirmation message to 'Exchange Trailing Stop Buy/sell for 1 ETH at the distance of 30 USD'
Improved initial signup configuration with OTP
Improved OTP verification
Improved Bitfinex Pulse UI and removed side drawer
Updated translations for Russian, Spanish, Turkish, as well as traditional and simplified Chinese
Bug Fixes
Users are now prevented from submitting an empty OTP code for 2FA
Fixed issue of GIF in Bitfinex Pulse not scrolling well on iOS devices
Fixed issue of incorrect calculation of Sats in the view mode of Fast Pay
Fixed issue of incorrect values shown in card payment when selecting fiat currency
Fixed issue of fiat price convertor not working for Mercuryo and OWNR payment card deposit
Fixed issue of some min/max buttons not working in payment card
Fixed issue of missing Tether token icon for payment card deposit
Fixed issue of Fast Pay's 2FA being cut off on smaller screens
Fixed issue of keyboard not dismissed in wallets
Fixed issue of signup OTP when app reloads
Fixed issue of PIN setup being skipped after confirming email when logging in using an account without 2FA
Fixed issue of amount field being red by default and error displaying for a few seconds when changing fiat currency
*The derivatives platform is provided by iFinex Financial Technologies Limited. References to Bitfinex Derivatives in this post are references to iFinex Financial Technologies Limited.
---
To share any further feedback, please complete the Bitfinex mobile user app survey or join the Bitfinex Telegram channel.