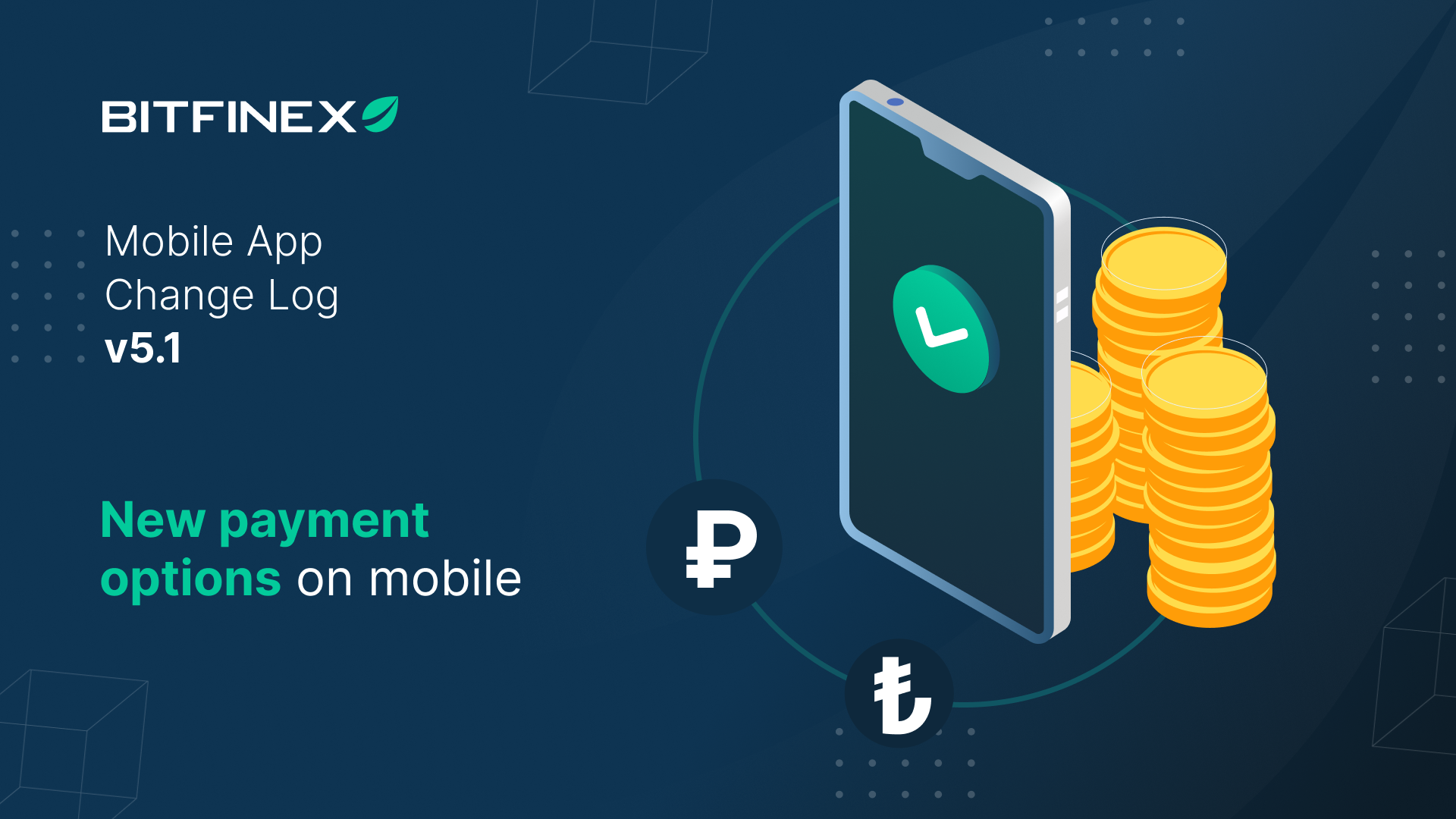 17 Feb

Mobile App Change Log 5.1.0

Recent updates and optimizations to the Bitfinex mobile app.

We're pleased to present Version 5.1.0 of the Bitfinex mobile app.

The latest update to the Bitfinex mobile app includes the addition of Turkish Lira and Russian Ruble fiat options for deposits with credit or debit cards.

You can also download the latest version of the Bitfinex mobile app from the Android Application Package (APK).

Please share your experience by leaving a review in the app stores too! The below changes have been suggested to us by our active user base. Feedback from our customers is incredibly valuable to us.
---
Features
Addition of dashboard grid menu displaying related services in the Account
Improvements
Addition of Turkish Lira and Russian Ruble fiat options for deposits with credit or debit card
Wallets and Balances now shown as an inline group instead of a picker in Deposit and Withdrawal
Enabled withdrawal of Tether tokens from a select wallet
Improved ticker filter performance
Addition of cryptocurrency deposit notice for Concordium (CCD)
Addition of icons for Axie Infinity (AXS), Fantom (FTM), KardiaChain (KAI), Pangolin (PNG), Shiba Inu (SHIB), and Polytrade (TRADE)
Removal of icons for Hermez Network token (HEZ), EOSDT (EOSDT), and MCS Token (YGG)
Total balance for Tether tokens (USDt) and credit or debit card deposit now shown instead of the available balance
Improved readability of text for card deposit currencies
Main account info now shown in a table to align with sub-accounts and security accounts
Updated paste icon in Fast Pay screen
Removal of leaf logo in Fast Pay success/error modal title
Quicker UI update for trading tickers when switching between Lite and Pro mode
Permissions notice now shown for Affiliates, Verification and Reports
Updated translations for Russian, Spanish, Turkish, as well as traditional and simplified Chinese
Bug Fixes
Fixed issue of tickers layout overflowing in small screens in Lite mode
Fixed issue of paper trading tickers for Lite mode tabs
Fixed issue of the deposit button in the Stake tab not being disabled before selecting token or when logged out
Fixed issue of sign up error messages not translated
Fixed issue of no preset default token in Stake tab
Stake tab from Lite mode replaces the staking rewards link in Pro mode
Currencies with zero exchange balance are hidden in Wallet in Lite mode
Fixed issue of wrong total balance shown in Lite mode when market equivalent config is enabled
Filtered out 'TETHERUSDTDVF' from crypto deposit
Fixed issue of Santiment information for TRADE-related pairs
Fixed issue of BTC auto-filling price as 43k instead of 43xxx in Price Alert
Fixed issue of Fast Pay not dealing upper case correctly when scanning/pasting invoice
Fixed issue of incorrect paste data in Fast Pay
Fixed issue of passing lowercase causing invalid Lightning invoice error in Fast Pay
USDt shown instead of UST in Fast Pay success page
Fixed issue of LN-BTC value not displaying in toast when copying the deposit address
Fixed issue of chart exception
Fixed issue of pulse not disappearing after delete action
In-app browser opened when clicking links in Bitfinex Pulse
---
To share any further feedback, please complete the Bitfinex mobile user app survey or join the Bitfinex Telegram channel.