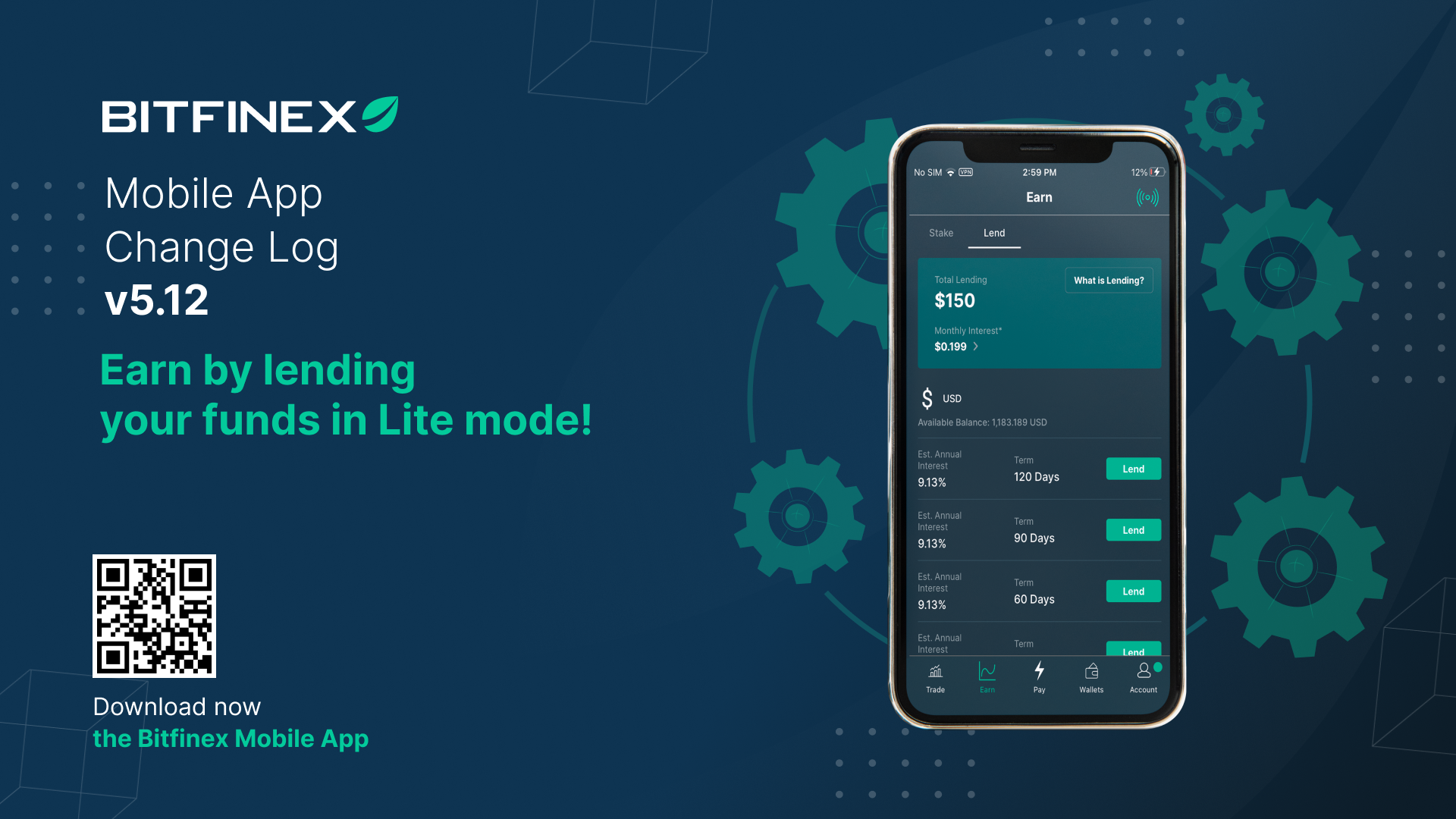 06 Oct

Mobile App Change Log 5.12.0

Recent updates and optimisations to the Bitfinex mobile app

We're pleased to present Version 5.12.0 of the Bitfinex mobile app.

The latest update to the Bitfinex mobile app includes Lending for Lite Mode

You can also download the latest version of the Bitfinex mobile app from the Android Application Package (APK).

Please share your experience by leaving a review in the app store too! The below changes have been suggested to us by our active customer base. Feedback from our customers is incredibly valuable to us.
---
Features
Addition of the Over the Counter (OTC) function in the Account tab
Addition of Lending section in the Earn tab of the Mobile Lite mode
Support of biometric authentication on the "Enter PIN Code" screen
Trading
Updated to merge the Trade and Derivatives* tabs to "Trading" on Pro mode and "Trade" on Lite mode
Updated to show more trading pair tabs in Lite mode
Addition of SWEAT and XCN token icons
Updated to show authentication popup when guest user tried to toggle the favorite pair selection
Updated to auto size long price amounts in the order form to fit in text area
Updated to 2 decimals for Fiat/Stable coins orders in Lite mode
Updated iOS devices to redirect to app settings when permissions to share the chart screenshot are denied
Fast Pay
Updated to show Fast Pay as a tab in Pro mode
Improved the user interface in Fast Pay
Updated to move Bitrefill as a Fast Pay service
Addition of SWAPiX service for USDt – Brazil Real payment
Addition of a fee check for LN-BTC
Fixed issue of skip 2FA for small amount not working in Fast Pay
Fixed issue of Fast Pay showing permission modal
Fixed issue of Bitrefill payment
Pulse
Addition to show the total and unique views for the author of the Pulse post
Addition of the Pulse Trending tab
Fixed Pulse item footer
Wallet
Addition of Lending (funding) Wallet in Lite mode
Updated the freeze account notification on the Withdrawals detail page and enabled option to freeze account
Addition of the "paste" icon in the Withdrawal amount field
Updated to hide the conversion quick action in Wallets for paper trading accounts
Others
Updated switch to Lite mode description
Updated to remove the permissions prompt check for KYC
Updated translations for Russian, Spanish, Turkish, Portuguese, as well as traditional and simplified Chinese
Fixed issue of announcement title showing gray in white theme
Fixed reset token error during logout
To share any further feedback, please complete the Bitfinex mobile user app survey or join the Bitfinex Telegram channel and Discord community.
##