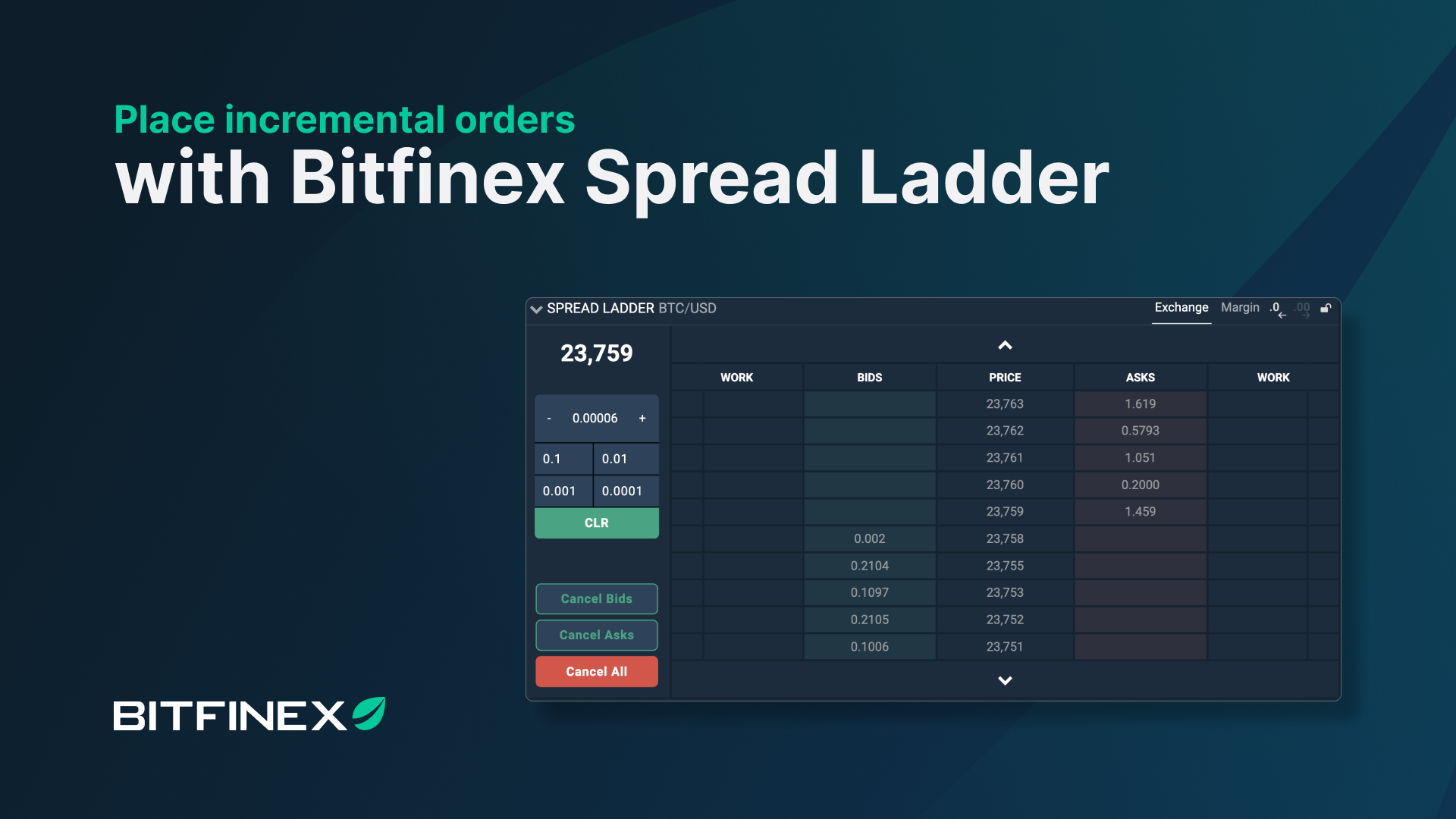 08 Feb

Bitfinex Spread Ladder makes it easy to execute trades

Bitfinex is proud to announce our new spread ladder trading feature, which lets traders easily execute large trades in a single transaction without having to take multiple positions to hedge risk, and assists in achieving an average entry and exit price.
Incremental buys & sells with Spread Ladder orders on Bitfinex
Bitfinex has added a new type of trade order to our trading arsenal, known as Spread Ladder trades. Spread Ladder trades are a brand new feature aimed at sophisticated traders, which allow them to enter multiple incremental buy or sell orders of any crypto asset rather than opting for a single price.
By taking advantage of Spread Ladder orders, traders can hedge their position during times of market volatility, enter and exit large positions at an average price range, and manage risk by spreading entry and exit prices.
Spread Ladder orders are aimed at advanced traders to make it easier to execute complex trading strategies, by making incremental buy and sell orders, which are better known as "Ladder Steps".
By using Ladder Steps, a trader can safely enter positions around a desired price range, and exit the very same positions incrementally, locking in profits, especially during times of uncertainty when prices fluctuate rapidly.
Spread ladder orders also make it more reliable for traders to enter and exit larger positions with reduced slippage, as spreading the larger order across multiple incremental Ladder Steps makes entry and exit more seamless, especially in smaller cap coins or in asset markets with less depth.
Get started with Spread Ladder trades today
1. Firstly, log in to your Bitfinex account. If you don't have a Bitfinex account, create one here.
2. From there, you'll be directed to the Trading page of the Bitfinex platform.
3. On the top right hand side, under the navigation bar, you will see an edit icon that refers to the Customise layout feature. Click on this icon or you can find the Customised Layout option on the first icon on the top navigation bar, as shown in the screenshot below.
4. In the drop-down menu of available layout components, select Ladder.
5. The Spread Ladder component will now appear on your Trading page. You can adjust the size to fit your preferences.
How to use the Spread Ladder order option
Once the Spread Ladder component has been added, it will appear as a table that displays the Price in the middle column with the Bids and Asks order sizes on either side. The Work column will display the order size and will appear on the same row as the price that you place.
1. To place an order using the Spread Ladder option, you need to first select the trading pair. The trading pair reflected on the Spread Ladder component can be changed according to your selection on the Tickers box.
2. On the Order Form, you can then choose if you wish to make an Exchange limit order or Margin limit order.
3. Now you can go to your Spread Ladder component and select the size of your order. You will be able to select from the available order sizes or manually input the order size according to your trading needs.
Note: The CLR button will clear and reset your amount.
4. You can then scroll up and down the Price list to select the price you would like to buy/sell at.
5. Once you have found your preferred price, all you need to do is simply press on the row that the price is on, this will automatically create a buy or sell order.
Note:
Clicking on the left hand Bids will create a buy order;
Clicking on the right hand Asks will create a sell order.
How to cancel or edit Spread Ladder orders
You can use the Cancel Bids or Cancel Asks options to reset your buy or sell orders.
Alternatively, the Cancel All option will clear all placed orders.
All created orders will also appear in the Orders widget, here you will be able to monitor and edit if needed.
Note:
Spread Ladder orders are subject to Bitfinex maker and taker fees. You can learn more about trading fees on our Fees page.