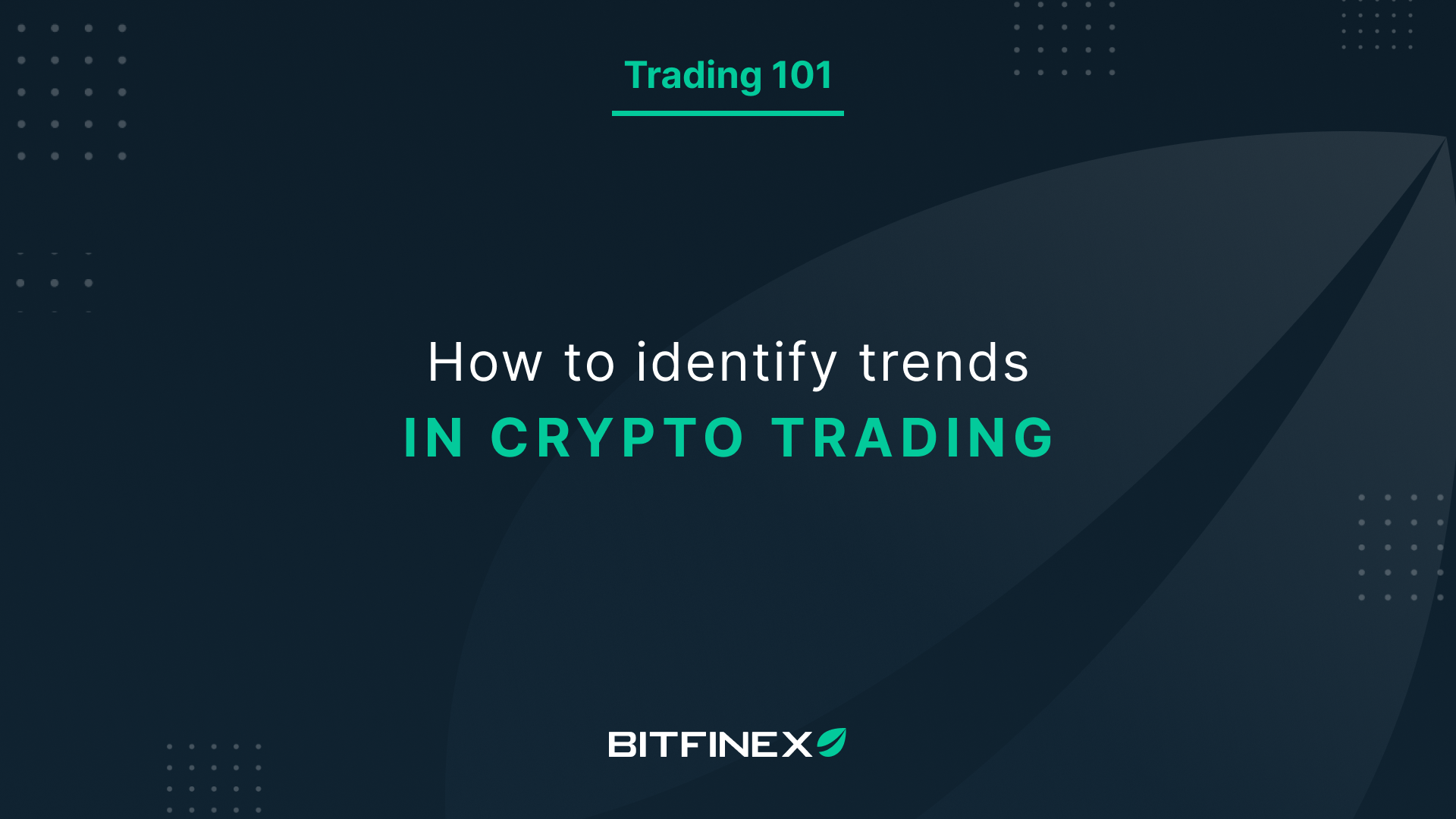 20 Sep

Bitfinex Trading 101—Identifying trends in trading

In trading, trend is a friend. Thus, being able to recognise price trends is crucial as it could potentially give leverage to traders.

Part of the Bitfinex Trading 101 series, this content mainly talks about trends in crypto trading and the common way to identify them, which you can put into practice in your trading activities.

What is a trend in trading?

By definition, a trend is a sustained price movement in one direction within a time frame. There is no specific time frame for a price movement to be considered a trend, but generally, the longer the price moves to a particular direction, the more qualified the trend becomes.

A trend will fall into any of these categories—uptrend (bullish), downtrend (bearish), or sideways. As the name suggests, an uptrend takes place when the price moves upward. It is typically identified by a serial presence of higher highs and higher lows.
On the other hand, a downtrend occurs when the price moves downward and is recognised with a series of lower highs and lower lows.
Sideways takes place when the direction of the price movement is unclear, as in it doesn't show any significant advancement in either upward or downward trends.
For more info on sideways price movement, you can read our Understanding Consolidation & The Polarity Principle content.
How to identify a trend?
A common way to identify trends is by drawing lines that connect two or more price points on a chart. On a candlestick chart, there are several ways to draw trend lines, as follow:
Using the wicks or the tails of the candlesticks
Using the bodies of the candlesticks
If you're not familiar with the candlestick charts, check out our content on three common types of charts in crypto trading.
Pro tips: When drawing a trend line in an uptrend, draw below the price. When drawing a trend line in a downtrend, draw above the price.
Identifying a trend is probably one of the most fundamental skills that all traders need to have under their belt. Other essential skills include understanding the terms used in trading as well as recognising and translating chart patterns into actions.
In the upcoming content of the Bitfinex Trading 101 series, we will talk about common crypto trading terms and different chart patterns in crypto trading. Subscribe to Bitfinex newsletter to get the latest Bitfinex Trading 101 series right in your inbox. Follow Bitfinex YouTube channel and learn how to #tradebetter with Bitfinex Trading 101 video series.