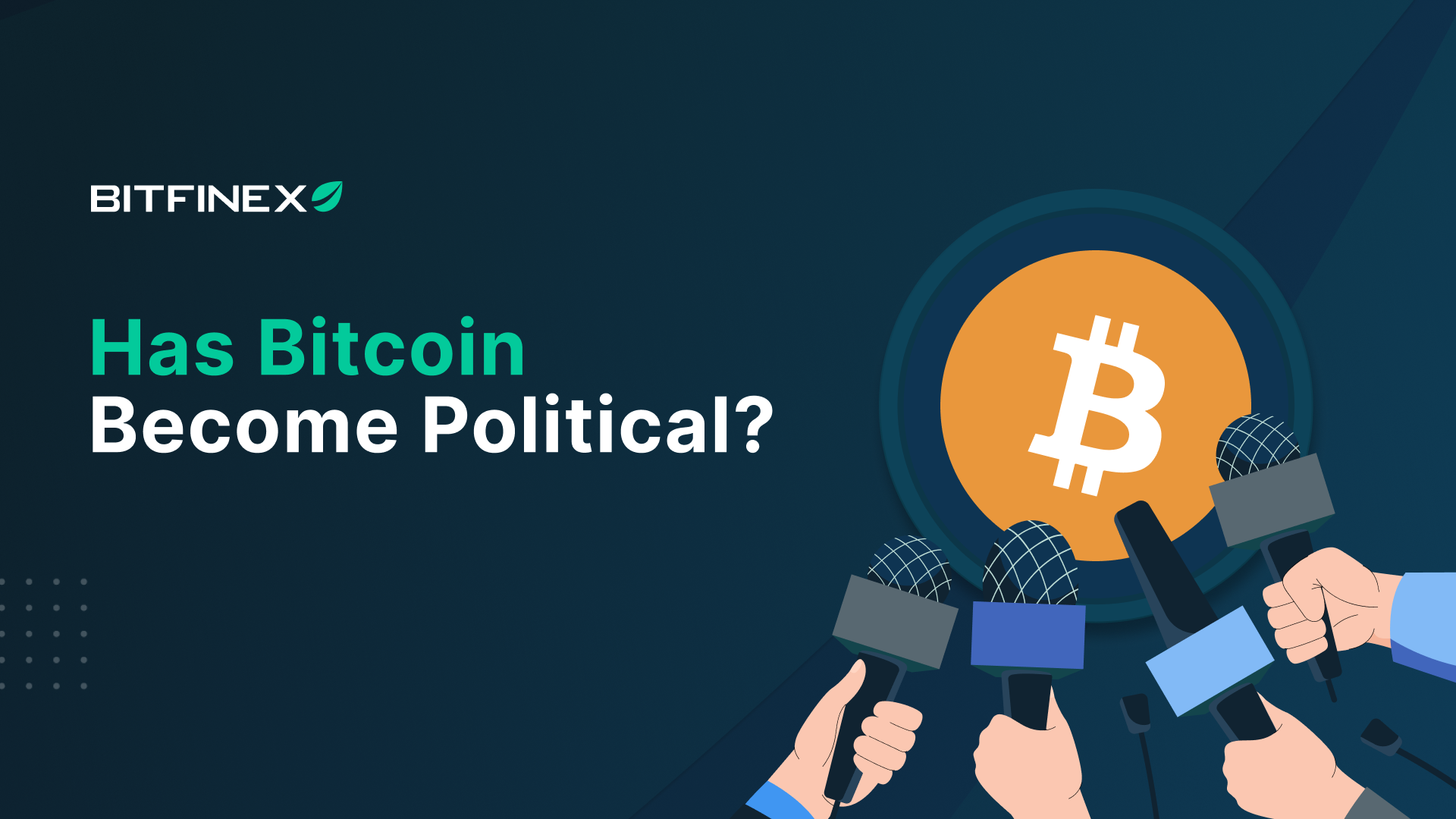 25 Aug

Has Bitcoin Become Political?

The 21st-century political arena has seen a dramatic shift in political ideologies, priorities, and political platforms. Among these changes is the growing importance of Bitcoin and its influence on the political zeitgeist. From Argentina to the United States, Bitcoin is now playing a significant role in political campaigns and agendas.
A New Linchpin of Political Discourse in Upcoming Elections?
Over the years, numerous politicians from different parts of the world have expressed positive sentiments about Bitcoin and cryptocurrencies. Since its inception in 2009, Bitcoin has experienced a transformative journey from an obscure digital asset to becoming a focal point in global financial and political arenas.
Its entrance into the political conversation has not been without contention, but one thing is clear, Bitcoin has firmly anchored itself as a hot button issue for politicians, their constituents, and political campaigns for the foreseeable future. In the evolving political landscape where traditional issues meet modern challenges, Bitcoin has emerged as a defining topic of discourse.
Nayib Bukele's audacious move in 2021, to make Bitcoin legal tender in El Salvador stands as a watershed moment in the annals of both cryptocurrency and global politics. By becoming the first nation to officially integrate a decentralised and censorship-resistant digital currency into its economy as legal tender, El Salvador has not only challenged the traditional financial system but has also reshaped the political discourse surrounding economic autonomy and innovation.
Following in Bukele's footsteps, in this year's run up to national elections, several high profile politicians have made Bitcoin a vital component of their political posturing. Prominent politicians like presidential candidates Robert F. Kennedy Jr., Javier Milei, and Ron DeSantis serve as the latest examples of this trend.
The global political landscape has been set abuzz with the bold actions of Bukele, El Salvador's President, in embracing Bitcoin as legal tender. This unprecedented move has not only placed El Salvador at the epicentre of financial innovation but has also paved the way for other leaders to step into the conversation.
DeSantis, Milei, and Kennedy Jr. have all been galvanised by Bukele's lead. DeSantis, known for his pro-business stance, has expressed his commitment to safeguarding Bitcoin from potential regulatory constraints, reflecting an emphasis on financial liberty reminiscent of Bukele's vision.
Javier Milei, in Argentina, sees Bitcoin as a viable solution to combat his nation's economic instability and hyperinflationary currency crisis, echoing the Salvadoran perspective of turning to Bitcoin amidst traditional financial challenges. Milei, an outspoken libertarian and critic of Argentina's traditional economic policies, has been a firm advocate for cryptocurrencies, particularly Bitcoin. His pro-Bitcoin stance, among other factors, played a pivotal role in his success during Argentina's recent presidential primaries.
Meanwhile, RFK Jr., has proposed an intriguing blend of the past and future, suggesting the U.S. dollar be backed by both gold and Bitcoin. Each of these politicians, inspired by Bukele's audacity and courage, is steering the Bitcoin conversation forward, ensuring its prominence in contemporary politics on a global scale.
A Brief History of Pro-Bitcoin Politicians Worldwide
Over the last five years, Bitcoin's meteoric rise to the mainstream has not only captured the attention of Bitcoiners, businesses, and investors but has also made a significant mark in the political arena. With its decentralised nature and potential to revolutionise traditional finance, Bitcoin has garnered support from numerous politicians, even from those who were once sceptical.
Let's take a look at some of the more notable politicians who have voiced their pro-Bitcoin position publicly over the last 5 years. Several politicians in the U.S. have been vocal about their support for Bitcoin. Figures such as Ron Paul have long been advocating for decentralised sound money, while Senator Cynthia Lummis of Wyoming has shown her support by revealing her ownership of Bitcoin. Their early endorsements signified Bitcoin's potential even before its mainstream explosion.
Ron Paul (U.S.) – Former U.S. Congressman and three-time presidential candidate, Ron Paul has long been an advocate for decentralised money and has spoken positively about Bitcoin and cryptocurrencies.
Cynthia Lummis (U.S.) – The U.S. Senator from Wyoming has been an outspoken supporter of Bitcoin, and she even revealed owning some herself.
Andrew Yang (U.S.) – Former U.S. presidential candidate and NYC mayoral candidate, Yang has mentioned the potential benefits of cryptocurrency and has called for clearer regulations.
Gavin Newsom (U.S.) – Governor of California has expressed a positive attitude towards Bitcoin and other digital currencies.
Nayib Bukele (El Salvador) – President of El Salvador, Bukele played a pivotal role in making Bitcoin legal tender in El Salvador, the first country to do so.
Jörg Molt (Germany) – While not a traditional politician, Molt, who claims to be one of the co-founders of Bitcoin (a disputed claim), has been involved in German politics advocating for blockchain.
Hester Peirce (U.S.) – Although not an elected politician, as a commissioner at the U.S. Securities and Exchange Commission (SEC), Peirce has been an advocate for clear crypto regulations and is fondly referred to as "Crypto Mom" by the crypto community.
Al Kelly (U.S.) – Again, while not a politician, as the CEO of Visa, he has been very positive on the potential of cryptocurrencies and integrating them into existing financial structures.
Manny Pacquiao (Philippines) – Senator and world-renowned boxer, Pacquiao launched his cryptocurrency to connect with fans.
Antanas Guoga (Lithuania) – Known as "Tony G" in the poker world, he's a businessman and former member of the European Parliament. He's been a strong advocate for cryptocurrencies.
Michele Foletti (Switzerland) – Michele Foletti, the Mayor of Lugano, has shown strong support for Lugano's Plan B Bitcoin initiative, emphasising its potential benefits for the city's economic future.
A Permanent Fixture in Future Political Dialogues Moving Forward?
As politicians have become more informed about the potential of Bitcoin and other forms of Decentralised Finance (DeFi), many have transitioned from scepticism to support. With increasing personal investments in cryptocurrencies, it's clear that Bitcoin has cemented its place not just in financial markets, but also in the halls of political power. The future promises an even deeper confluence of politics and cryptocurrency as the world moves towards a more digital, decentralised financial landscape.
Political campaigns are already experiencing the power of Bitcoin. With the ability to make campaign contributions in Bitcoin, there's a growing realisation of its potential to mobilise younger, tech-savvy voters. This demographic, keenly aware of digital trends, can significantly influence political outcomes.
In the larger geopolitical arena, nations are recognizing the strategic implications of Bitcoin and cryptocurrencies. As economies like the US, and EU, continue to make moves in the Bitcoin space, via regulatory frameworks, adoption, and public policy, there's a growing impetus for other nations to position themselves strategically. This not only keeps Bitcoin relevant in political circles but also amplifies its importance.
Bitcoin's entrance into the political conversation is symbolic of the changing tides in global finance, individual rights, and the digital evolution of our societies. Its multifaceted implications ensure that it remains a pivotal issue in political campaigns, policy discussions, and constituent dialogues. As politicians navigate this brave new world, they'll find that Bitcoin, far from being just a digital currency, represents a constellation of socio-political challenges and opportunities that cannot be ignored.