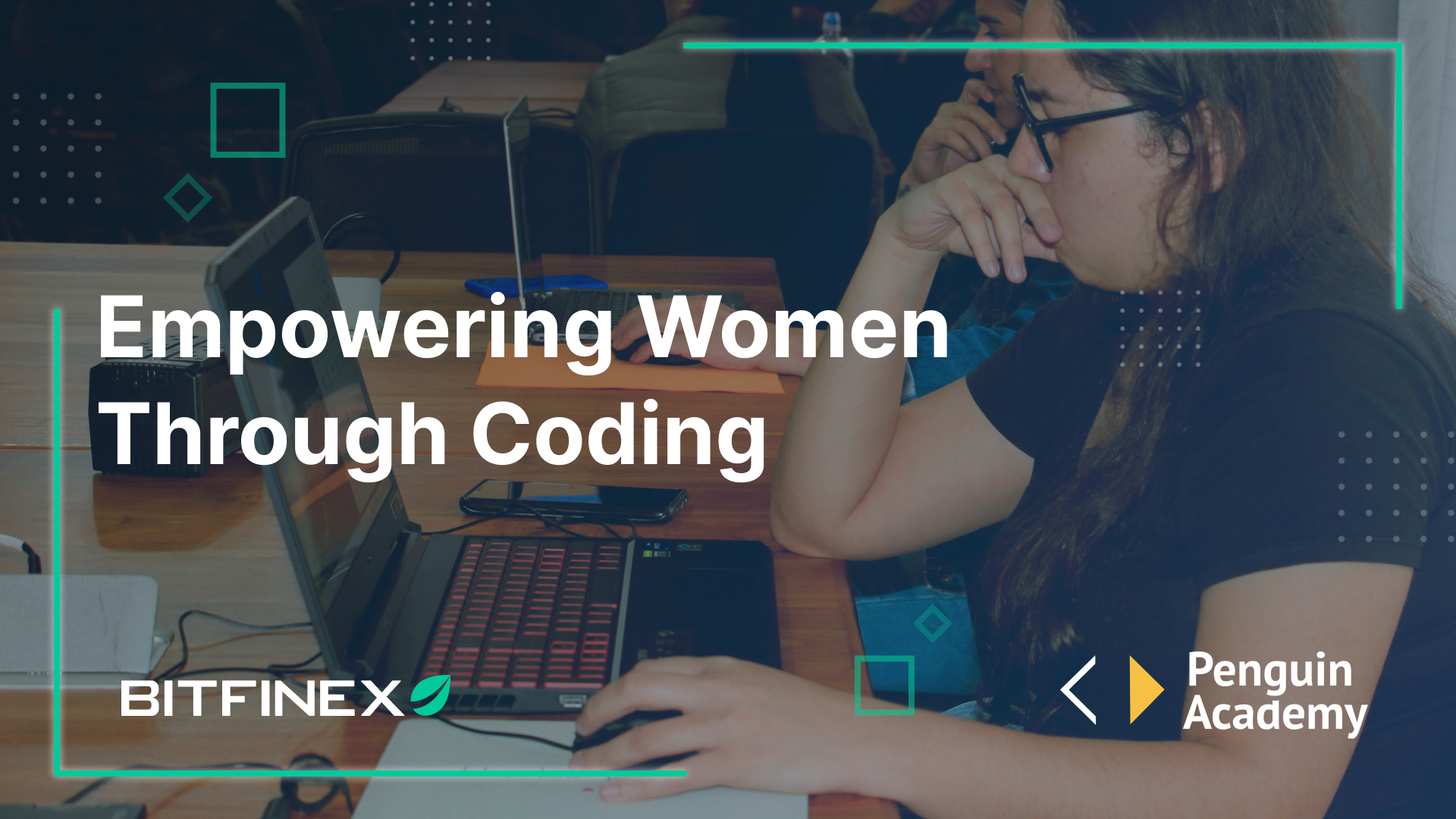 22 May

Penguin Academy: Empowering Women Through Coding

Penguin Academy is a startup which teaches coding by way of fast-paced "Boot Camp" courses where students learn by doing. Bitfinex is proud to sponsor Penguin Academy's Boot Camp for women, in Ciudad Del Este, Paraguay.
Penguin Academy's Boot Camp Teaches Python to Women
Ciudad Del Este, Paraguay is the South American nation's second largest city and is situated on the convergence of Paraguay's border with Brazil and Argentina. This proximity to neighbouring countries has given Ciudad Del Este a unique mixture of cultures which have left their mark on the city, its cuisine, and music.
Another notable hallmark is its reputation for entrepreneurialism and a can-do attitude. Despite this however, there are limited opportunities for women to work. There is limited access to education, and the opportunities for earning a stable income are often hard to come by.
This is why the work of the Penguin Academy is so important. It gives women the opportunity to learn the extremely valuable skill of coding, which in turn dramatically improves their career prospects. Penguin Academy is arming women with a highly sought-after skill set which will allow them to achieve financial independence, while adding diversity to a traditionally male dominated industry.
In the boot camp, students learn by coding from the very first day, and begin solving problems and challenges. The course lasts two weeks, and culminates in a hackathon where the students work in teams to create and deliver a product which solves a set of problems. In past courses students have created mobile apps, web apps, and even employed AI to solve the problem presented in the hackathon challenge.
Penguin Academy offers these courses for free to the students and even helps them find a place to stay and provides them food for the two weeks during the course. This allows women who have limited resources to attend and participate in the boot camp. Penguin Academy estimates that around 30% of their students find careers in tech, as a result.
Penguin Academy makes all this possible by providing a safe and inclusive environment for women to learn to code by doing, and creates a supportive community for the students, so they can feel comfortable asking questions. The students also help each other just as much as Penguin Academy provides education. Penguin Academy offers an array of support through mentorship programs, peer collaboration, and networking opportunities.
Paraguay is a Beautiful Nation Which is Modernising Rapidly
Paraguay, while a beautiful nation with abundant natural resources, is still an emerging economy, and is limited economically by being landlocked, without access to international shipping and trade, except through neighbouring Brazil and Argentina.
Much of the nation is very rural, and many inhabitants outside the cities still live a very rustic, agricultural-based lifestyle. This creates immense challenges for women in particular, who may not have any financial resources or opportunities, and whose situation might be compounded by limited transportation, or access to jobs which pay a living wage.
The nation is, however, modernising and there are many new opportunities in the growing tech industry. One problem the nation faces is a shortage of skilled programmers and coders, with the knowledge to create a product. Penguin Academy is meeting this demand by training women, as well as many other students from all ages and walks of life.
Through teaching women to code, Penguin Academy is providing them with the tools to solve problems, teach themselves, and to achieve the dream of financial independence. By coding women can find high paying jobs in an industry with exponentially growing demand. Many of Penguin Academy's former students have gone on to full time careers in software development or adjacent fields, and returned to help others learn.
In Latin America, as in many regions around the world, the tech industry has been traditionally dominated by men, and there have been long-standing societal norms which tend to discourage women from pursuing careers in the field. By empowering women through coding, Penguin Academy is providing them with the education and employment opportunities which contribute to a more equitable society and challenges traditional gender roles.
Penguin Academy is providing a life changing opportunity for women in Ciudad Del Este, and preparing them for the rapidly digitising global economy. As Paraguay develops and progresses, demand for competent coders will only increase.