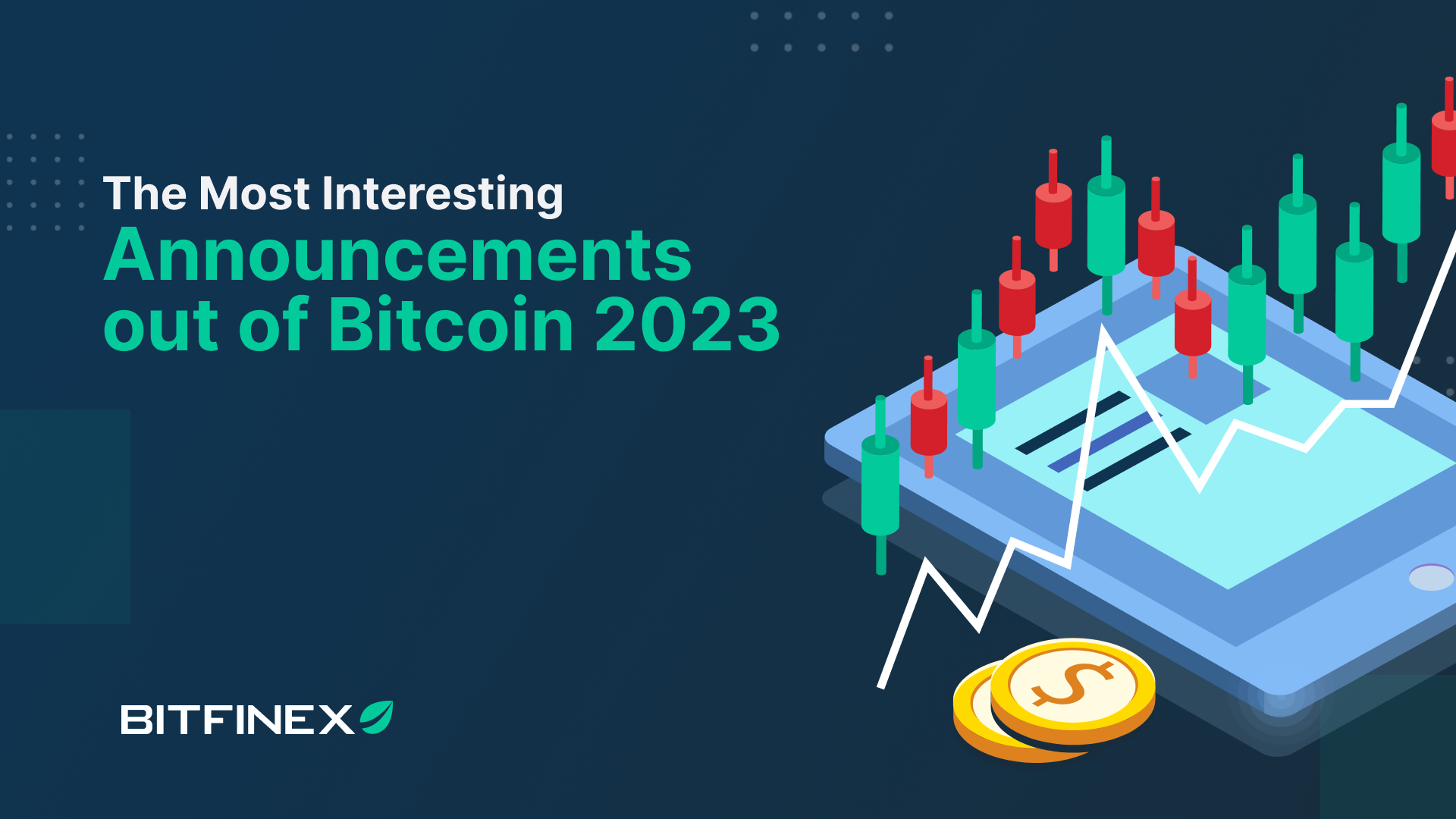 26 May

The Most Interesting Announcements out of Bitcoin 2023

Bitcoin Magazine's Bitcoin conference is the world's largest gathering of Bitcoin and crypto enthusiasts in the world. Past years have witnessed major industry announcements like El Salvador's Bitcoin legal tender law. Let's take a glance at the most interesting announcements from this year's conference.
Bitcoin 2023: Full of Surprises and Important Developments
Last week, from May 18th-20th in Miami, Florida, thousands of Bitcoiners from all around the world arrived to attend the world's biggest Bitcoin event. Bitcoin 2023 is arguably the industry's most important yearly gathering. Established Bitcoin and crypto businesses, open source projects, newly-founded start-ups, and organisations from all over the world come together to network, forge partnerships, and evangelise Bitcoin to the world.
"The Bitcoin Conference", as it's come to be known, is the industry's most important event and has historically been the backdrop for some of the most important announcements in years past. From Salvadoran President Nayib Bukele's historic Bitcoin legal tender law to Michael Saylor's famous $1 million BTC prediction, the conference has a reputation for being the place where the industry's biggest announcements are made.
This year was no different, Bitcoin 2023 also had its fair share of important announcements. While some were surprising, others were less so. What was clear was that throughout the bear market, the community has been building. Here's a recap in case you missed it.
Seven Interesting Announcements Made at Bitcoin 2023 Conference
ASIC Manufacturer MicroBT Releases New Whatsminer Product Line
Bitcoin miners will be happy to know that Bitcoin ASIC miner manufacturer MicroBT has announced the release of a new line of WhatsMiner M50 ASICs for Bitcoin mining. The new product line offers both air and immersion-cooled models optimised for efficiency. 
The new M50 machines offer 150 to 320 terahash/second (TH/s) capabilities, depending on the model. MicroBT reiterated its commitment to creating hyper-efficient mining hardware while adhering to sustainable mining practices, use of renewable energy, and maintaining carbon neutrality.
Robert F. Kennedy Jr. Announces Bitcoin Donations For Presidential Campaign
US Presidential candidate Robert F. Kennedy Jr. made history by announcing that his political campaign would be the first-ever Presidential campaign in history to accept Bitcoin donations. Kennedy attended the Bitcoin 2023 conference, where he made the announcement to an audience full of Bitcoiners.
Kennedy praised the digital asset as an important "innovation" and a "symbol of freedom and democracy". He also vowed to protect citizens' rights to hold and use Bitcoin and pledged to protect Bitcoin from invasive government surveillance. Kennedy is one of several Presidential candidates who have recently spoken positively about Bitcoin publicly in an effort to appeal to a more youthful demographic of voters.
Strike Expands to 65 Countries and Moves HQ to El Salvador
Bitcoin and Lightning Network wallet and payments app Strike has announced the launch of the Strike wallet app in over 65 countries, mostly in the developing world, which will now offer services to over 3 billion users. Strike also announced that it would be offering USDt support within the app.
In addition to this expansion, CEO Jack Mallers also announced that Strike would be moving its corporate headquarters to the Central American nation of El Salvador. Strike's move to El Salvador is motivated by the country's Bitcoin legal tender law, Bitcoin-friendly regulatory framework, the nation's newly passed Digital Securities law, and the recently established Bitcoin office.
Indonesia Investigates Nation-State Bitcoin Mining with Renewable Energy
Ridwan Kamil, Governor of Indonesia's province of West Java, met with Jan3's Samson Mow, nation-state Bitcoin adoption advocate and crusader. In a fireside chat, Governor Kamil described the Indonesian government's recent examination of the benefits that could be realised from the pursuit of industrial-scale Bitcoin mining.
Indonesia is the second-largest source of geothermal energy in the world, and has over 800 rivers that can generate hydroelectric power, making it a massive source of renewable energy that can be harnessed for Bitcoin mining. Aside from mining, Kamil also expressed interest in Bitcoin as a solution for almost 40 percent of the nation's citizens who are unbanked and lack opportunities for financial inclusion.
Developer Burak Unveils Ark Bitcoin Layer 2 Protocol
One of the announcements at Bitcoin 2023 that generated a lot of excitement was the launch of  Ark, a new layer two protocol for scaling Bitcoin with a high degree of privacy and security. Ark differs from the Lightning Network in that it doesn't require the opening or closing of bidirectional payment channels or inbound/outbound channel liquidity management.
Ark is said to be complementary to Lightning Network while offering similar advantages with differing trade-offs than Lightning. Ark vastly improves privacy, anonymity, security, scalability, and transaction speed. It also pushes transactions off-chain and minimises the on-chain footprint and demand for blockspace. Ark promises to offer cheap, private, instant, non-custodial transactions with less of a technical barrier than Lightning Network, potentially making it more accessible.
DIBA, the First NFT Marketplace on Bitcoin Using RGB Launches
DIBA is the first NFT marketplace on Bitcoin which takes advantage of the RGB protocol for tokenisation and smart contracts on the Bitcoin and Lightning Network. DIBA also launches with the BitMask wallet, a web wallet and browser extension which lets DIBA users store Unique Digital Assets (UDA), which are a Bitcoin version of Non-Fungible Tokens (NFTs).
DIBA aims to be a platform for DeepWeb3, which is just Web3-style applications like Decentralised Finance (DeFi) and NFTs on Bitcoin. DIBA's wallet BitMask, will be compatible with RGB-based Decentralised Applications (DApps) on Bitcoin, and offer non-custodial asset management. DIBA and BitMask leverage RGB, Lightning Network, and Taproot to allow for Web3 smart contracts on a new Bitcoin layer two.
Lava Launches DeFi Platform and Non-Custodial Wallet on Bitcoin
Lava is a newly announced DeFi lending platform which lets users borrow Bitcoin and Stablecoins through smart-contract-powered decentralised lending. Lava employs Discreet Log Contracts (DLCs) to achieve trustless loans for the platform's users. DLCs allow Lava to offer programmable loans without trusting counterparties or third-party intermediaries.
Lava plans to offer decentralised lending, Bitcoin and Stablecoin trading, and integration with legacy financial services for fiat on and offramp capabilities. Lava plans to grow its product offering to a full suite of financial services catering to sovereign individuals seeking financial freedom.