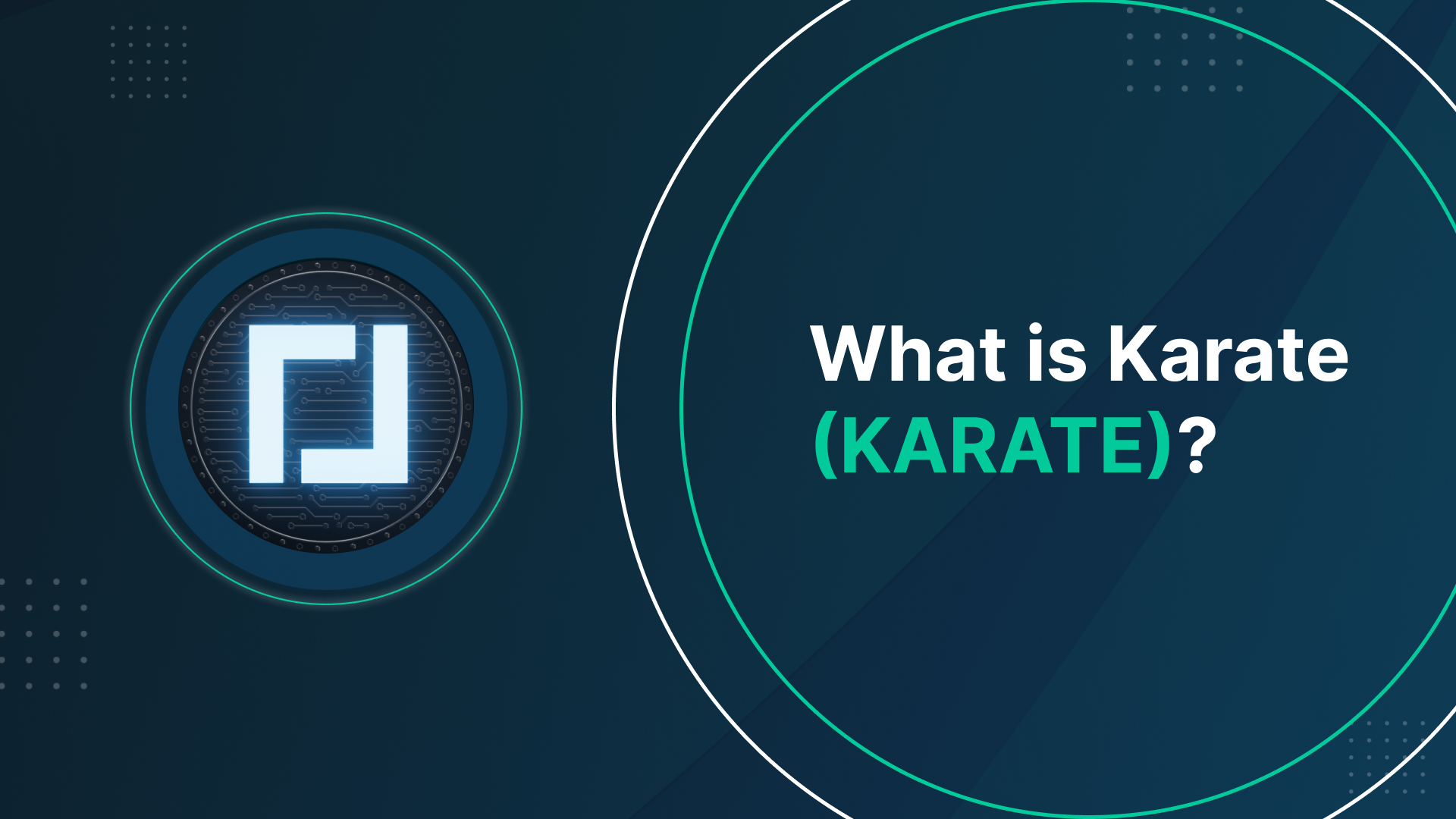 12 May

What is Karate (KARATE)?

Karate (Karate) token is the first digital asset which will add gamification and governance to a real-world, full contact sport, known as Karate Combat. Karate Combat is a new full contact fighting sport similar to professional Boxing and UFC. The rules in Karate combat are tailored to suit martial artists, so the fights are more action-packed.

Karate Combat's unique ruleset facilitates a stand-up, striking-based fight event with winners decided by punches, kicks and throws. Fighters are limited to no more than five seconds of ground and pound on the pit floor. This ensures a more dramatic match between highly-skilled martial artists, for an adrenaline-fueled spectator sporting event.

Aside from the fast pace of the matches between combatants, the live streamed karate matches have live rendered 3D animated backgrounds, making them like a real-life version of Mortal Kombat or Street Fighter.

The Karate token is central to Karate Combat's gamification, which allows viewers to play Up Only Gaming. Up Only Gaming is a no-loss game built on smart contracts. Up Only Gaming lets token holders bet on their favourite fighters, with no risk of losing their tokens. If they pick a losing fighter, they simply keep their KARATE for a future bet on another match. KARATE tokens also play a role in the governance of the Karate DAO (Decentralised Autonomous Organisation).
Karate (KARATE)
The KARATE token is central to the Web3 ecosystem being built around the Karate Combat professional martial arts combat league. Within this ecosystem is the Karate Combat app, the Karate DAO, Up Only Gaming, and the KARATE token.
The demographic of sports viewers has rapidly shifted in the environment of internet, mobile devices, and digital assets. Karate Combat is creating the first-ever fan controlled sports league. It was designed from the ruleset up, to provide a fast-paced, aggressive, sporting experience for the next generation of viewers on mobile devices.
Through the Karate DAO, KARATE token holders can use the league's Up Only Gaming smart contracts, web apps and mobile apps to pick their favourite fighters and boost their potential prize pools, above and beyond their contracted pay. This gamified and interactive experience increases viewer engagement and participation.
How Karate (KARATE) Works
The Karate Combat sports league was sold to the Sensei Foundation, a Cayman Islands Foundation Company. Karate Combat has decided to fully embrace Web3 by launching the KARATE token and Karate DAO on the Hedera and Ethereum blockchains.
KARATE token holders can use the mobile app and web apps to participate in the Karate Universe, a Web3 ecosystem which features Karate's smart contract for Up Only Gaming. This smart contract lets users predict which fighter will win their match and be rewarded with KARATE on an accurate prediction.
When a game begins, a quorum of delegates add a Snapshot proposal's IPFS CID to the Event through the Karate Combat DAO smart contract. At this point a snapshot of all the token balances are saved on chain to facilitate the redemption process later on.
The Up Only Gaming smart contract lets users send a cryptographically signed prediction of which fighter they vote for. At the end of the match, the judges send cryptographically signed results for each match to the Karate DAO. A KC Delegate also signs the scores as a testimony to the validity of those results. The contract validates the signatures, and then KARATE is made available to users who can then redeem rewards based on their winning votes.
The Karate Combat DAO supports upgrades through the separation of the Data Storage and Logic contracts in a similar manner to Yearn. KARATE token holders can participate in governance decisions, based on the amount of KARATE they hold.
Why is Karate (KARATE) Unique?
Karate is unique due to its position as an up and coming professional sports league which has fully integrated the vision of Web3. Its Up Only Gaming smart contract provides a massive layer of excitement and participation for viewers and gives them an economic incentive to actively contribute to the ecosystem.
The gaming-like aspect of Karate allows fans to voice their support of their favourite Karate combatant. This wagering aspect, without the downside of losses, is a game changer, as it allows the fans to "put their money where their mouth is", without any negative consequences.
The participation in the gamified aspect of Karate Combat, coupled with its revolutionary 3D animated backgrounds imposed over live matches, and the fast pace of the matches themselves, provides a new and unparalleled sporting experience for fans.
The Karate Ecosystem 
The Karate Mobile App
The Karate mobile app is available currently on iOS and coming soon for Android. It features a Hedera wallet, and lets users interact with the Up Only Gaming smart contract within the Karate ecosystem.
The Karate Web App
The Karate web app is available online for any device and users can connect with their favourite Ethereum or Hedera wallet to interact with the Up Only Gaming smart contract. Both the web and mobile clients allow token holders to pick fighters for each event by voting securely off-chain, gas-free and instantly using Snapshot.
Up Only Gaming Smart Contract
The Up Only Gaming smart contract is deployed on Ethereum and Hedera. It's the main way that users can participate in the Up Only Gaming wagers on matches and prize pools. Players can pick their favourite fighters to multiply their $KARATE token stack and climb the leaderboards.
The Karate DAO
The Karate DAO allows KARATE token holders to control the Karate Combat league's decisions through governance. The Karate DAO is also responsible for carrying out the league's objectives to fully open source any smart contracts and web clients, as well Intellectual property (IP). The DAO is in charge of guiding the development of the Karate Combat Universe.
KARATE Token
The token of the Karate Combat Universe, used for participating in Up Only Gaming applications and Karate DAO governance decisions. May have additional utility as pre-permissioned community projects leveraging Karate Combat IP may integrate the KARATE token.
The KARATE Token
The KARATE token is the native utility token of the Karate Combat Universe. The token allows users to participate in the Up Only Gaming smart contract, and also make governance decisions for the Karate DAO.
Governance – Token holders can vote on governance decisions for the league as well as vote on things like upcoming fighter matches.

Up Only Gaming – Bet on which fighters will win and increase token holdings in a lossless wagering system deployed by smart contracts.

Open IP licensing – Token holders can gain permission to utilise Karate Combat's branding and IP to build their own vision on top of Karate Combat.

Token Gated Events – KARATE token holders can gain access to real world events,  token-gated servers, honoraries, leaderboards, bragging rights, merchandise and more.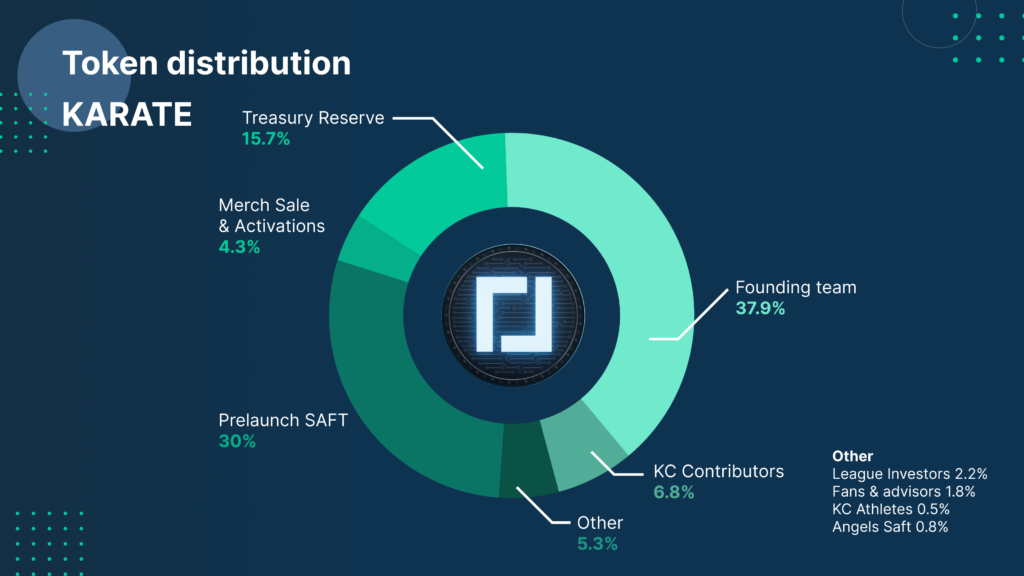 KARATE Tokenomics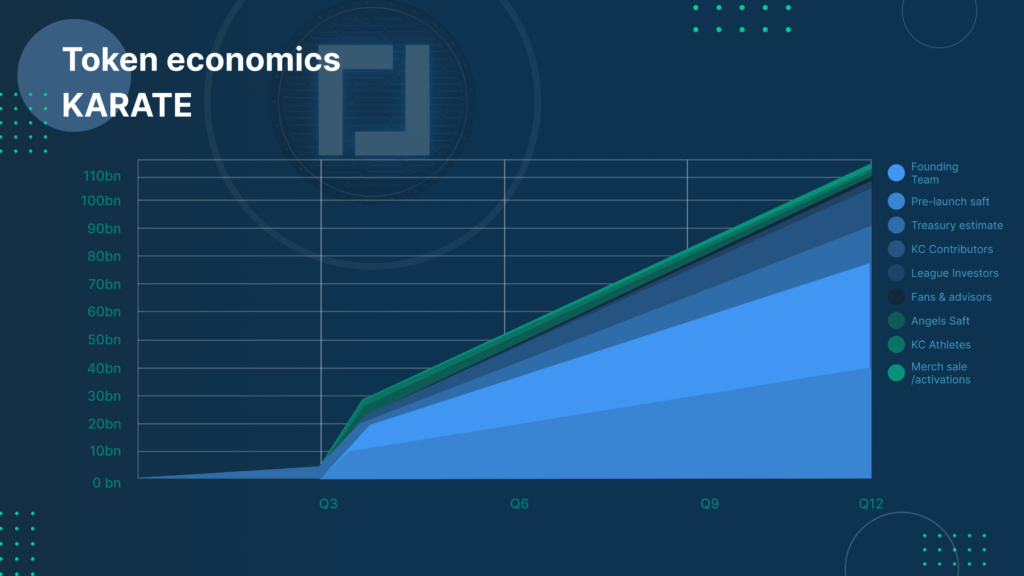 Karate Combat Roadmap

Android app – Summer 2023

Open source – Third Quarter 2023

Leaderboards & Ownership packages – Third Quarter 2023

Pool rewards and play with friends – Second half of 2023

In-app card game – Second half of 2023
Karate Combat Team
Karate Combat was founded by Robert Bryan, a lifelong investor and former CEO of MedSec. Apart from Mr. Bryan, the Karate Combat team consists of former professional martial artists, with extensive professional experience within the sport. More information about the Karate Combat team can be found here.
How to buy KARATE on Bitfinex
How to buy KARATE with crypto
1. Log in to your Bitfinex account or sign up to create one.
2. Go to the Deposit page.
3. In the Cryptocurrencies section, choose the crypto you plan to buy KARATE with and generate a deposit address on the Exchange wallet.
4. Send the crypto to the generated deposit address.
5. Once the funds arrive in your wallet, you can trade them for KARATE. Learn how to trade on Bitfinex here.
Also, we have Bitfinex on mobile, so you can easily buy KARATE currency while on-the-go.
[AppStore] [Google Play]
KARATE Community Channels
Website | Twitter | Youtube | Facebook | Discord | Instagram