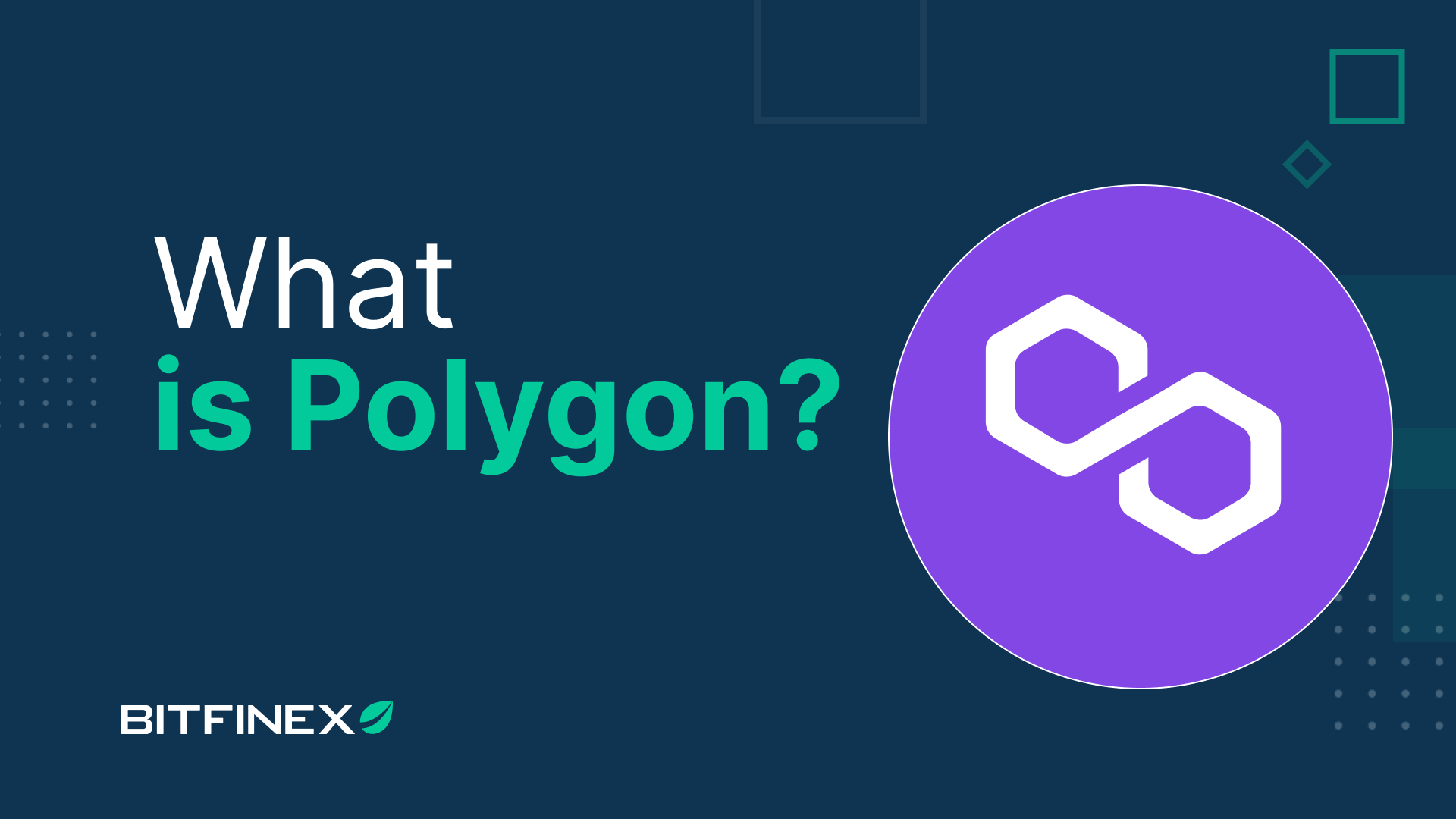 13 May

What is Polygon (MATIC)

Polygon is one of the leading blockchain platforms for high speed, low cost, and sustainable Web3 infrastructure. If blockchain apps, smart contract platforms, DApps, and cryptocurrencies are going to see mass adoption, they need to be fast and easy to use. Polygon's mission is to offer a wide range of secure, fast, affordable, and energy-efficient Ethereum scaling and infrastructure solutions for developers to build decentralised applications. Together with Bitfinex, you will be able to learn more about the Polygon project and have a chance to get a reward for participating in the 'Polygon Telegram Takeover' competition. The competition description and the rules can be found here. To join, you just need to fill in the Google form. Don't miss your chance to win!
Polygon (MATIC)
Polygon was initially launched as MATIC Network in 2017, but later as the project grew and expanded, it was rebranded to Polygon in February 2021. Polygon became a solution to some of the significant challenges that Ethereum encounters today. From a technical perspective, Polygon resembles a protocol more than a single solution, as its ecosystem gives developers an opportunity to create Ethereum-compatible networks.
How Polygon works
Polygon provides developers with a vast range of solutions to deploy and configure custom blockchains in a fast and straightforward way. These include governance and consensus modules as well as diverse implementation environments.

Blockchains launched on the Polygon network are based on its proof-of-stake (PoS) sidechain, which leverages a network of validators off the blockchain and then finalises the transactions on Ethereum's main chain. This can take the significant strain off the main blockchain, which results in less network congestion, faster transaction speeds, and lower gas fees.

Polygon is building a complete suite of solutions that is similar to what Amazon Web Services offers Web2 developers — a tool for every possible use case and scaling at a click of a button. For Web3, Polygon PoS offers an execution layer with low fees and high transaction throughput secured by the Ethereum mainnet. Polygon Avail will deliver the general-purpose, scalable data availability piece of the puzzle. With Polygon Edge, projects can build application-specific blockchains from scratch or use the recently announced Supernets for plug-and-play custom networks secured by Polygon.
Why is Polygon unique
Polygon is fast becoming the de-facto platform for Web3. Its growing suite of products offers developers easy access to major scaling solutions. Polygon enables developers to create DApps that are verifiably interoperable and can make use of the multiple interconnected blockchains. Polygon's scaling solutions have seen widespread adoption with 19,000+ decentralised applications hosted, 1.6B+ total transactions processed, ~142M+ unique user addresses, and $5B+ in assets secured.

Polygon is also the home of cutting-edge Zero-Knowledge (ZK) cryptography. Polygon's ZK scaling solutions produce proofs of transaction validity verifiable by anyone. You can learn more about Polygon's ZK strategy here.

Recently, Polygon announced a $20 million pledge to a series of community initiatives, including funding projects that utilise technology to combat climate change. Polygon is carbon neutral with the goal of leading the Web3 ecosystem in becoming carbon negative. You can read more about Polygon's commitment to being climate negative here: Polygon Sustainability website, Polygon's $20 Million Pledge, and Green Manifesto.
What is Polygon (MATIC) token
The MATIC token is used for a variety of purposes in the ecosystem, functioning as the network's main transactional currency and as a financial incentive for those who want to contribute to the ecosystem.
The tokens are also used for participating in the network governance by voting on Polygon Improvement Proposals (PIPs) as well as contributing to security through a process called staking. The staking process enables users to participate in Polygon's consensus mechanism to validate transactions in return for MATIC tokens.
MATIC Tokenomics and Supply
Polygon Roadmap
2017 — The foundation of MATIC.
2019 — IEO on a Tier-1 exchange.
Q2 2020 — The launch of mainnet & POS Chain & Plasma Chain.
Q4 2020 — The onboarding of Top Games.
Q1 2021 — MATIC was rebranded to Polygon.
Q2 2021 — The onboarding of major DeFi protocols; Mark Cuban makes an investment in the project & market cap exceeds $10B.
Q2-Q3 2021 — The launch of Polygon Edge & The launch of Polygon Studios; The launch of Polygon Avail & Rollups – Optimistic, ZK & Stand-alone, Secure Chains.
Q4 2021 — The launch of zk-STARK based scaling solution Polygon Miden.
Q1 2022 — $450M fundraise from Sequoia Capital India, SoftBank Vision Fund 2, Galaxy Digital and others; The launch of Polygon ID.
Q2 2022 — The launch of Polygon Avail testnet & Polygon Nightfall mainnet beta.
Q3 2022 — The launch of Polygon Nightfall mainnet.
Q4 2022 — Polygon goes carbon negative.
Polygon Team
The project's team consists of more than 400 professionals whose main goal is to create a multichain ecosystem of Ethereum-compatible blockchains with superior interoperability. The team is led by the four co-founders — Jaynti Kanani, Sandeep Nailwal, Anurag Arjun, and Mihailo Bjelic.

Jaynti Kanani — Co-Founder — a full-stack developer and blockchain engineer who worked on prominent blockchain projects like Web3, Plasma, and WalletConnect.

Sandeep Nailwal — Co-Founder — a blockchain programmer and entrepreneur who also founded ScopeWeaver, a blockchain consulting company.

Anurag Arjun — Co-Founder — who previously worked at SNL Financial, Dexter Consultancy, and Cognizant Technologies in a product management role.

Mihailo Bjelic — Co-Founder — an engineer with an Information Systems background.
Polygon Ecosystem
Polygon PoS is a home to some of the biggest Web3 projects from DeFi protocols like Aave and Uniswap V3, NFT marketplaces OpenSea and Mark Cuban's Lazy.com and Web3 gaming efforts, including DraftKings, Animoca Brands' The Sandbox and Decentral Games (You can find the detailed list here). Polygon also powers the mass market by collaborating with global brands, including D&G, Macy's, LOL Surprise!, DraftKings, Adobe and others.

Examples of DApps built on Polygon PoS:
DeFi — Aave, Curve, Sushiswap, Pool together, QiDao, Balancer Gains trade, Synfutures, Quickswap, Lido, Uniswap.
NFT — Opensea, Aavegotchi, Digitalax, Royal, Ethernity, Valuables (used by Elon Musk and Jack Dorsey), RECUR, Stephen Curry, Deadmau5, UNXD (Dolce & Gabbana drop), Unstoppable Domains, Sweet, Venly (previously Arkane), Clinique, Associated Press, Autograph, Showtime.
Gaming — Ubisoft, Atari, Animoca, Horizon Games (Skyweaver), Pegaxy, Zed Run, Big Time Studios, Stardust, Gala Games.
Metaverse — Decentraland, Somnium Space, Sandbox, Atari (multiverse), Aavegotchi.
How to buy MATIC on Bitfinex
How to buy MATIC with crypto

1. Log in to your Bitfinex account or sign up to create one.

2. Go to the Deposit page.

3. In the Cryptocurrencies section, choose the crypto you plan to buy MATIC with and generate a deposit address on the Exchange wallet.

4. Send the crypto to the generated deposit address.

5. Once the funds arrive in your wallet, you can trade them for MATIC. Learn how to trade on Bitfinex here.

How to buy MATIC with fiat

1. Log in to your Bitfinex account or sign up to create one.

2. You need to get the full verification to be able to deposit fiat to your Bitfinex account. Learn about different verification levels here.

3. On the Deposit page, under the Bank Wire menu, choose the fiat currency of your deposit. There's a minimum amount for fiat deposits on Bitfinex; learn more here.

4. Check your Bitfinex registered email for the wire details.

5. Send the funds.

6. Once the funds arrive in your wallet, you can use them to buy MATIC.

Also, we have Bitfinex on mobile, so you can easily buy MATIC currency while on-the-go.

[AppStore] [Google Play]
How to stake MATIC on Bitfinex
The Bitfinex liquid staking program allows users to easily generate rewards by simply holding MATIC on Bitfinex. Staking rewards for holding MATIC can be as high as 15% – 17%* for a limited time. Just make a deposit and watch how your account grows as Bitfinex autoMATICally deposits your staking rewards into your account on a weekly basis.
Polygon Channels
Website | Twitter | Telegram | LinkedIn | Reddit | Discord | Instagram | Facebook