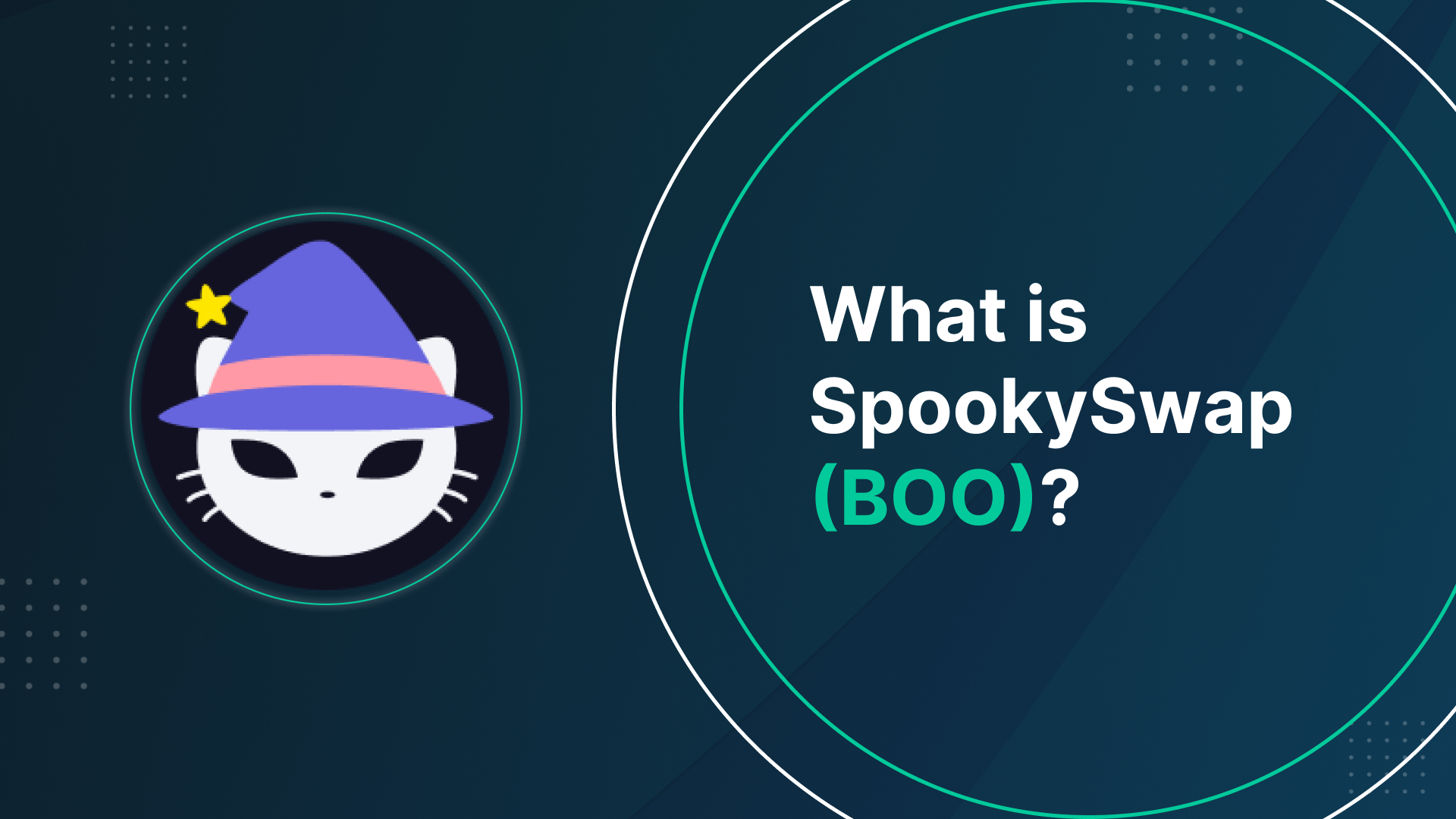 27 Oct

What is SpookySwap (BOO)?

In 2022, the DeFi sector continues to evolve, with new platforms and networks appearing regularly. The innovation has resulted in the appearance of various projects with technological features and performance. Among them is SpookySwap. Together with Bitfinex, you will be able to learn more about the SpookySwap project and have a chance to get a reward for participating in the 'Bitfinex & Spookyswap Telegram Takeover AMA and Airdrop Quiz'. The quiz description and the rules can be found here.
SpookySwap (BOO)
SpookySwap is the first automated market-making (AMM) decentralised exchange (DEX) built on the Fantom Opera network. The platform was launched in April 2021 by a team of unknown developers. SpookySwap is committed to providing users seamless access to swap, lending, buying, and other DeFi functions at low fees and offering them different methods of transacting without the need for intermediaries. Being a decentralised protocol, SpookySwap has no regulatory body governing it. The project's governance is performed with a native SpookySwap token BOO that governs and oversees all the operations on the platform.
In addition to providing users with basic DEX services, including token swaps, liquidity, and yield farming, the platform also offers cross-chain bridges between different blockchains. As an example, you can bridge Ethereum, Binance Smart Chain, and others to increase your earnings. It also explores the NFT world and allows users to mint NFTs.
How SpookySwap Works
As mentioned above, SpookySwap is an AMM decentralised exchange hosted on the Fantom blockchain. In order to execute orders, an AMM protocol relies on smart contracts, self-executing programs in which the buyer-seller agreement is encoded directly into the blockchain.
Trading on SpookySwap DEX implies exchanging tokens through limit orders or at market price. To be able to trade on SwookySwap, users just need to connect a wallet to the Fantom Opera network. The platform charges a 0.2% and 0.22% trading fee on market and limit orders respectively, and uses these fees to buy back BOO tokens. During the tokens swapping process, the ratio of the tokens in a liquidity pool unbalances, and the price automatically adjusts to the new token ratio.
Apart from that, SpookySwap's users can earn rewards by providing liquidity to the pools. These rewards are granted with spLP (Spooky Liquidity Provider) tokens which can be staked on SpookySwap and other platforms.
Why is SpookySwap Unique
Apart from the basic functions such as token swap, SpookySwap developed several features that differentiate it from other platforms. Using SpookySwap, users can move tokens from Ethereum, BSC, Arbitrum, Avalanche, and Polygon to Fantom and vice versa. This feature is called bridging and stands for the process of moving a token from one chain to the other.
SpookySwap also offers its users the opportunity to participate in the so-called "single-stake" staking. There is a buyback single-stake pool where users can stake their BOO and receive xBOO tokens. It only requires one component, BOO, hence the name "single-stake". With the received xBOO, users stake to earn other tokens in the pool list. The xBOO tokens that users have staked will continue to participate in the Buyback Pool and earn more BOO tokens.
The mechanism is as follows: when you stake your BOOs into xBOO (in the Buyback BOO Pool) and then into a pool listed, you earn a sum of the APRs. When you deposit BOO in the buyback BOO pool, you get xBOO in return as proof of your deposit. xBOO is itself a regular token, just like BOO. The xBOO amount you get back is based on the amount of BOO tokens already in the pool and the current total supply of xBOO. This ratio will be displayed on the pool and starts at 1 xBOO = 1 BOO, and it will continuously go up over time because of buybacks. The UI on the website updates the xBOO ratio once a day at random times.
Last but not least, Spookyswap creates an opportunity for its users not only to farm but also boost the yield on the platform by owning Magicats — the project's official non-fungible tokens (NFTs). These NFTs are related to SpookySwap's mascot cat characters, Grim and Ace.
What is SpookySwap (BOO) Token
SpookySwap (BOO) is the governance token for the SpookySwap protocol, which aims to empower developers, liquidity providers and holders to participate in the decentralised marketplace and enables SpookySwap to process transactions more effectively across blockchains.
Depositing BOO tokens into pools, users can earn xBOO in return. In this case, BOO buyback (xBOO) signifies ownership of a pool tokens portion. While xBOO is generated from trading costs accumulated by the protocol, users can also trade it and earn a share of the trading revenue produced by the protocol. Owning the staked tokens, users can vote and decide on future proposals for the project: the voting value is determined by whether BOO is in a liquidity pair (5 votes) or a pool (3 votes).
BOO Tokenomics
SpookySwap Roadmap
Ongoing:
Regular partnered staking pools and farms
Regular farm adjustments based on performance
Regular token whitelisting
Regular website bug fixes and quality-of-life updates
Upcoming:
SpookySwap V2, aka Secret DEX upgrade (Defi primitive)
Farms as a service — Permissionless ability for new projects to deploy a farm
Done:
Decentralised BOO Buybacks
Decentralised web hosting
Implement Prop-015 – Protocol Owned Liquidity from Trade Fees
CEX Listing
BOO Price Feed with Band and/or Chainlink
Magicat staking to boost yield
Solidly NFT utilisation
Expert Trader V2 – Token Watchlist, Market orders in Orders page, infinite swap/liquidity history
Masterchef V2 – Multi-token reward farms
Revamped landing page
You can learn more about the SpookySwap's roadmap here.
SpookySwap Team
Since the launch of the platform in 2021, the project's team remains unknown. They call themselves an anonymous group of Magical cats dedicated to building the best decentralised exchange in the crypto sphere, led by two co-founders: Eerie and ooGwei.
SpookySwap Partners
Alchemix
Alpha Finance
Multichain
Beefy
Gelato
Year Finance
How to buy SpookySwap (BOO) on Bitfinex
How to buy BOO with crypto
1. Log in to your Bitfinex account or sign up to create one.
2. Go to the Deposit page.
3. In the Cryptocurrencies section, choose the crypto you plan to buy BOO with and generate a deposit address on the Exchange wallet.
4. Send the crypto to the generated deposit address.
5. Once the funds arrive in your wallet, you can trade them for BOO. Learn how to trade on Bitfinex here.
How to buy BOO with fiat
1. Log in to your Bitfinex account or sign up to create one.
2. You need to get full verification to be able to deposit fiat to your Bitfinex account. Learn about different verification levels here.
3. On the Deposit page, under the Bank Wire menu, choose the fiat currency of your deposit. There's a minimum amount for fiat deposits on Bitfinex; learn more here.
4. Check your Bitfinex registered email for the wire details.
5. Send the funds.
6. Once the funds arrive in your wallet, you can use them to buy BOO.
Also, we have Bitfinex on mobile, so you can easily buy BOO currency while on-the-go.
[AppStore] [Google Play]
SpookySwap Community Channels