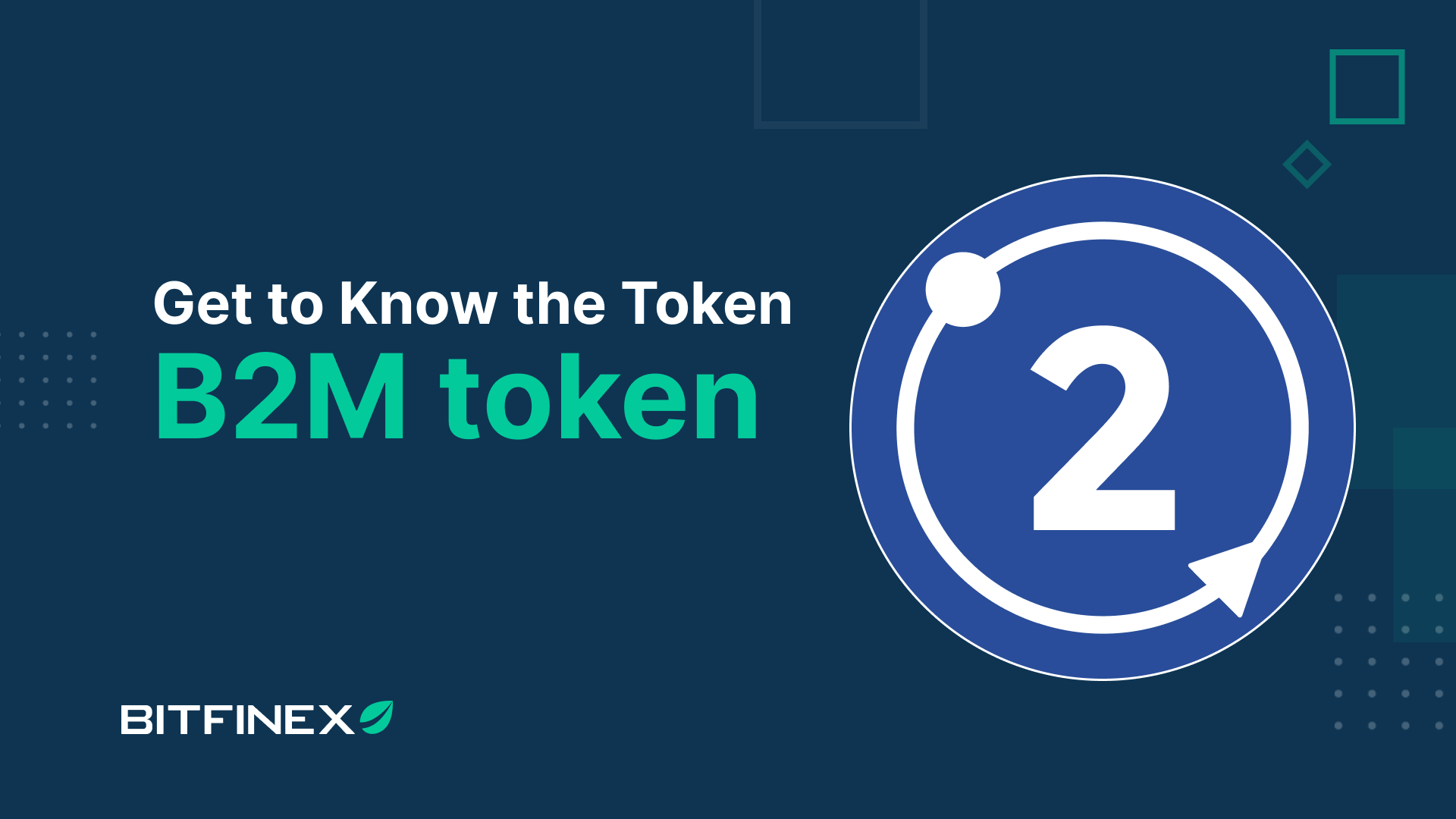 20 Apr

Get to Know the Token – B2M token

Bitfinex just listed the Bit2Me token (ticker: B2M), the token that powers Bit2Me products, services, and community. We reached out to the Bit2Me team and asked them some questions to get us all familiar with the B2M token.
What's the story behind the B2M token?
The B2M token is at the centre that powers the Bit2Me product suite – it was launched in September 2021, though Bit2me has been around since 2015 as the leading crypto company in Spain and Portugal. Bit2me also has a significant reach in the LATAM region. With more than seven years of experience in the business and as the first crypto company to be registered by a central bank (Banco de España), Bit2Me has the biggest Spanish-speaking crypto community and academy alumni (4 million Bit2Me Academy alumni as of 2021) in the Spanish-speaking world. The B2M token is an ERC-20 token that gives users access to special features and advantages within our product suite as well as products and services offered by our current and future partners. The main objective of its creation is to promote a series of unique benefits to the users of this trading platform. These benefits include the construction of staking tools, access to higher staking APYs, cryptographic loans with discounted loan fees, and rewards for using different services in the Bit2Me Suite.
Can you share with us a little bit about how the B2M tokens power the Bit2Me ecosystem?
The B2M token is at the core of the entire Bit2Me product suite, such as the wallet, exchange, Earn and Launchpad. Holders get access to discounts, kickbacks for buying, selling and swapping, higher APYs, exclusive access to new functionalities and launchpad ICOs, governance activities, Airdrops, Bit2me Academy courses, and cash backs, as well as products and services offered by our current and future partners. The B2M token's fundamentals are well thought out to generate buy-hold-and use pressures to keep the token healthy within the current and future products.
How's the B2M token governance?
Bit2Me is currently developing a governance page to allow and empower its community to decide upon special features and other governance-related activities. With this, we want to boost the DAO aspect of Bit2Me, where users will be able to vote anonymously on joint decisions that will help determine the path of Bit2Me's roadmap during the different events that will take place. Also, through the future DeFi Wallet, the utility of the B2M token will expand outside of the geographies in which Bit2Me operates today.
Can you tell us some of the benefits of holding B2M tokens?
B2M platform holders can gain exclusive access to discounts for buying, selling and swapping, higher APYs, new functionalities, launchpad ICOs, governance activities, Airdrops, Bit2me Academy courses, cash backs, as well as products and services offered by our current and future partners.
We heard about the B2M smart contract, could you tell us a little bit about it?
The B2M Smart Contract was audited by two of the best in the industry, DekaLabs and CoinFabrik, without any vulnerabilities. It was executed on the 15th of September of 2021 on Ethereum (ERC20), with a total token issuance of 5 Billion $B2M.
How do you see the B2M token plays a role in the growing adoption of cryptocurrencies as means of payment?
B2M's main pillars are crypto adoption and education, concretely in Hispanic demographics. With our 4 million alumni in Bit2Me Academy, we are already educating people on how to use cryptocurrencies such as Bitcoin and B2M as a means of payment. Furthermore, the product suite includes services and products, such as Bit2Me Card and Bit2Me Commerce, which plan to integrate crypto payments in more than 40 million merchants and facilitate easy crypto payments worldwide.
Let's talk about NFT! Will we ever see B2M-powered NFTs in the future by any chance?
We recently launched a Pokemon Go-style VR/AR treasure hunt with OVR, one of the leading metaverse projects in the crypto ecosystem, which was the first to digitally map the entire world and fragment it into NFTs. We will soon release our metaverse headquarters with a Tier 1 metaverse project and present NFTs powered by B2M. We will launch our own NFT Marketplace and other initiatives that will involve NFTs that allow users to gain access to different platform perks.
Where do you see B2M token 5 years from now?
Our current expansion is taking place in Brazil, Portugal and Italy. In 5 years, we see B2M listed in all major exchanges worldwide and become the most prominent crypto company in the Spanish speaking market, being used by millions of users and millions of B2M holders enjoying the ever-growing product suite and ecosystem. We want to become partners with all major protocols and projects to bring the maximum value to our B2M holders and help incentivise crypto adoption and education. We will be involved in all crypto verticals, such as NFTs, DeFi, Metaverse, education and regulation, to help pave the way in Europe and LATAM for mainstream crypto adoption. B2M will act as the fuel and outer shell of the Bit2e rocket to the moon.
How big is the B2M community? Where are most of the community members based? Is there a special name for them? How active is the community?
Bit2Me Academy: 4 Million alumni, mainly from Spain, Portugal, and Italy—1,92M of these are from the LATAM region.
700K verified users, mainly from Spain, Portugal, and Italy—100K of which are from the LATAM region.
Social Media
Telegram Spain: 61.3k
Telegram Global: 53k
Instagram: 47.2k
Twitter Spain: 79k
Twitter Global: 108k
YouTube: 74.7k
B2M Holders: Total = 76,290
Eth: 749
Matic: 10,630
BSC: 14,147
Bit2Me Wallet: 50,764
We refer to our community members using Bit2Meros or Cryptonauts if we're talking about people who like to explore the crypto world.
They are a very active community with whom we have a very close relationship. We communicate with them daily, whether it is to resolve possible incidents, receive feedback on an activity, or simply check that everyone is doing well.
We are currently working on creating a system in which the community itself will be in charge of certain aspects related to the communication and management of the Discord and Telegram community. We will call Pilots to those people belonging to the internal Bit2Me team, who will control most of the communication, Passengers to those Bit2Me users/members who want to collaborate with us in an altruistic way, and Explorers to the rest of the members of the Discord and Telegram community.
Are there any popular terms or jargons or memes surrounding the community that you find interesting and would like to share with us?
Not really, we generally communicate informally with our community and call our followers Bit2meros, but we don't have a specific lingo or use memes that we do not generate, although it would be a brilliant idea to get even closer to our community.
To learn more about the B2M token, you can visit https://bit2me.com/token.
The B2M token is now available for trading against US Dollars (B2M/USD) and Tether tokens (B2M/USDt) on Bitfinex. Log in to your Bitfinex account to get started, or sign up for an account if you haven't already.
Subscribe to the Bitfinex blog for more of the Get to Know the Token series, and follow Bitfinex's Twitter account for the latest update on the listed tokens on the Bitfinex platform.