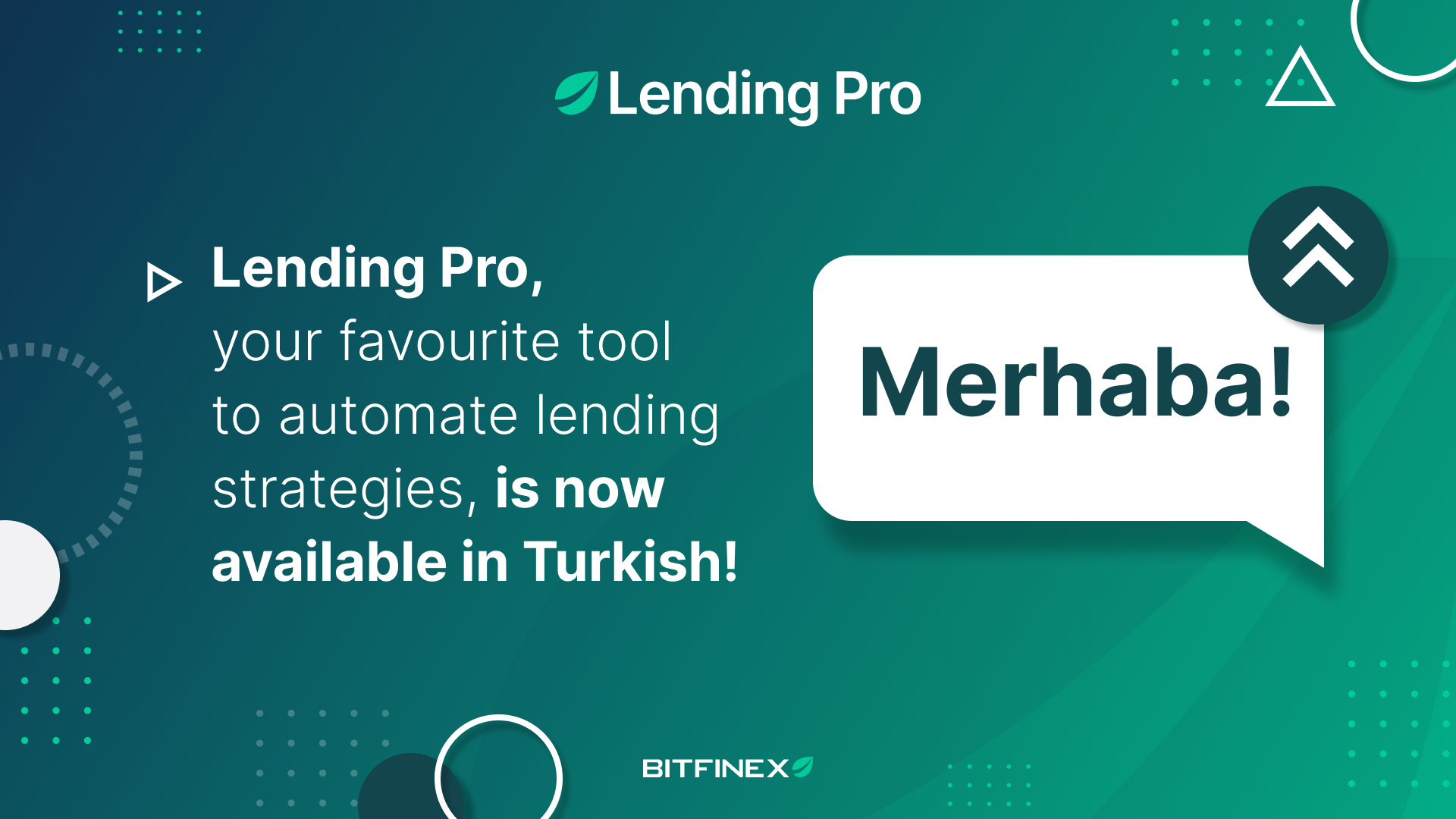 13 Sep

Lending Pro is now available in Turkish!

We're pleased to announce several updates to Lending Pro, providing our users with an enhanced experience on the platform.


Lending Pro is now available in Turkish, and this language option can be enabled in the dropdown menu located in the footer.


We have increased the minimum value in USD for all offers created by Lending Pro from $50 to $150. We have also fixed eCash (XEC) token values to be calculated with a unit price of 1.


Lending Pro is a highly-customizable tool that utilizes automated technologies and advanced features to manage lending based on a user's specifications and market conditions. For more, please visit our knowledge base article.


Important Notes

Lending Pro is strictly an order routing system that implements offers and extensions of funding on a user's behalf in the peer-to-peer lending marketplace on Bitfinex. Lending Pro cannot evaluate a user's personal investment criteria and circumstances. Nothing in this post is financial, investment or other advice. Nothing in this post is an offer to borrow or lend or the solicitation, recommendation or endorsement of any course of borrowing or lending. Any references in this post to returns are only hypothetical and not guaranteed.
---
📣 Borç verme stratejilerini otomatikleştirmek için favori aracınız Lending Pro artık Türkçe!
Kullanıcılarımıza platformda gelişmiş bir deneyim sağlayan Lending Pro'ya yönelik birkaç güncellemeyi duyurmaktan mutluluk duyarız.
Lending Pro artık Türkçe, bu seçeneği aşağıda yer alan açılır menüden etkinleştirebilirsiniz.
Lending Pro tarafından oluşturulan tüm teklifler için USD cinsinden minimum değeri 50$'dan 150$'a çıkardık. Ayrıca XEC jeton değerlerinin 1 birim fiyatıyla hesaplanmasına neden olan bir sorunu da düzelttik.
Lending Pro, kullanıcının özelliklerine ve piyasa koşullarına göre borç vermeyi yönetmek için otomatik teknolojiler ve gelişmiş özellikler kullanan, son derece özelleştirilebilir bir araçtır. Daha fazlası için lütfen bilgi bankası makalemizi ziyaret edin.
Önemli bilgilendirme
Lending Pro, Bitfinex'teki eşler arası borç verme pazarında bir kullanıcı adına finansman tekliflerini ve uzantılarını uygulayan kesinlikle bir sipariş yönlendirme sistemidir. Lending Pro, bir kullanıcının kişisel yatırım kriterlerini ve koşullarını değerlendiremez. Bu gönderideki hiçbir şey finansal, yatırım veya başka bir tavsiye değildir. Bu gönderideki hiçbir şey borç alma veya borç verme teklifi veya herhangi bir borç alma veya borç verme yolunun talebi, tavsiyesi veya onayı değildir. Bu gönderide gösterilen kazançlar herhangi bir referans olarak gösterilemez yalnızca varsayımsaldır ve garanti edilmez.