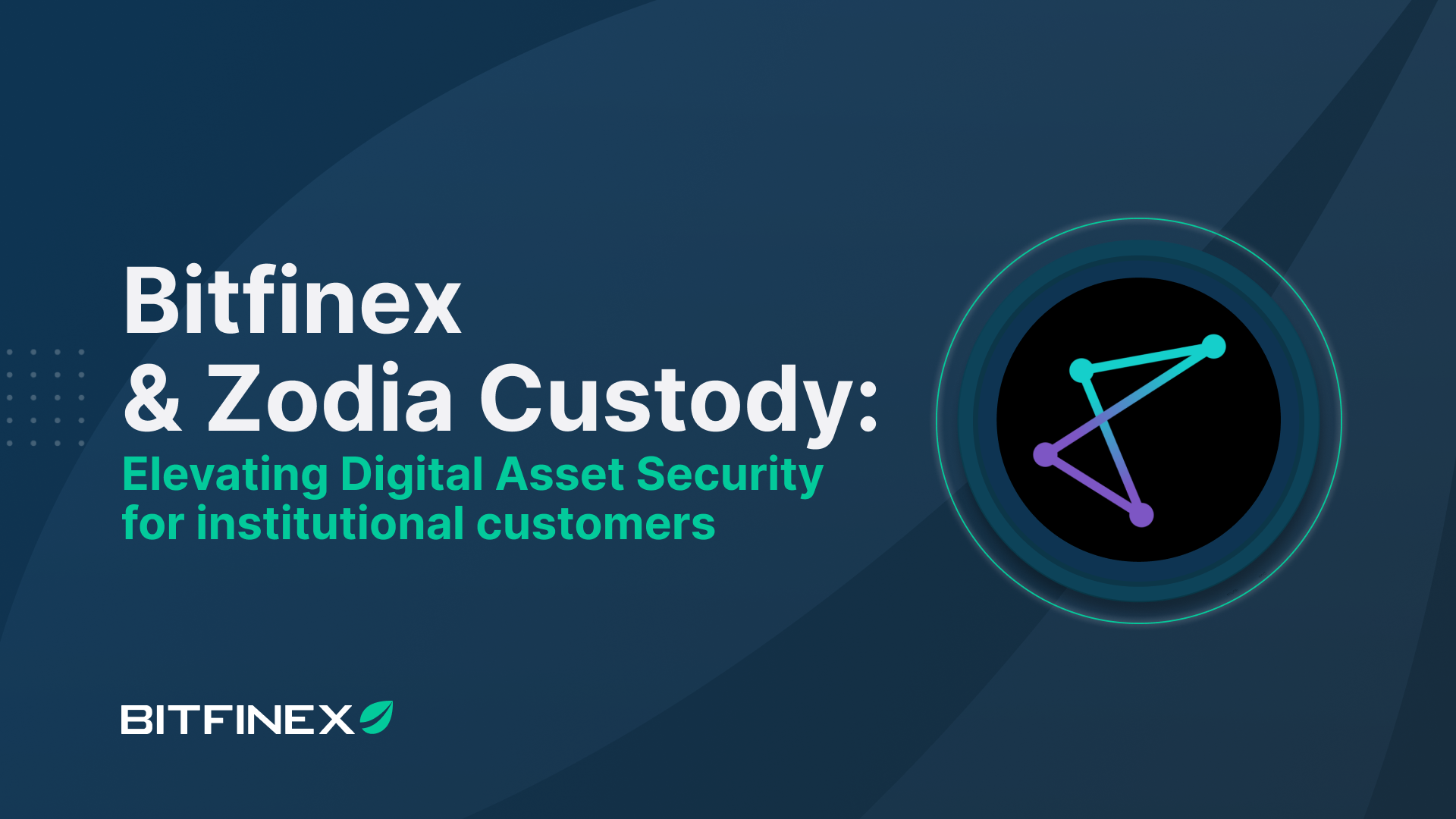 28 Sep
Bitfinex and Zodia Custody Integrate to Enhance Digital Asset Security and Compliance for institutional customers
ROAD TOWN, British Virgin Islands – September 28 2023 — Bitfinex, a state-of-the-art digital asset trading platform, has announced a strategic integration with Zodia Custody, a leading digital asset custodian backed by Standard Chartered, SBI Holdings, and Northern Trust.
The integration will allow Zodia Custody clients to trade on Bitfinex while their assets remain securely held via Interchange, Zodia Custody's off-exchange settlement solution. Clients holding accounts with both Zodia Custody and Bitfinex will have the ability to mirror their custodied assets on Bitfinex for trading. When a Zodia Custody client wishes to trade, Zodia Custody will lock the designated assets and notify Bitfinex. Following an approval process, Bitfinex will mirror the assets in the Bitfinex account of the client, which will enable the client to trade those assets, even while they remain held in custody via Interchange. A periodic settlement will occur where the net trading activity will be securely settled on-chain between Zodia Custody and Bitfinex.
The agreement with Zodia Custody, which is registered in the UK with the Financial Conduct Authority as a digital asset business under the Money Laundering, Terrorist Financing, and Transfer of Funds Regulations, is the latest tie up that Bitfinex has agreed with a large custodian.

One of the key benefits of this integration is the separation of trading activities from custodial operations. This separation enhances security and strengthens the market structure for the long term.
"We believe in fostering a collaborative environment to drive innovation and best practice in the digital asset sector," said Paolo Ardoino, CTO of Bitfinex. "We are committed to shaping the future of digital market infrastructure and enabling institutional customers to thrive in this space. Working with Zodia Custody is a significant part of that strategy, and together we can look to enable even more institutions to enter or further participate in digital assets."
"Interchange has been designed from the ground up to provide a better, more robust, approach to custody when trading through exchanges — this is custody, without compromise." said Julian Sawyer, at Zodia Custody. "For investors in the digital asset space today, this isn't a 'nice to have' but an absolute requirement. This collaboration not only underscores our commitment to delivering secure and compliant solutions but also highlights the maturation of the digital market infrastructure."
Cryptocurrency exchanges bear a crucial responsibility in safeguarding customers, adhering to regulations and applying robust compliance controls. Bitfinex's collaboration with a trusted custodian like Zodia Custody highlights the exchange's priority in collaborating with firms that have a compliance-first approach.
To learn more about Bitfinex please visit https://www.bitfinex.com/.
About Bitfinex
Founded in 2012, Bitfinex is a digital token trading platform offering state-of-the-art services for traders and global liquidity providers. In addition to a suite of advanced trading features and charting tools, Bitfinex provides access to peer-to-peer financing, an OTC market and margin trading for a wide selection of digital tokens. Bitfinex's strategy focuses on providing
unparalleled support, tools, and innovation for experienced traders and liquidity providers around the world.
About Zodia Custody
Zodia Custody is the leading institution-first digital asset custodian by Standard Chartered, in association with Northern Trust and SBI Holdings. It enables institutional investors around the globe to realise the full potential of the digital asset future – simply, safely, and without compromise. Through the combination of leading technology, custody, governance and compliance, Zodia Custody satisfies the complex needs of institutional investors.
Zodia Custody implements the requirements of the 5AMLD and applies the same standards as Standard Chartered relating to AML, FCC, and KYC. It implements the requirements of the FATF Travel Rule. Zodia Custody Limited is registered in the UK with the FCA as a crypto asset business under the Money Laundering, Terrorist Financing and Transfer of Funds Regulations 2017. Zodia Custody (Ireland) Limited is registered with the Central Bank of Ireland as a VASP under Criminal Justice (Money Laundering and Terrorist Financing) Act 2010 (as amended). Zodia Custody (Ireland) Limited was established in Ireland in August 2021. Zodia Custody Limited is registered with the CSSF in Luxembourg as a Virtual Asset Service Provider in accordance with article 7-1 (2) of the law dated 12 November 2004 on the fight against money laundering and terrorist financing, as amended.