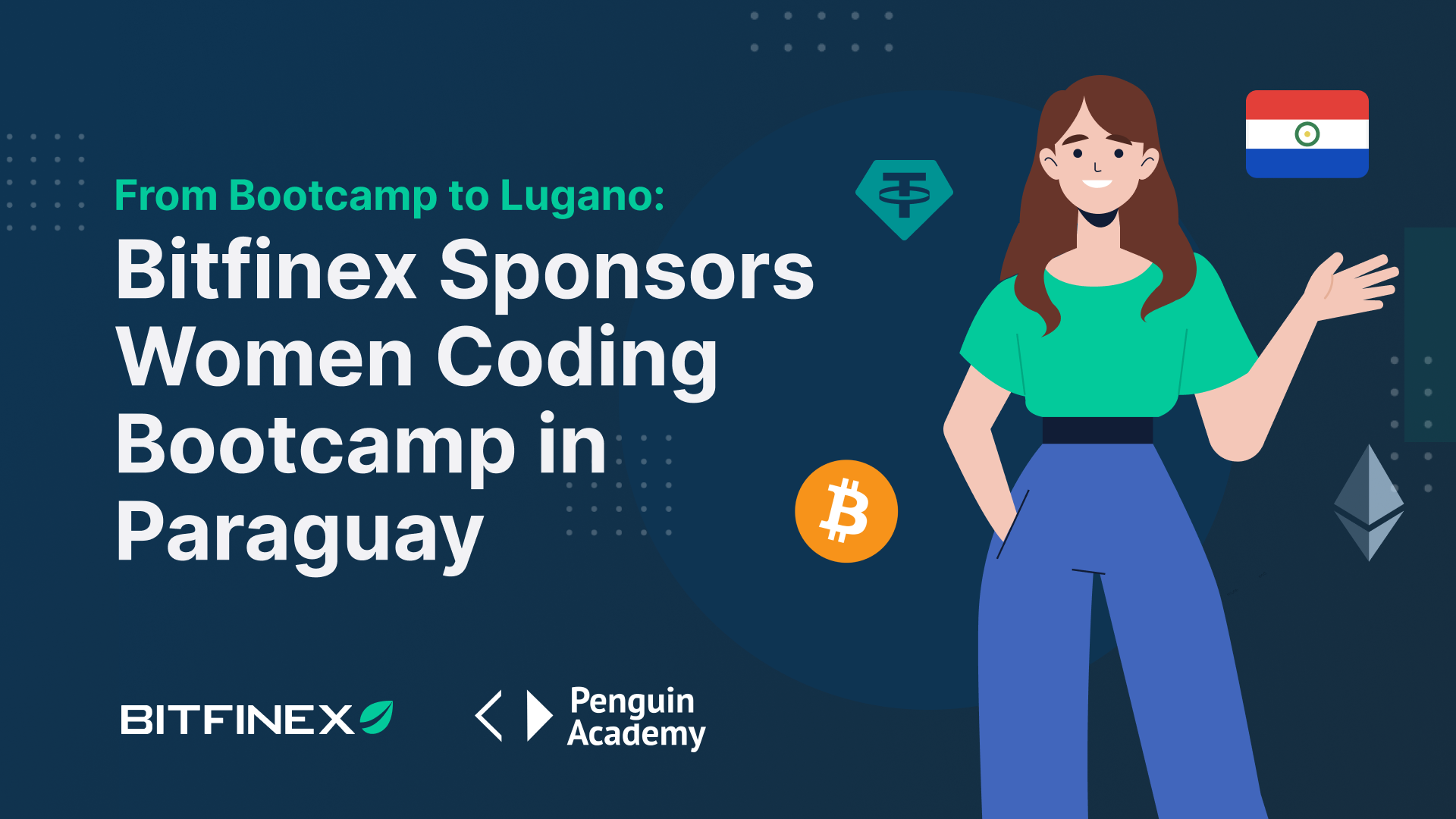 25 Apr
Bitfinex collaborates in Coding Bootcamp in Paraguay with Penguin Academy
ROAD TOWN, British Virgin Islands – April 25, 2023 Bitfinex (https://www.bitfinex.com/), a state-of-the-art digital token trading platform announced today its sponsorship of Penguin Academy's three-week introductory coding bootcamp in Paraguay. Dedicated exclusively to women, the bootcamp is set to take place from May 3 – May 24, 2023, in Ciudad del Este, Paraguay.
Crafted by Penguin Academy, the course boasts a rich curriculum, including the fundamentals of Python coding, and multiple workshops in robotics, IoT, and web development. There will also be sessions teaching blockchain fundamentals and microelectronics. Students will also have the opportunity to network and benefit from events such as meet and greets, speed dating nights and career nights.
The bootcamp will culminate in a five-day hackathon and demo day, from which three top contenders will be awarded scholarships to take part in this year's edition of the Plan B Summer School held in Lugano, Switzerland.
The advent of blockchain technology has completely revolutionised the traditional financial services sector in Latin America, and most importantly how people in the region approach personal financial management. A huge part of this new wave of change has been education. Knowledge of coding in particular, especially among women, has enabled large numbers to unlock the financial freedom afforded by blockchain technology to drive significant improvements in living standards for both themselves, their families and wider communities.
"We are delighted to collaborate with Penguin Academy to introduce this invaluable academic opportunity to women in Paraguay. The power of code is evident in Latin America where it can act as a powerful tool, especially in the hands of women who are then empowered to build and deploy novel solutions to benefit their communities," stated Claudia Lagorio, Chief Operating Officer of Bitfinex. "Our support for this initiative further demonstrates Bitfinex's strong commitment to leveraging technology to foster individual freedom in underserved communities worldwide."
As a resilient, trustworthy leader in the global crypto industry, Bitfinex has continued to champion the cause of unlocking individual freedom through innovation in technology. To date, the company has led numerous initiatives to empower underserved communities across the world with tools and educational programs to accelerate financial inclusion. The Bitfinex Freedom Manifesto, inspired by the original Cypherpunk Manifesto, outlines this vision of liberty – one that is underpinned by the power of cryptography, distributed systems and open-source software.
About Bitfinex
Founded in 2012, Bitfinex is a digital token trading platform offering state-of-the-art services for traders and global liquidity providers. In addition to a suite of advanced trading features and charting tools, Bitfinex provides access to peer-to-peer financing, an OTC market and margin trading for a wide selection of digital tokens. Bitfinex's strategy focuses on providing unparalleled support, tools, and innovation for experienced traders and liquidity providers around the world. Visit www.bitfinex.com to learn more.
About Penguin Academy
Founded in 2012, Penguin Academy developed a coding bootcamp to be accessible to anyone with essential reading and writing skills. It prepares participants for employment in the tech sector. Penguin has run the bootcamp and operated out of Switzerland, Germany, Bulgaria, China, the Philippines, and Paraguay.
Penguin Academy started operations in Paraguay in 2019 and trained more than 2000 young people who had no prior programming knowledge in two locations. Penguin Academy's methodology seeks to install coding and computer problem-solving as a school of thought, and we provide tools and skills so that participants can take advantage of the endless opportunities that today's 21st-century economy makes available, in addition to the countless new jobs that arise every year in the sector.
Penguin Academy has initiated an arduous planning process with a vision for the future of its impact community: Paraguay and its people can leapfrog and excel in the 21st-century economy through innovation and cutting-edge technology, rushing through the economic cycle to provide better career opportunities and high-quality jobs for young people.
Media contact for Bitfinex