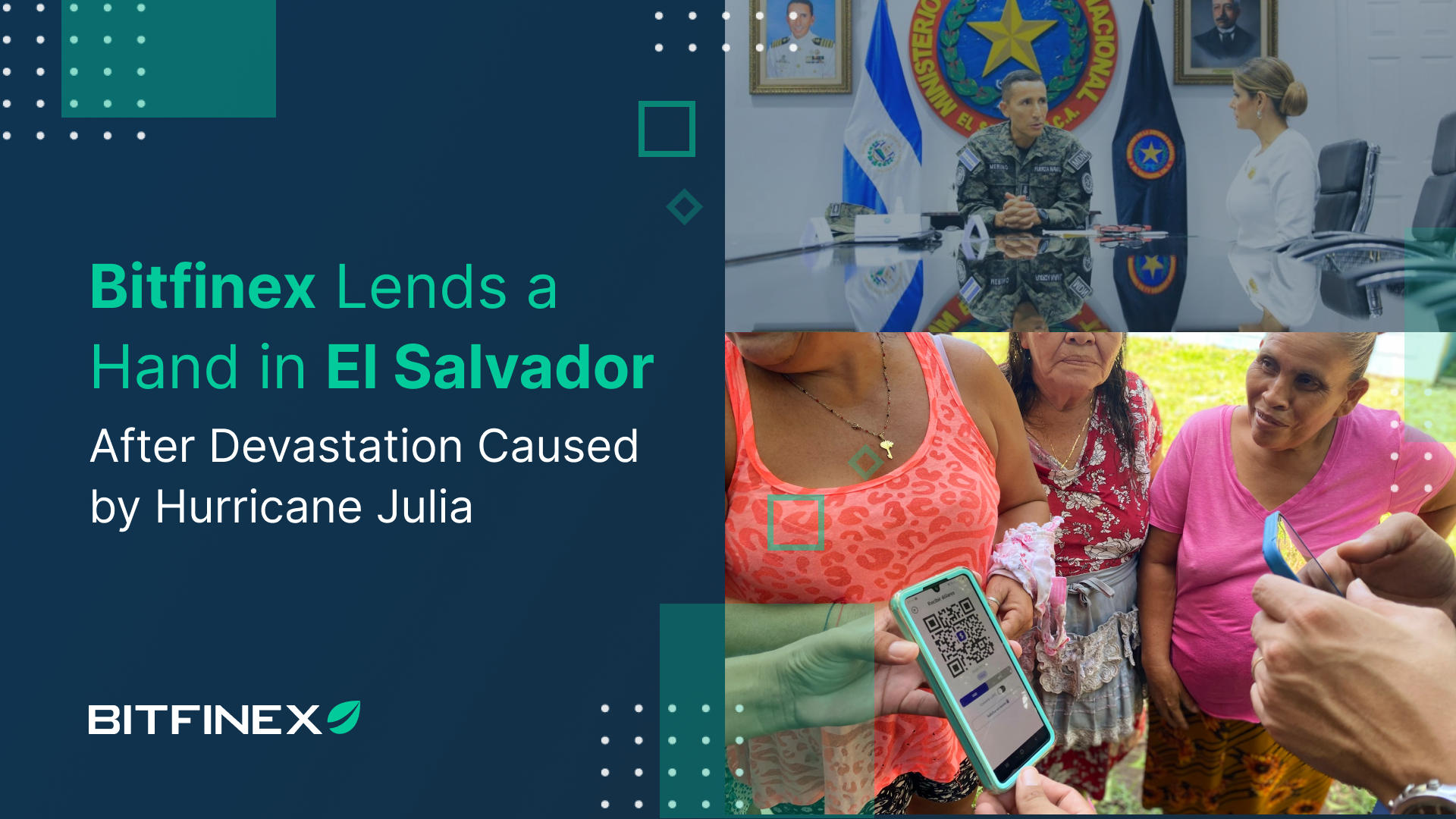 17 Oct

Bitfinex Lends a Hand in El Salvador After Devastation Caused by Hurricane Julia

ROAD TOWN, British Virgin Islands, October 19 2022 – Bitfinex, a state-of-the-art digital trading platform, is supporting victims of Hurricane Julia in El Salvador through food distribution and emergency aid after the tropical cyclone devastated parts of the country.

Donations were delivered in-person on behalf of Bitfinex to some of the victims' families by Milena Mayorga, the current Salvadoran ambassador to the US, as well as congressmen William Soriano and Christian Guevara.The majority of the emergency aid has been distributed in La Union, which is destined to become the country's Bitcoin City.

"As part of our commitment to El Salvador we are pleased that we can support local communities and hope the assistance that we provide to those affected by Hurricane Julia will help people rebuild their lives," said Paolo Ardoino, CTO at Bitfinex. "We hold a vision for a brighter future for the Salvadoran people with the aim of furthering financial freedom and inclusion through our continued work in the country."

*All users of www.bitfinex.com are subject to Bitfinex's terms of service ("TOS"). Please note that U.S. persons (as defined in the TOS), among other prohibited persons (as defined in the TOS), are strictly prohibited from directly or indirectly holding, owning or operating an Account (as defined in the TOS) on www.bitfinex.com.

##

About BitfinexFounded in 2012, Bitfinex is a digital token trading platform offering state-of-the-art services for traders and global liquidity providers. In addition to a suite of advanced trading features and charting tools, Bitfinex provides access to peer-to-peer financing, an OTC market and margin trading for a wide selection of digital tokens. Bitfinex's strategy focuses on providing unparalleled support, tools, and innovation for experienced traders and liquidity providers around the world. Visit www.bitfinex.com to learn more.