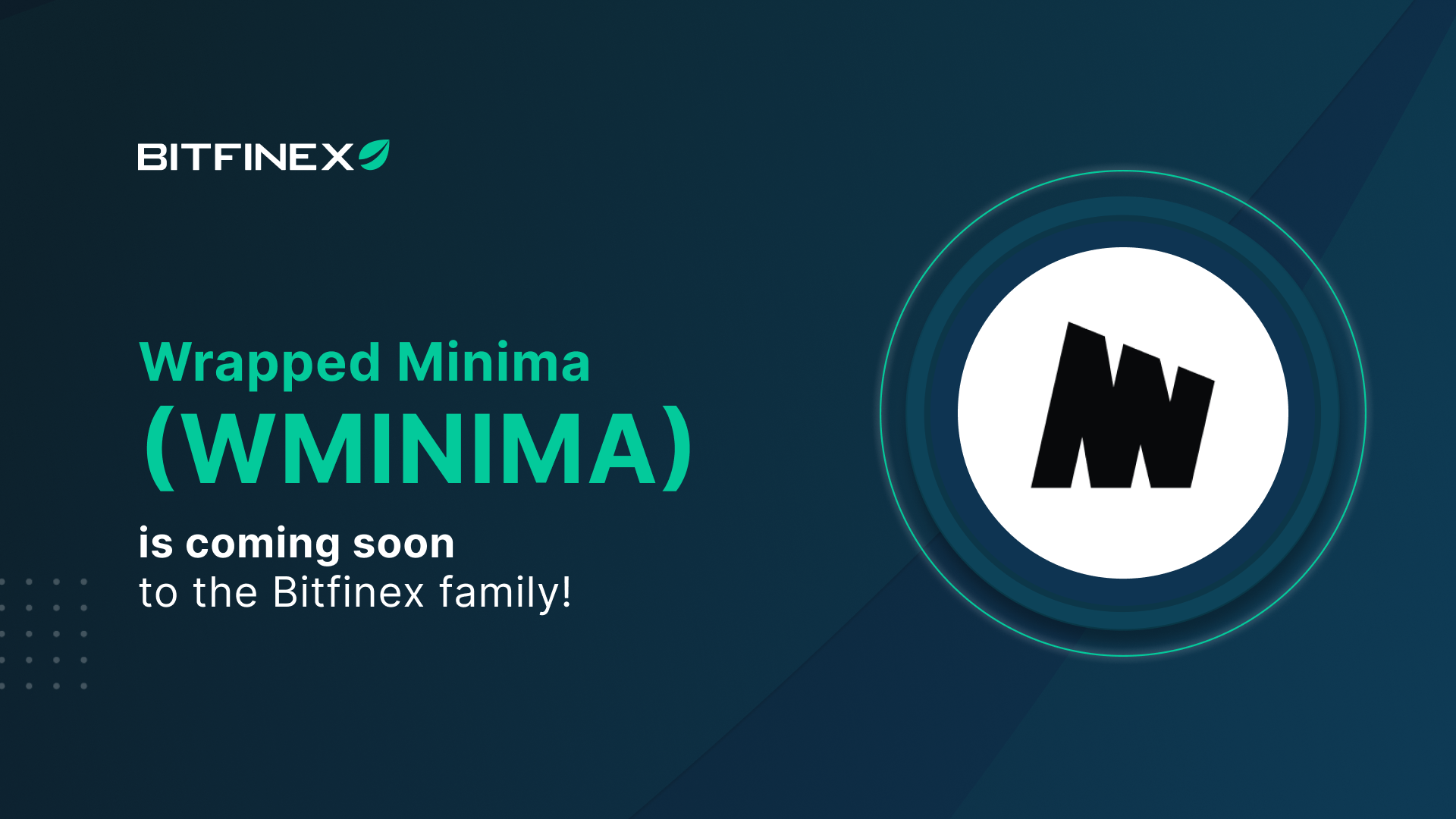 14 Mar

Bitfinex to List Wrapped Minima (WMINIMA), a token issued by Minima

ROAD TOWN, British Virgin Islands – March 14, 2023 – Bitfinex (www.bitfinex.com/), a state-of-the-art digital token trading platform, announced today that it will be one of the first crypto exchanges to list the new Wrapped Minima (WMINIMA) token, an ERC-20 token issued by Minima.

Launched in 2018, Minima is an "ultra-lean" Layer 1 blockchain designed to run in full on a mobile or IoT device.

While most Layer 1's require specialised hardware or expertise to participate in the validation and construction of the chain, Minima's lightweight design enables anyone to run a complete blockchain node on their smartphone, simply by downloading the Minima app.

Minima says it has hundreds of thousands of complete nodes run by community members around the world, contributing to the Minima network.
Hugo Feiler, Minima Co-founder & CEO said "We are delighted to partner with Bitfinex to bring Minima to the market. Our ambition as the only decentralized layer 1 protocol has always been to involve as many people as possible and the strength of Bitfinex enables that."

Minima's Presale for WMINIMA, started on February 14, 2023, with 10 million tokens currently acquired, out of the total supply of 125 million WMINIMA tokens.

"We are very pleased to introduce WMINIMA to Bitfinex," said Henry Child, Head of Tokens at Bitfinex. "Minima and Bitfinex both value the freedom blockchain technology brings. Their innovative focus on a mobile-native blockchain increases access to Web3 for any person with a mobile or IoT device."

Bitfinex will open deposits for WMINIMA at approximately 10:00am UTC on 16th March. Trading for WMINIMA will be available at approximately 10:00am UTC on 21st March trading against the US Dollar (USD) and Tether tokens (USDt).

To obtain access to WMINIMA on Bitfinex, customers can visit https://www.bitfinex.com/.

*All users of www.bitfinex.com are subject to Bitfinex's terms of service ("TOS"). Please note that U.S. persons (as defined in the TOS), among other prohibited persons (as defined in the TOS), are strictly prohibited from directly or indirectly holding, owning or operating an Account (as defined in the TOS) on www.bitfinex.com.
#
About Bitfinex
Founded in 2012, Bitfinex is a digital token trading platform offering state-of-the-art services for traders and global liquidity providers. In addition to a suite of advanced trading features and charting tools, Bitfinex provides access to peer-to-peer financing, an OTC market and margin trading for a wide selection of digital tokens. Bitfinex's strategy focuses on providing unparalleled support, tools, and innovation for experienced traders and liquidity providers around the world. Visit www.bitfinex.com to learn more.
About Minima
Minima was founded in London in 2018. It has created an ultra-lean blockchain protocol that fits on a mobile or IoT device, allowing every user to run a full constructing and validating node. By adopting this approach, Minima has created the possibility of operating a completely decentralized network that is scalable and inclusive, while remaining secure and resilient. Visit https://www.minima.global to learn more.
Media contact for Bitfinex
[email protected]