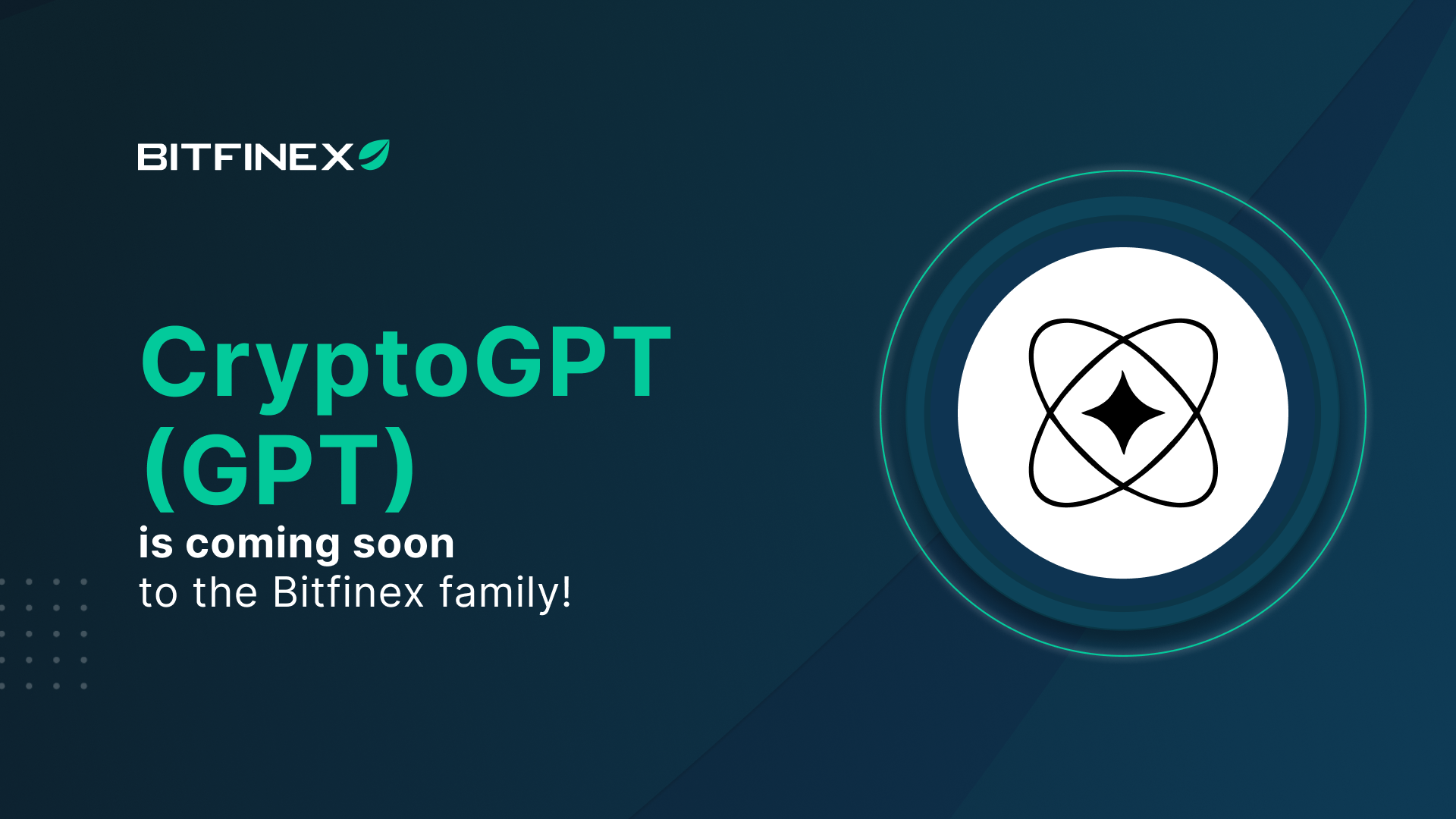 08 Mar

Bitfinex to List CryptoGPT's native GPT token

ROAD TOWN, British Virgin Islands – March 8, 2023 – Bitfinex (www.bitfinex.com/), a state-of-the-art digital token trading platform, announced today that it will be one of the first exchanges to list GPT, the native token of CryptoGPT, an Ethereum-based, layer 2 blockchain dedicated to Artificial Intelligence (AI) development and to decentralizing the AI & data market.

Launched in the wake of the popularity of ChatGPT, CryptoGPT bills itself as a crypto ecosystem driven towards collecting data for the purpose of AI development. Recognizing the growing value of data that is crucial to further develop AI, CryptoGPT aims to offer customers an opportunity to earn crypto for sharing their anonymized data using encrypted zero-knowledge proof technology. This aims to preserve user anonymity while capturing the necessary data points to be used in building AI models across manufacturing, biotech, education and other industries.

It is intended that dApps will be built onto the CryptoGPT ecosystem, with CryptoGPT offering its GPT tokens as payment for the data it receives from users when they use these dApps. GPT is a multi-use token that can be used as "fuel" for transactions that take place on the CryptoGPT blockchain. The GPT token can also be used for liquidity events like buy-backs or burns.

"AI is at the cutting edge of what technology truly can be, it is encouraging to see so many in Web3 not just embrace it, but in the case of CryptoGPT, completely disrupt it and potentially bring it back to individuals," said Henry Child, Head of Tokens at Bitfinex. "We are very excited to introduce their native token, GPT, to Bitfinex's fast growing customer base."

Bitfinex will open deposits for GPT on March 9. Trading of GPT will be available on March 10, trading with US Dollars (USD) and Tether tokens (USDt).

Further information on CryptoGPT can be found at https://www.cryptogpt.org/
To obtain access to GPT on Bitfinex, customers can visit https://www.bitfinex.com/.

*All customers of www.bitfinex.com are subject to Bitfinex's terms of service ("TOS"). Please note that U.S. persons (as defined in the TOS), among other prohibited persons (as defined in the TOS), are strictly prohibited from directly or indirectly holding, owning or operating an Account (as defined in the TOS) on www.bitfinex.com.
#
About Bitfinex
Founded in 2012, Bitfinex is a digital token trading platform offering state-of-the-art services for traders and global liquidity providers. In addition to a suite of advanced trading features and charting tools, Bitfinex provides access to peer-to-peer financing, an OTC market and margin trading for a wide selection of digital tokens. Bitfinex's strategy focuses on providing unparalleled support, tools, and innovation for experienced traders and liquidity providers around the world. Visit www.bitfinex.com to learn more.
Press Contact
[email protected]