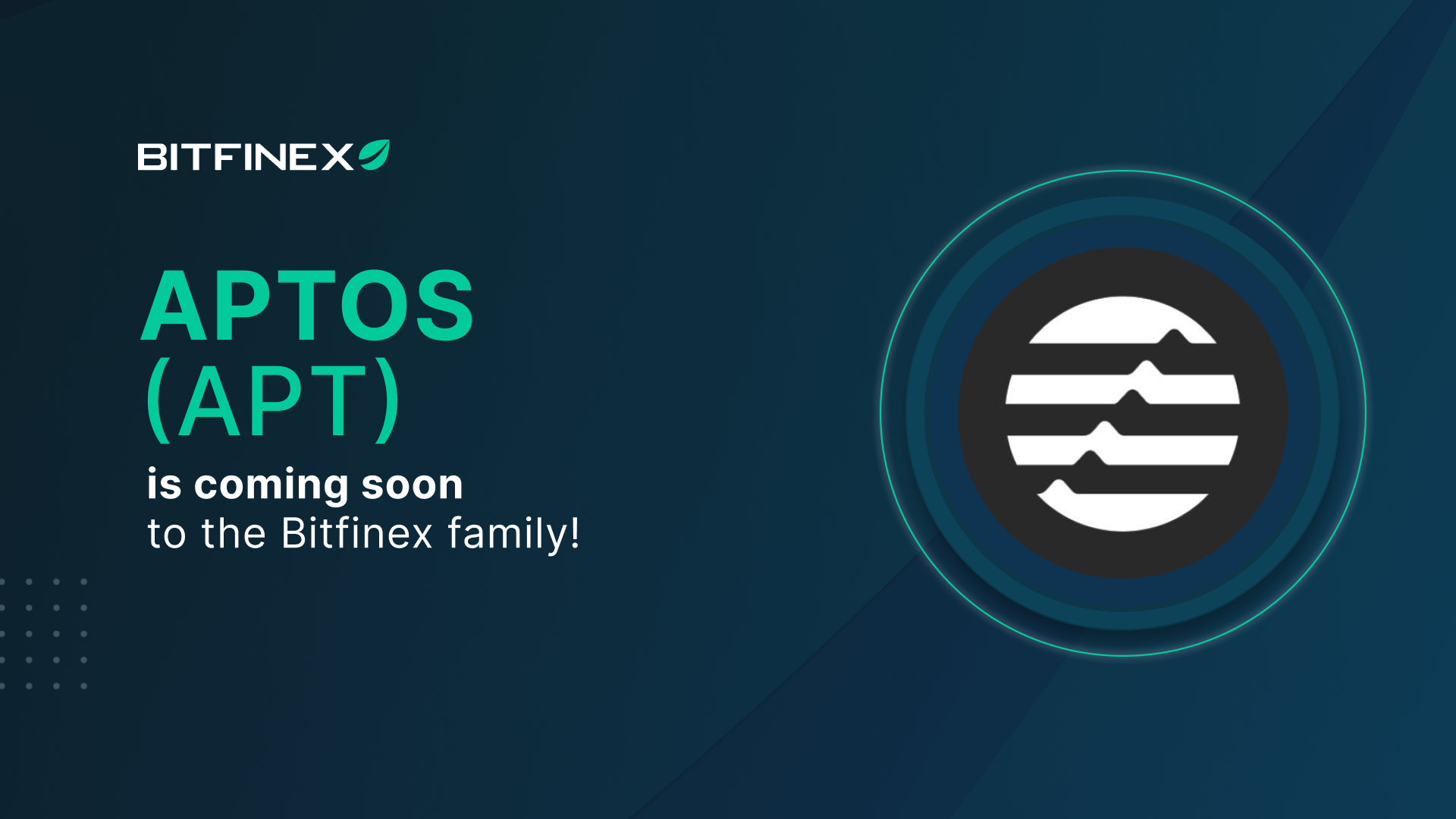 18 Oct

Bitfinex to List Highly Scalable Layer 1 Blockchain Aptos (APT)

ROAD TOWN, British Virgin Islands – October 18 2022 – Bitfinex (https://www.bitfinex.com/), a state-of-the-art digital token trading platform, announced today that it will be listing Aptos (APT), the native token of Aptos, a Layer 1 blockchain built by the Web3 infrastructure firm Aptos Labs that aims to be an industry leader in security and high-speed transaction processing.

Launched in 2021 by former Meta employees Avery Ching and Mo Shaikh Aptos Labs has built its nascent blockchain through its original, Rust-based programming language called "Move." Designed to be a safe blockchain for its users, Aptos also allows customers to change their private keys at will for increased security. In testing, the Aptos blockchain has been shown to reach speeds of 125K-150K transactions per second (TPS).

With these capabilities for greater speed and security, Aptos will host decentralized finance (DeFi) projects such as Wormhole, a cross-chain bridge that allows users to transfer assets between layer 1 blockchains; Topaz, an NFT marketplace and Blocto, a popular smart contract wallet.

"We are pleased to welcome Aptos Labs and APT to our thriving digital token ecosystem," said Paolo Ardoino, CTO at Bitfinex. "The opportunity to use the blockchain for advancing greater freedom of choice and easier access to financial products and services is a vision that is core to Bitfinex and we are delighted to welcome a project with a similar ethos."

In July of this year, Aptos Labs closed a $150 million Series A funding round led by Jump Crypto and FTX Ventures. This comes just months after raising $200 million in funding from Tiger Global, a16z, and Multicoin Capital.

Open deposits for APT will be available on 18/10/22. Open trading for APT will be available on 19/10/22 with trading pairs US Dollar (USD) and Tether tokens (USDt).

For access to APT on Bitfinex, customers can visit https://www.bitfinex.com/.

*All users of www.bitfinex.com are subject to Bitfinex's terms of service ("TOS"). Please note that U.S. persons (as defined in the TOS), among other prohibited persons (as defined in the TOS), are strictly prohibited from directly or indirectly holding, owning or operating an Account (as defined in the TOS) on www.bitfinex.com.

##

About Bitfinex
Founded in 2012, Bitfinex is a digital asset trading platform offering state-of-the-art services for digital currency traders and global liquidity providers. In addition to a suite of advanced trading features and charting tools, Bitfinex provides access to peer-to-peer financing, an OTC market, and financed trading for a wide selection of digital assets. Bitfinex's strategy focuses on providing unparalleled support, tools, and innovation for professional traders and liquidity providers around the world. Visit www.bitfinex.com to learn more.