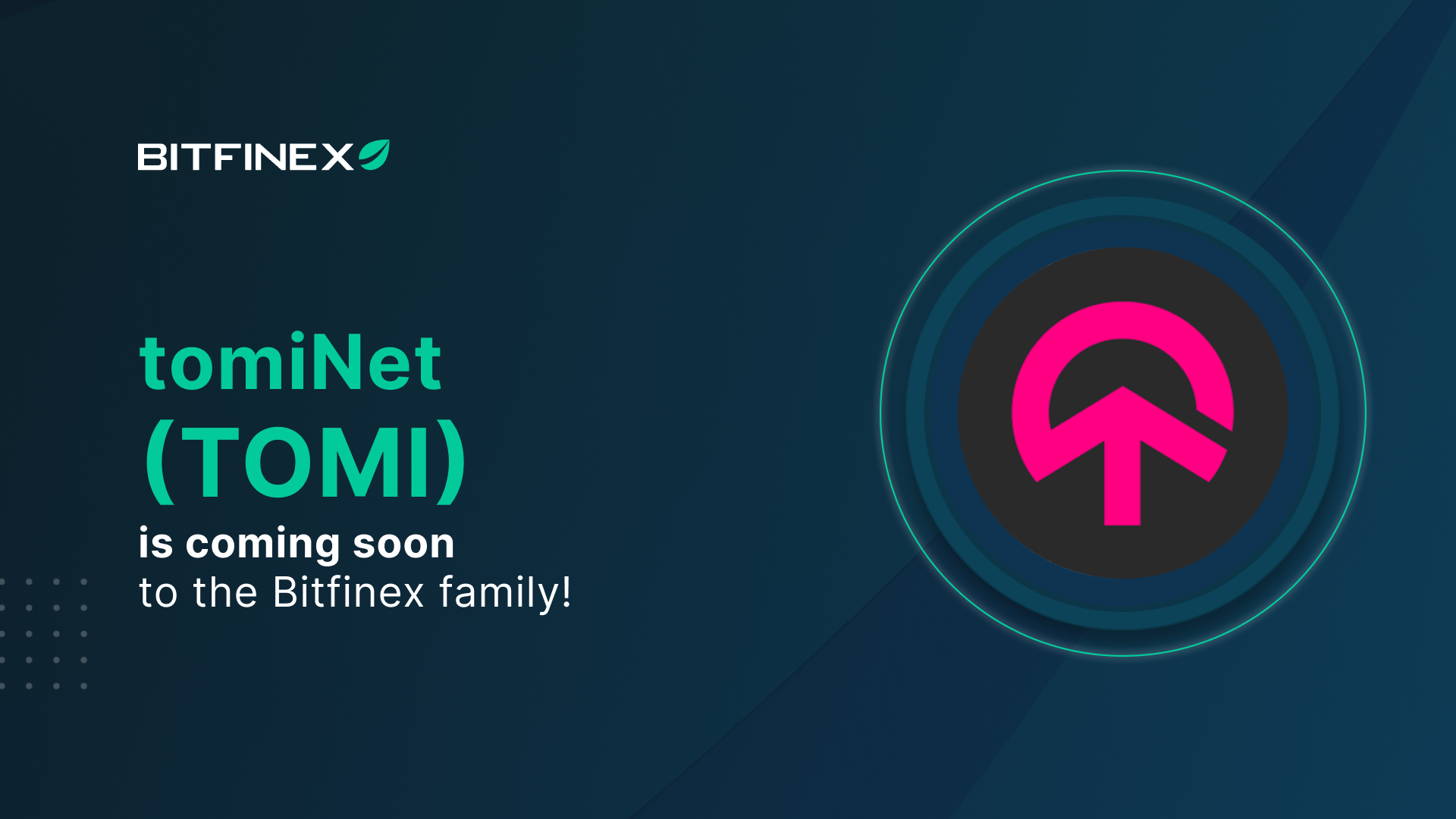 29 Aug
Bitfinex to list TOMI, Native Token of TomiNet
ROAD TOWN, British Virgin Islands — August 29, 2023 — Bitfinex (www.bitfinex.com/), a state-of-the-art digital token trading platform, announced today that it will list TomiNET (TOMI) the native token of TomiNet, a web3 project that serves as a surveillance-free alternative to the conventional internet.
Launched in 2022, the TomiNet is committed to fostering individual freedom, asset control, and data privacy. It seeks to create an internet landscape where individuals' rights to transact and invest with their chosen currency are a fundamental priority. Its ethos lies in autonomy, openness, and privacy, in stark contrast to traditional internet frameworks.
Since starting, TomiNet has introduced products and grown its community to support its innovative vision. The TOMI tokenomics system, designed for project sustainability, aims to build trust, engage users, and reward contributors and developers in the ecosystem.
In March 2023, TomiNet raised $40 million in a funding round led by digital asset market maker DWF Labs. Other participants in the round included prominent investors such as Ticker Capital, Piha Equities, and Japanese cryptocurrency investor Hirokado Kohji.
"We are excited to introduce TOMI to our expanding customer base," said Henry Child, Head of Tokens at Bitfinex. "TomiNet's decentralized model, along with its principles of privacy, accessibility, transparency, and freedom, aligns well with Bitfinex's offerings."
Bitfinex will open deposits for TOMI on August 29 at approximately 12 PM. Trading of TOMI will commence on August 31 at approximately 10 AM in trading pairs against the US Dollar (USD) and Tether tokens (USDt).
To obtain access to TOMI on Bitfinex, customers can visit https://www.bitfinex.com/.
*All users of www.bitfinex.com are subject to Bitfinex's terms of service ("TOS"). Please note that U.S. persons (as defined in the TOS), among other prohibited persons (as defined in the TOS), are strictly prohibited from directly or indirectly holding, owning or operating an Account (as defined in the TOS) on www.bitfinex.com.
##
About Bitfinex
Founded in 2012, Bitfinex is a digital token trading platform offering state-of-the-art services for traders and global liquidity providers. In addition to a suite of advanced trading features and charting tools, Bitfinex provides access to peer-to-peer financing, an OTC market and margin trading for a wide selection of digital tokens. Bitfinex's strategy focuses on providing unparalleled support, tools, and innovation for experienced traders and liquidity providers around the world. Visit www.bitfinex.com to learn more.
Media contact for Bitfinex
For official logos and branding please visit