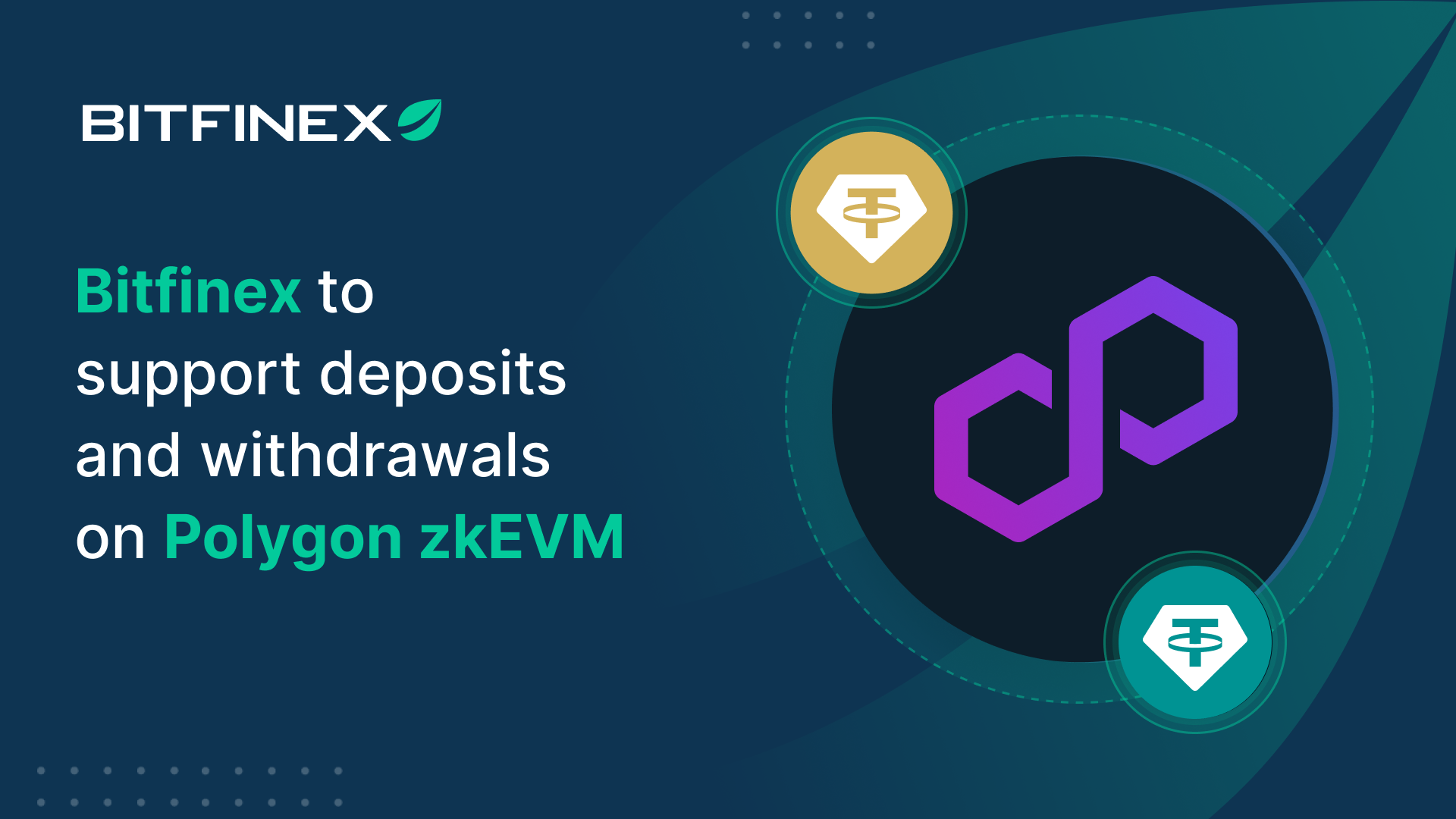 26 Sep
Bitfinex to Support Deposits and Withdrawals on Polygon zkEVM
ROAD TOWN, British Virgin Islands – September 26, 2023 – Bitfinex (www.bitfinex.com/), a state-of-the-art digital asset trading platform, announced today that it will now support deposits and withdrawals of Tether USD (USDt)* and bridged Tether Gold (XAUt) on the Polygon zkEVM* transport layer.
Built as an Ethereum scaling solution, Polygon zkEVM uses zero-knowledge proofs to enable faster and cheaper transactions while maintaining the security of the Ethereum mainnet. This integration will allow Bitfinex customers to deposit and withdraw bridged USDt and XAUt on Polygon zkEVM.
"We're pleased to expand bridged USDt accessibility and provide our customers with an additional efficient option for deposits and withdrawals using Polygon's scalable zkEVM network," said Henry Child, Head of Tokens at Bitfinex. "This follows the introduction of bridged USDt and XAUt onto Polygon zkEVM and underscores our commitment to supporting the most in-demand digital assets and networks."
Deposits and withdrawals via Polygon zkEVM will be available on Tether USD (USDt) September 27 and October 4, 2023 at 12:00 PM UTC for Tether gold (XAUt). 
For more information, customers can visit the Bitfinex website at www.bitfinex.com or https://polygon.technology.
*All users of www.bitfinex.com are subject to Bitfinex's terms of service ("TOS"). Please note that U.S. persons (as defined in the TOS), among other prohibited persons (as defined in the TOS), are strictly prohibited from directly or indirectly holding, owning or operating an Account (as defined in the TOS) on www.bitfinex.com.
##
About Bitfinex
Founded in 2012, Bitfinex is a digital token trading platform offering state-of-the-art services for traders and global liquidity providers. In addition to a suite of advanced trading features and charting tools, Bitfinex provides access to peer-to-peer financing, an OTC market and margin trading for a wide selection of digital tokens. Bitfinex's strategy focuses on providing unparalleled support, tools, and innovation for experienced traders and liquidity providers around the world. Visit www.bitfinex.com to learn more.
Media contact for Bitfinex
For official logos and branding please visit