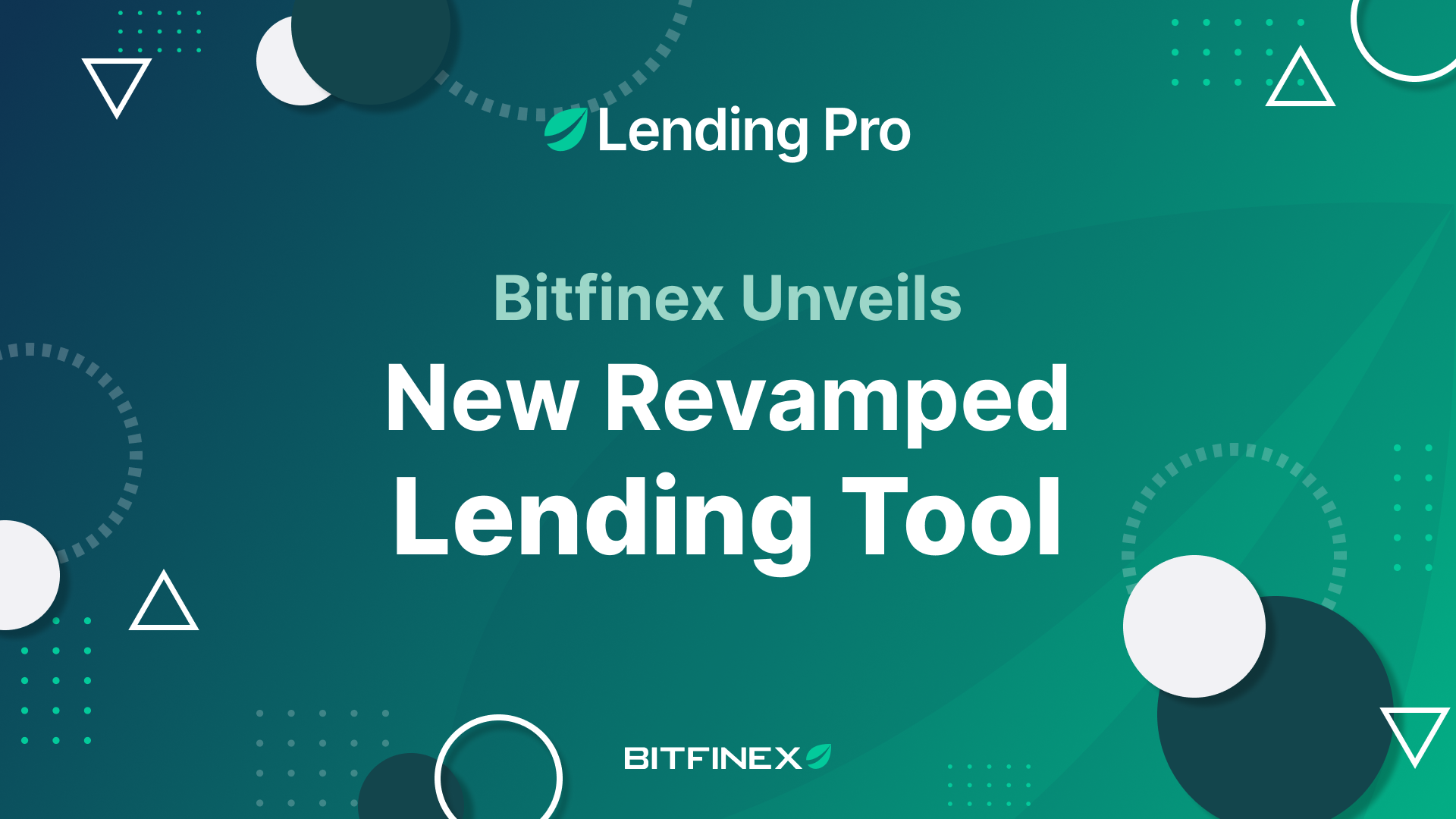 21 Sep
Bitfinex Unveils New revamped Lending Tool
The advanced automation features of Lending Pro enable customers to automate their lending activities
ROAD TOWN, British Virgin Islands –  September 21, 2023  Bitfinex (https://www.bitfinex.com/), a leading state-of-the-art digital asset trading platform, is excited to announce the launch of the next iteration of Bitfinex Lending Pro, an advanced lending automation tool with new sophisticated features.
With Bitfinex Lending Pro, customers will be able to lend their assets as they choose. Assets provided for margin lending or Bitfinex Borrow are fully collateralised and Bitfinex does not rehypothecate customer assets.
Bitfinex Lending Pro improves lending automation management for both Bitfinex's margin trading market and Bitfinex Borrow. Customers are provided with options to customise their lending and use advanced automation technologies that enable assets to earn additional returns on their tokens through automating their lending strategies while helping eliminate the stress of manual lending.
Bitfinex customers can configure their lending preferences – selecting the desired cryptocurrencies they wish to lend and the amount, while the tool will automatically implement their strategies based on the preference they set.
Bitfinex Lending Pro allows users to automate their lending activities in Bitfinex's peer-to-peer lending market, where customers can directly lend assets to borrowers. Assets lent go directly to other Bitfinex customers, and are used for trading activities or by Bitfinex Borrow customers.
All lending is fully collateralized, thereby helping to mitigate risk. Customers are afforded peace of mind, knowing that their assets are collateralized, while their activity is trackable in real time.
Supporting over 40 cryptocurrencies, Bitfinex Lending Pro offers a wide array of options to diversify lending activities. Whether it's Bitcoin, Ethereum, or other popular digital assets, customers can select the cryptocurrencies that align with their preferences. This versatility allows customers to capitalise on various market opportunities and enhance their earning potential.
"Lending Pro represents yet another milestone in our commitment to offering innovative tools and services that unlock a new level of financial freedom for our customers," said Paolo Ardoino, CTO of Bitfinex. "With advanced automation and highly customizable features, the platform provides our customers an opportunity to earn a return on their assets and unlock new opportunities in the crypto market."
As a resilient, trustworthy leader in the global crypto industry, Bitfinex has consistently upheld its mission to empower individuals with financial autonomy and personal freedom. Through relentless dedication to technological innovation, Bitfinex has pioneered groundbreaking solutions that transcend traditional financial constraints and enable users to control their financial destinies.
Important Note
Bitfinex Lending Pro is strictly an order routing system that implements offers and extensions of funding on a customer's behalf in the peer-to-peer lending marketplace on Bitfinex. Lending Pro cannot evaluate a customer's personal investment criteria and circumstances. Nothing in this press release is financial, investment or other advice. Nothing in this press release is an offer to borrow or lend or the solicitation, recommendation or endorsement of any course of borrowing or lending. Any references in this press release to returns are only hypothetical and not guaranteed.
About Bitfinex
Founded in 2012, Bitfinex is a digital token trading platform offering state-of-the-art services for traders and global liquidity providers. In addition to a suite of advanced trading features and charting tools, Bitfinex provides access to peer-to-peer financing, an OTC market and margin trading for a wide selection of digital tokens. Bitfinex's strategy focuses on providing unparalleled support, tools, and innovation for experienced traders and liquidity providers around the world. Visit www.bitfinex.com to learn more.
Media contact for Bitfinex
For official logos and branding please visit