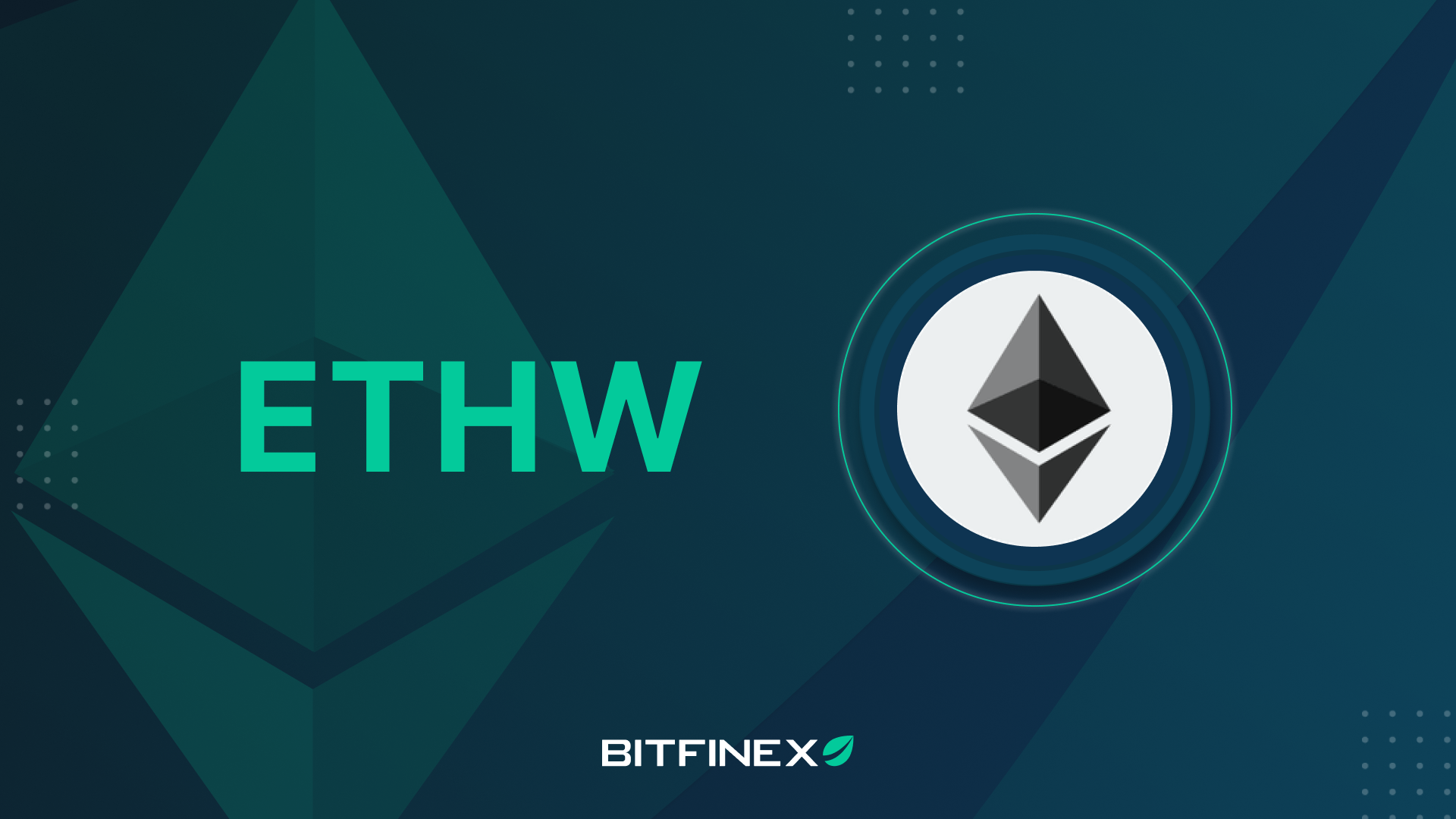 16 Sep

Bitfinex Unveils Support for Forked Ethereum Proof-of-Work (ETHW)

ROAD TOWN, British Virgin Islands, September 16 2022 – Bitfinex, a state-of-the-art digital token trading platform, will support the Ethereum Proof-of-Work fork as the exchange provides its user base with an optimal trading experience after the Merge.

The Ethereum Merge's successful transition from proof of work to proof of stake, which took place this week, represents a monumental milestone in the evolution of the digital token economy. The Merge has also resulted in a forked, Proof-of-Work, Ethereum chain.

ETHW deposits and withdrawals are now open on Bitfinex after the token was listed on the platform on 15/09/22.

"We are delighted to announce our support for Ethereum Proof-of-Work," said Paolo Ardoino, CTO at Bitfinex. "As an exchange we always strive to provide our user base with a choice of digital tokens to trade and an optimal trading experience."

Bitfinex customers with an Ethereum (ETH) balance in their account at the time of the Merge snapshot (Block 15537393) will have received forked Ethereum Proof-of-Work (ETHW) digital tokens.

Customers have been credited ETHW, and the ETHW:USD market will be open as of 15/09/22 at 9:15 PM UTC for trading. Deposits and withdrawals will commence for ETHW in the coming days. We shall update you accordingly.

Financed positions

As explained in a previous post, the following scenarios will apply for users who engage in peer-to-peer financing activities using ETH on the Bitfinex platform.
Customers with Margin short ETH positions will be debited an equivalent amount of the forked token from their margin wallet.
Customers with Margin long ETH positions will be credited an equivalent amount of the forked token to their margin wallet.
Customers who are lending their ETH will be credited an equivalent amount of the forked token to their wallet balance

Customers will have until October 15 2022 to settle their negative balances. A failure to timely settle negative balances may result in Bitfinex settling those balances at the prevailing market rates, as determined by Bitfinex in its sole discretion.
You can find more information relating to EthereumPoW at https://ethereumpow.org.
*All users of www.bitfinex.com are subject to Bitfinex's terms of service [Link to the TOS] ("TOS"). Please note that U.S. persons (as defined in the TOS), among other prohibited persons (as defined in the TOS), are strictly prohibited from directly or indirectly holding, owning or operating an Account (as defined in the TOS) on www.bitfinex.com.
###
About Bitfinex
Founded in 2012, Bitfinex is a digital token trading platform offering state-of-the-art services for traders and global liquidity providers. In addition to a suite of advanced trading features and charting tools, Bitfinex provides access to peer-to-peer financing, an OTC market and margin trading for a wide selection of digital tokens. Bitfinex's strategy focuses on providing unparalleled support, tools, and innovation for experienced traders and liquidity providers around the world. Visit www.bitfinex.com to learn more.
Media Contact for Bitfinex
Joe Morgan
Senior PR Manager