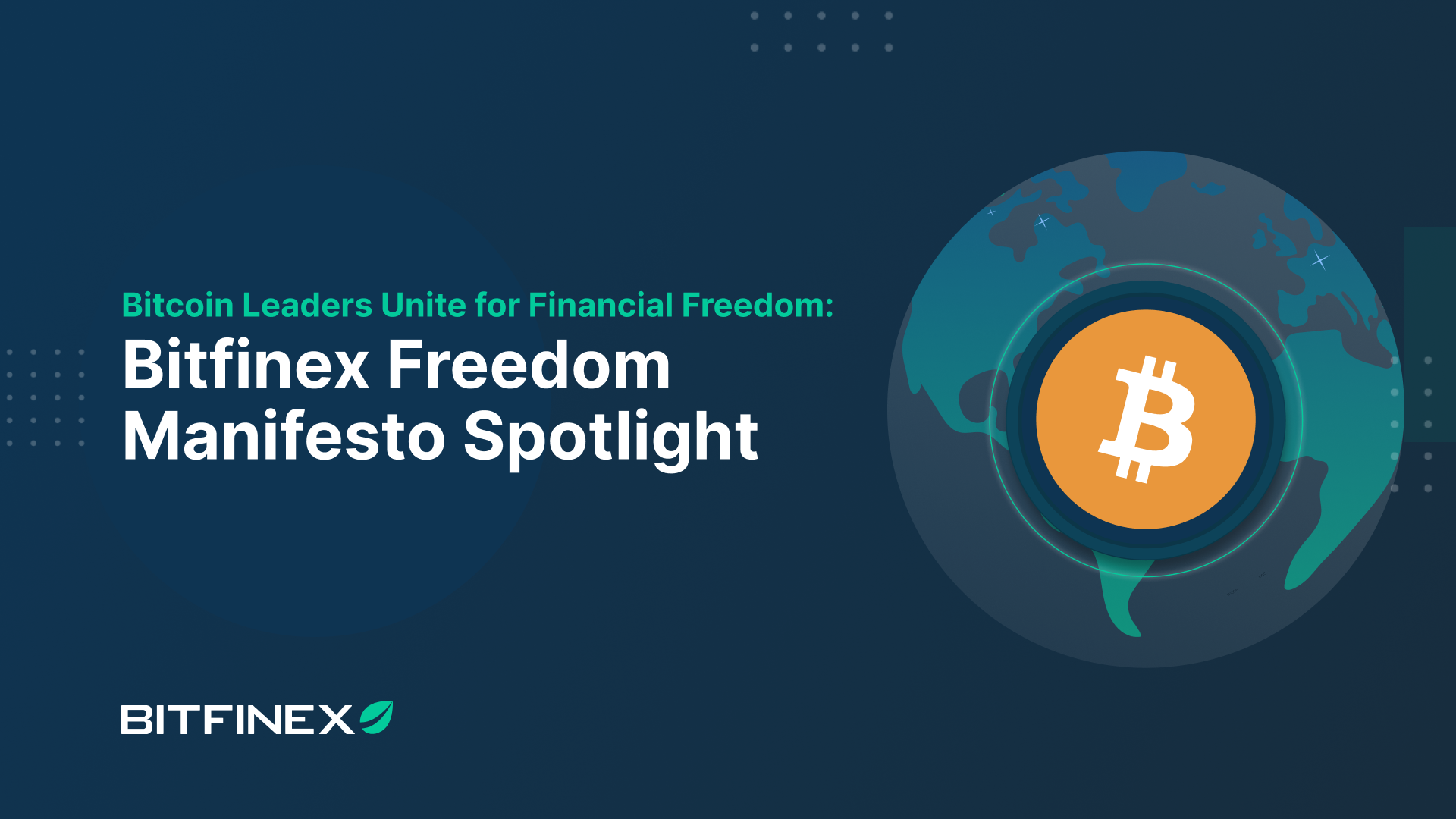 25 Oct

Leading Bitcoin Figures Unite to Champion Financial Freedom: Freedom Manifesto Takes Center Stage

To celebrate the signing of the manifesto, Bitfinex presented exclusive premiere of its documentary, "Don't Trust…Verify,"

ROAD TOWN, British Virgin Islands October 25 2023 – In a resounding declaration of their commitment to financial inclusion and freedom of speech, an impressive roster of Bitcoin and blockchain luminaries officially signed the Freedom Manifesto. The signing demonstrates their support for the company's statement of purpose, which advocates for individual financial sovereignty and the fundamental right to freedom of speech and privacy.


Distinguished signatories included Adam Back, CEO of Blockstream, Max Keiser, Chairman of Volcano Energy, Stacy Herbert Head of the national Bitcoin Office in El Salvador, Hermann Vivier, Founder of Bitcoin Ekasi, and Riccardo Frega, Author and co-Host of the Bitcoin Italia Podcast & Laura, of the Bitcoin Explorers.

At its core, the Freedom Manifesto addresses the systemic failures of traditional banking in reaching billions of unbanked citizens worldwide, as well as the inherent shortcomings of centralised financial and communication platforms. Launched in 2022, the Manifesto champions three core pledges as part of its mission:
Building open, peer-to-peer communication solutions to empower individuals worldwide to interact and transact freely online.
Unwavering support for technologies like the Lightning Network, and other Bitcoin Layer 2 technologies, contributing to making Bitcoin the most accessible and efficient transaction solution.
Nurturing and investing in the Bitcoin community, including developers and white hat hackers, to fortify the resilience and immutability of the Bitcoin network.
Signatories of the Manifesto support the view that large technology companies are unfairly profiting from the collection of user data, exercising control over the type of communications that take place on such centralised platforms, while similarly traditional banking companies selectively grant access to financial services, and charge fees that are beyond the reach of billions of people. They are passionate about delivering financial freedom and freedom of speech and wholeheartedly endorse the Freedom Manifesto, which strives to advance Bitcoin adoption, support the Lightning Network, and pioneer open peer-to-peer technology.
The official signing of the Freedom Manifesto took place during the Bitcoin Film Festival, which followed the Plan B Forum in Lugano, Switzerland, at which it presented an exclusive world premiere of its documentary, "Don't Trust…Verify," on Sunday, October 22, 2023.
The 45-minute documentary delves into the philosophy of Bitcoin adoption and its transformative impact on El Salvador and its citizens. "Don't Trust…Verify" offers an intimate behind-the-scenes look as viewers follow Bitfinex Chief Technology Officer Paolo Ardoino on a journey to El Salvador, where he meets with government officials and community leaders actively facilitating Bitcoin adoption. The film features industry experts such as Akin Fernandez, CEO of Azteco, and introduces the audience to El Salvadorans working tirelessly to educate their compatriots on how Bitcoin can reshape the Land of Volcanoes into Latin America's financial hub. The premiere of the documentary was open to the public and free of charge.
Paolo Ardoino, Chief Technology Officer of Bitfinex, emphasised the company's commitment to freedom: "We believe in the fundamental concept of freedom in its entirety—individual sovereignty encompasses both freedom of speech and financial freedom. Bitcoin, the Lightning Network, and peer-to-peer technologies are not just tools to safeguard individual liberty but to extend it universally to every individual worldwide. We are thrilled to announce these distinguished signatories to our Manifesto and the release of our documentary, shedding light on Bitcoin's pivotal role in shaping the future of finance."
About Bitfinex
Founded in 2012, Bitfinex is a digital token trading platform offering state-of-the-art services for traders and global liquidity providers. In addition to a suite of advanced trading features and charting tools, Bitfinex provides access to peer-to-peer financing, an OTC market and margin trading for a wide selection of digital tokens. Bitfinex's strategy focuses on providing unparalleled support, tools, and innovation for experienced traders and liquidity providers around the world. Visit www.bitfinex.com to learn more.
Media contact for Bitfinex
[email protected]
For official logos and branding, please visit
https://www.bitfinex.com/press/#press-downloads